(App) Daily Ab Workout – Abs Trainer
iphone apps info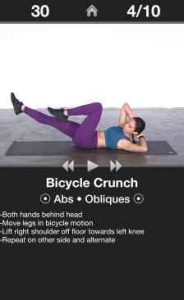 App Description :
Your own personal trainer wherever you are!
App Features :
Two different 5 to 10 minute ab-sculpting workouts
Great for both men and women
Video showing how to do each exercise
Developed by a certified personal trainer
On-screen instructions and timer
No internet required to do the workouts
Integrates with Health app (calories burned data will push to Health app at end of workout if calorie calculation app setting is turned on)
Daily Ab Workout FREE is a great 5 to 10 minute daily ab routine for men and women that steps you through some of the best ab-sculpting exercises you can do in the comfort of your own home. These proven exercises, demonstrated by a certified personal trainer, target all major abdominal muscles. Spending just minutes a day can strengthen your core and tone your abs.
The routine's simple interface, complete with video and timer, allows you to easily follow along and understand each exercise.
If you like Daily Ab Workout FREE, check out the full version which features:
More workouts
Random & custom workouts
Ad-free
OR
Check out the "DAILY WORKOUTS" full version for multiple workouts including ab, arm, butt, cardio, leg and full-body routines. Daily Workouts now also has Pilates, stretch, kettlebell and ball workouts and more!
Additional Information :
Compatible with iPhone, iPad, and iPod touch.
Requires iOS 10.0 or later.
Size 19.2 MB
User Reviews :
I love this app. I lost 3 pounds in 6 days! I'm not kidding! All the other exercise apps only made me gain weight but on this one I lost 3 pounds in 6 days and I've done it for 2 more days and I haven't checked my weight yet but I'm sure I lost at least 0.5 pounds! This app is also amazing because you can use it everywhere at any time. Home, beach, work, hotel, etc. it's the only app that works for me! I promise you, if you get it, it'll be worth it.
I was very satisfied with this app and the additional apps that are from this branch. They are great for toning and losing that extra few percentage of body fat. The only thing I did not like was that you had to pay for the really good workouts. I didn't look at the price but I'm not interested in buying something that I can find for free on the Internet. I also like how you can let them send you notifications so you won't forget to do your workouts. Overall is a great app and his helped me lose an extra pound and hone my stomach.
So i started using this app about a week and a half ago. I DONT work out, last time i really exercised was about 6 years ago when i did middleschool volleyball. In this short time doing both workouts every day, i can already begin to see the sides of my core sticking out and my muffin top is fading. So worth it. I think i skipped one day, but seriously it only takes 10 minutes out of your day minimum.
Get Daily Ab Workout from App Store
What is your opinion about Daily Ab Workout
Get more free apps & games daily
Subscribe to our mailing list and get free apps & games daily to your email inbox.
Thank you for subscribing.
Something went wrong.