(Game) Crime City
free games for iphone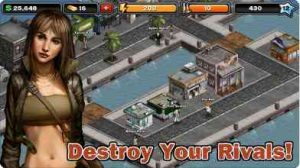 Game Description :
#1 free game in 26 countries and counting
#1 free app in 10 countries and counting
Indulge your inner criminal mastermind in Crime City, brought to you by GREE—makers of hit games like Modern War!
Breaking the rules is way more fun than playing by them!
Build your criminal empire, one job at a time! Hit the streets, flex some muscle, and climb your way to the mafia's highest rank: Crime Boss! The whole city is yours for the taking, if you're smart enough, tough enough, and willing to do what's necessary to get the job done. Check your morals at the door and get ready for an adventure that will take you into the city's seedy underbelly.
Game Features :
Massive Multiplayer Online game
Fight and rob other players LIVE
Build hotels, casinos, restaurants, and more
Boost cars, get in fights, and pull of heists
Invite friends to create strong mafia alliances
Build factories, bunkers, power plants, and more
Invite friends to make your alliance stronger
Make bank from your criminal empire
Find yourself at the center of a thrilling criminal saga
Enjoy eye-popping graphics
150 + powerful weapons and cars to buy
500 + different jobs
200 + goals to complete
80 + properties to own
60 + areas to explore
100 + criminal titles to claim
Funzio, the studio behind Crime City, has joined the GREE family to further their shared goal of creating groundbreaking games and delivering them to players around the world! Stay tuned for more hit games from GREE.
Want to take your gaming to the next level? Then come play on GREE—the world's largest mobile social network. comeplayGREE.com.
Join the fun and share your passion for Crime City with other criminal masterminds:
Visit our Forums: forums.gree.net
Follow us on Twitter: @CrimeCity
Like us on Facebook: facebook.com/crimecity
Watch us on YouTube: youtube.com/GREEgames
NOTE:
This is an ONLINE ONLY game. You must be connected to the Internet to play
Works great on iPhone, iPod Touch, and iPad!
Use of this application is governed by Funzio's Terms of Service. In addition, please note that Funzio respects your privacy and asks you to review the Funzio Privacy Policy. The Funzio Terms of Service and Privacy Policy can be found in the Legal section below and at www.funzio.com/?page_id=568.
Additional Information :
Compatible with iPhone, iPad, and iPod touch.

Requires iOS 8.0 or later.

Size 131.9 MB
User Reviews :
My go-to game! I've been playing since 2012 and will be playing for much longer! Yes the game has taken longer to load than usual and not as many challenges as usual but that can be fixed. I also noticed too many players are impatient. I've never paid with real money and never really needed to. I love this game and will continue to play. More fun with your friends (in your syndicate) too.
Get Crime City from App Store
What is your opinion about Crime City
Get more free apps & games daily
Subscribe to our mailing list and get free apps & games daily to your email inbox.
Thank you for subscribing.
Something went wrong.