(App) Coinbase – Buy & sell Bitcoin
 iphone apps info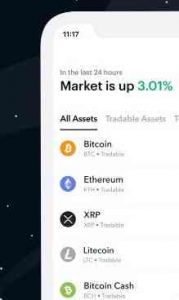 App Description :
Coinbase: the simple, safe way to buy, manage and sell your cryptocurrency.
We're the world's largest cryptocurrency exchange, with over 25 million users across 32 countries worldwide. Coinbase allows you to securely buy, store and sell cryptocurrencies like Bitcoin, Bitcoin Cash, Ethereum, Ethereum Classic, Litecoin, and many more on our easy, user-friendly app and web platform.
App Features :
Here's a little taste of what our app does:
BUY EASILY
Own crypto in an instant: Coinbase makes buying bitcoin, bitcoin cash, ethereum, ethereum classic, litecoin and more simple and fast. All it takes is a bank account or debit card.
SUPPORTED ASSETS
Bitcoin (BTC), Bitcoin Cash (BCH), Ethereum (ETH), Ethereum Classic(ETC), Litecoin(LTC), Basic Attention Token (BAT)*, 0x, (ZRX)* and USD Coin (USDC)*.
Available in select territories.
SMART TOOLS
Brand new to crypto? We've got you covered. Stay informed with our updates and features that help you build your knowledge and your portfolio, including automatic buys and price alerts.
STAY INFORMED
Keep track of your crypto: Our clear, user-friendly dashboard helps you see prices and the value of your assets, any time of day, anywhere you are through our website or mobile app.
SAFETY FIRST
Over 98% of cryptocurrency is stored securely offline and the rest is protected by industry-leading online security. Your account is also subject to the same scrupulous safety standards, including multi-stage verification and bank-level security. You can even lock the app with a passcode, or remotely disable your phone's access to the app if it gets lost or stolen.
BEGINNER TO EXPERT, WE'RE HERE
Whether you're just starting your crypto journey, or a seasoned expert, you'll find everything you need to build your crypto portfolio on Coinbase.
Take the first step towards blockchain, bitcoin mining, bitcoin games, bitcoin cash games, ethereum games, litecoin games, or bitcoin trading.
SUPPORT WITH EVERY STEP
Having issues? Send us an email at support[at]coinbase.com
Additional Information :
Compatible with iPhone, iPad, and iPod touch.
Requires iOS 12.0 or later.
Size 112 MB
User Reviews :
I love everything about Coinbase and what it stands for.. However, you all are making it hard for me.. To compete against Robinhood, Cashapp, Tdameritrade, and soon to be Fidelity; please find a way to get rid of these fees to buy into the market.. Maybe keep the selling or converting fees.. But, we need more people in the market and the fees are not helping.. Please go public soon.. Merge with Square or buy them if possible.. Or, merge with Facebook as that would allow Basebook to be an industry leader in crypto and p2p transfers and transactions… Most important, I currently use yahoo finance to manage and see my average cost and gains or losses for all my different crypto investments.. I would love if Coinbase would incorporate my average cost per coin.. Also, add in my daily and total gains and losses.. I should not have to use a third party site to manage investments that I purchased on your site.. Lastly, please add custom alerts for all of the crypto's offered on the platform… We only have the ability right now to set custom alerts for three assets and again I have to use a third party site for the others.. I would love for Coinbase to be my source for everything crypto…
I started with coinbase and was charged excessively for buying BTC ETC LTC. They feed on newbies entering the market and charge ridiculous fees per buy or sell. It's called taking that initial hit because you pay for the convenience. Put your money on coinbase and transfer it directly to GDAX(also owned by coinbase) This is an easy way to get into the cryptocurrency, but for the uninitiated it is not a trading platform. GDAX is. You can fund your COINBASE account, but they neglect to tell you that you can make a GDAX account and transfer your money free of charge and buy/sell/trade for minimum fees. Limit buys and sells are free on GDAX. The pros: COINBASE is legit and GDAX is legit. They are FDIC protected and your legal tender is insured by the federal government because it's held in an escrow account in a bank. Your coins are insured by insurance policies. BUT It would be nice to be informed ahead of time that you can incur substantially higher fees using the simplified ap and that if your going to be trading short or long term, that transferring your funds to GDAX (an actual exchange) results in much lower fees and free limit orders. I'm quite happy with GDAX and my only issue is the taking advantage of newbies entering this volatile market without the foreknowledge that there sister company offers extremely lower rates.
Get Coinbase from App Store
What is your opinion about Coinbase
Get more free apps & games daily
Subscribe to our mailing list and get free apps & games daily to your email inbox.
Thank you for subscribing.
Something went wrong.