(App) ClassPass – Fitness Workout
free apps for iphone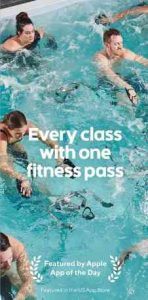 App Description :
ClassPass is the leading membership to the world's largest fitness network. With ClassPass, staying active has never been easier – or more fun. Download the app for free and get started.
 Search, find and book fitness activities near you including: yoga, boxing, spinning, Pilates, barre, running, dance, martial arts, strength training, HIIT, body building, open gym time and more.
 Access 25,000+ studios and gyms at your fingertips, including popular options like Flywheel, Orangetheory Fitness, CorePower, Crunch, Pure Barre, [solidcore], y7, Row House and beyond.
 In select markets, use your ClassPass membership to book massages, cryotherapy, sports recovery and other wellness activities.
 Connect with HealthKit to show your average heart rate and how many calories you burn in class.
Your fitness routine? It'll be anything but.
App Features :
How does it work?
 Download the ClassPass app to start searching for fitness activities near you
 Browse classes by studio or gym, workout activity, location, time and more
 Find the classes you want to take and reserve them instantly
 Stream unlimited audio or video workouts when you can't make it to class
 Connect with your friends on ClassPass to plan workouts together
 Try classes recommended just for you based on your interests, location and schedule
 Read reviews and class ratings from other ClassPassers and know what to expect
 Celebrate your fitness milestones and share them with friends
 Manage and adjust your workout schedule seamlessly with one account
 Pause, stop or change your plan at any time
ClassPass is available in over 2,500 cities across 26+ countries including: USA, Canada, Australia, New Zealand, United Kingdom, Ireland, France, Germany, Netherlands, Switzerland, Denmark, Singapore, Hong Kong, Malaysia, Thailand, Indonesia, Philippines, China, India, the United Arab Emirates, Norway, Finland, Spain, Brazil, & Portugal.
Additional Information :
Compatible with iPhone, iPad, and iPod touch.
Requires iOS 11.0 or later.
Size 109.3 MB
User Reviews :
Pros and cons of Class pass
Pros: you get to try out different classes and gyms for a really discounted rate (per class), no membership/commitment to a specific gym, can be used towards personal training sessions and other healthcare such as massages.

Cons: you can only try a class or gym out 4x max but class pass doesn't restrict the amount of times you book same class or gym on the app – so unfortunately you are told this by instructor (who needs a certain amount of people per class to get paid and ClassPass people don't count)when he/she has seen you there 4x or more. If these are the rules, then app should restrict booking same class or gym after 4th time (so that it's fair towards the instructors); also if you've paid for a cycle but get ill which happened to me and are not able to use the credits purchased, instead of rolling it over to the next cycle, you just lose them and start over. This really is unfortunate bc I paid for it and unfortunately lost all 45 credits bc I was unable to work out for 4-5 weeks. Another thing is that once you've booked a class, they are not able to refund you the credits if you cannot make it to a class for in case of emergency type cancellations (on the day of) and you could get charged $15 for not attending the class even if you have an emergency. Is there not a way to be able to cancel a class on the day of if you have an emergency and not get charged?
Developer Response ,
Thank you for your feedback. We apologize for the confusion here. With ClassPass, you are able to book classes at the same studio three or four times each month depending on the plan you subscribe to. After the third or fourth visit to the same studio in one month, you can still continue attending but you will need to use a few more credits to do so. Once the next month begins, you can again book three or four more times at standard rates.
Get ClassPass from App Store
What is your opinion about ClassPass
Get more free apps & games daily
Subscribe to our mailing list and get free apps & games daily to your email inbox.
Thank you for subscribing.
Something went wrong.