(Game) Clash of Lords 2 – Guild Castle
iphone games for free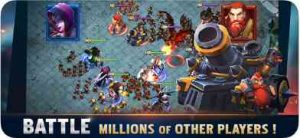 Game Description :
A top 10 strategy game all around the world!
A top-rated game!
Are you ready to step into the pit and punch someone? Your favorite Clash of Lords 2 Heroes are fighting in a free-for-all frenzy against a force of frightening fiends! Control the action and become the greatest warlord in all the land. To survive you'll need wit, will, and we couldn't think of a word for strength but you get the picture. It's time to Clash!
Clash of Lords 2 is a strategy game with fun and innovative twists on the genre. Recruit over 50 Heroes and their mercenaries, build and defend a base, and fight alongside your friends in over 10 PvE and PvP modes! Get ready to Clash!
Game Features :
1. You control the action! Activate Heroes' skills in real time!
2. Pair Heroes and Troops with our unique Mercenary system!
3. Play it Your Way! With over 10 PvE and PvP modes, there's always something fun and different to do!
4. Fight alongside your friends! Join a Guild, and clash with players from all over the world! You can even battle against players from different countries!
5. Free to Play! Log in every day to win free Heroes and Jewels!
Note: This game requires an internet connection to play.
Visit us on Facebook at: www.facebook.com/clashoflords2
Additional Information :
Compatible with iPhone, iPad, and iPod touch.
Requires iOS 7.0 or later.
Size 408.9 MB
User reviews :
Hey everyone, I've been playing this game on an off for probably 4 or 5 years. It's not pay to win, but it really tempts you to pay with all its "exciting events" and whatnot. I'll start off by saying I still love this game, it is really fun. But today in particular, I had a couple issues that have caused me to write a review. For one, I got a reward from the goalpost for 600k souls, but that glitches and I got nothing. And I was about to evolve an equipment, and it even said it was successful, but it took my 30 equipment shards and didn't evolve. IGG If you read this…. could you help? In addition, this game has put out a few new features lately, but nothing really but so I would like to see a bit more of that and a bit fewer things that are directed at people who spend money

I've had the game for several years and have thoroughly enjoyed the gameplay. The app provides ample opportunities to gain rewards through various game modes, which is something that is rarely seen in most games that have special paid currency.

I recently recovered my old account after having lost it when I got a new device, and am glad to see that the game has continued to develop and add new content to keep players active, especially with the new PvP modes (sorry if this is old news, but I'm just coming back from a pretty lengthy break), but match making in these modes makes it difficult for most players to get very far without end game resources. A new match making for the PvP modes based on rank would be great!

I've been playing this game for a while now, it's fun and entertaining but lately the constant game crashes while battling are getting annoying. Seems like you can't play it for very long before app just crashes. Some parts of this game have limited opportunities to complete certain tasks so when it crashes during something like that and you lose one of your chances it's really frustrating. Fix the crashing and it's definitely worth more stars.

Update: after trying multiple times to contact support, I've come to the conclusion that they either don't care that it crashes or aren't bright enough to fix it. Or more likely a combination of both! It's quite pathetic really…
Get Clash of Lords 2 from App Store
What is your opinion about Clash of Lords 2
Get more free apps & games daily
Subscribe to our mailing list and get free apps & games daily to your email inbox.
Thank you for subscribing.
Something went wrong.
Summary
Reviewer
Review Date
Reviewed Item
Author Rating