(Game) Bio Inc – Biomedical Plague
ipad games for free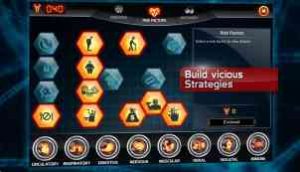 Game Description :
Bio Inc is a biomedical strategy simulator in which you determine the ultimate fate of a victim by developing the most lethal illness possible.
Upgrade your diseases, boost risk factors and slow down your victim's recovery before a team of highly motivated doctors find a cure and save him.
Game Features :
Hours and Hours of Awesome Gameplay:
18 stages with different gameplays
100+ realistic biomedical conditions
Spread diseases across all human systems
Real-Time human body degradation
Awesome graphics!
Four difficulty settings
Thousands of ways to play the game
You can watch the trailer here: playbioinc.com
Stay tuned, frequent updates will keep Bio Inc. fun and fresh for years to come!
Available on iPhone, iPad and iPod.
If you ever beat the "Impossible Stage", let us know and we will add you to our Hall of Fame!
Additional Information :
Compatible with iPhone, iPad, and iPod touch.
Requires iOS 8.0 or later.
Size 135.7 MB
User Reviews :
Really good game with detailed gameplay. So many symptoms to play with, risk factors to adjust, and ways to affect the life around your victim. I love the aspect of being able to affect how the doctors are treating your victim, or if your victim is even willing to go to the doctor at all. This game also has many unique symptoms that i dont usually see in games like this. Only 2 things i'm not a huge fan of is how you gain points to use and ads. I wish it just automatically increased rather than having to go to each part of the body and select the germs. But it's not awful either. The game does have frequent ad pop ups, which i understand. Gotta make your money somehow. Aside from that, this is a fantastic mobile game with a lot of cool, and fun features. I would recommend to anyone who wants a game that doesnt cut out features for being free. You can pay for ad free, which i think is worth it. This game is hours of entertainment.
Ok, yes, all diseases are real but how can stress or arthritis kill someone. I understand symptoms of stress can probably kill but arthritis makes no sense. Everyone knows diabetes and it isn't in bio inc. Bio inc redemption has diabetes and diseases named for multiple famous people [If it is from famous people like Parkinson or Alzheimer.] But it's still a good game. And another thing that I don't really like is the doctors find a cure and your instantly feel better from having arrhythmia, AIDS, Immunodeficiency, Crohn's Disease, Epileptic Seizures and Lung Cancer like all of those diseases got cured. It doesn't make sense, and it saying that they'll live a long and happy life. Life expectancy may decrease so maybe not too long before they die. But anyways, still a good game. But saying this: not everyone will like this game and think it's a copy of plague inc, though it's not.
I love the game because it shows a lot of how the human body works and how simple things can kill you it's just really fun and there's not too many ads but I also found a silly bug/glitch when you find out that The person you're trying to kill is going to the doctor and then you put on that thing where they're scared of going to the doctor and then it's either that they somehow are suddenly not at the doctor anymore or they are still at the doctor. but it's just the game messing with you. but I really like the bug/glitch and you should keep it it's really funny to me anyway you can remove it later but I like it. it's your choice anyway you're the developer
Video :
Get Bio Inc from App Store
What is your opinion about Bio Inc
Get more free apps & games daily
Subscribe to our mailing list and get free apps & games daily to your email inbox.
Thank you for subscribing.
Something went wrong.
Summary
Reviewer
Review Date
Reviewed Item
Author Rating