(App) Asana Rebel – Get Fit
iphone apps info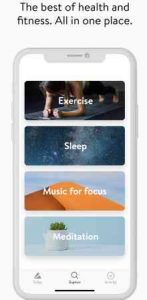 App Description :
From losing weight to building strength, from high-intensity workouts to moving meditations: each piece of Asana Rebel is meant to fit every goal into your lifestyle.
App Features :
One app to help you reach all your health and fitness goals
Asana Rebel will empower you to get in shape, feel better, and stay inspired day after day.
Exercise anytime, anywhere
Be your own gym: work out on your lunch breaks, in hotel rooms, late at night. Explore a world of yoga-inspired programs you can squeeze into the busiest schedules.
Fitness in every format
Make every second count with 5-minute workouts, stay up to date by reading articles, track your progress with daily challenges, get up to date with fun quizzes. Everything to keep you showing up.
Keep your body sharp and your mind sharper
Mindfulness is the ultimate skill to level up your training and boost your productivity. Bring clarity into your workouts with guided sessions and get in the zone with Music for Focus.
Find a routine that works for you and build lifelong habits
Train smarter, eat better, recover faster. Begin your journey with a single challenge and build from there.
Get moving and stay inspired!
Download Asana Rebel now.
Apple Health integration: Report your calories burned, weight, and yoga workouts (optional)
HOW TO USE THE APP & SUBSCRIPTIONS
The download of Asana Rebel is free. Get all available workouts within the app as part of the monthly subscription. If you opt for the subscription, you pay the fixed price for your country which is displayed in the app. The subscription will be renewed automatically if it is not canceled within at least 24 hours before the end of the current subscription period. Your iTunes account will be charged for each new term within 24 hours prior to the expiration of the current subscription. The current term of In-App subscriptions cannot be canceled. You can disable the automatic renewal via the iTunes account settings at any time.
FOR MORE INFORMATION:
Terms of Use: asanarebel.com/terms-of-use
Privacy Policy: asanarebel.com/privacy-policy
Additional Information :
Compatible with iPhone, iPad, and iPod touch. Apple TV.
Requires iOS 11.3 and watchOS 3.2 or later.
Size 283.8 MB
User Reviews :
I am so surprised by this app! When you first get in, it tried to get you to sign up immediately with a yearly sub, which I felt was a bad sign.. I mean I hadn't even used it yet. I closed all the ad screens and they offered me a free trial, so I took it and tried it out. At first I was surprised by how simple it was.. it just shows you a list of full workouts and one short workout at the top. I felt like.. wait, that's it? Turns out they change the short workout every morning. I started with the topmost workout and figured I would just make my way through the list. It was amazing. I've been doing yoga regularly for a few months now and I've never had such a motivating, smooth, and exhausting but enjoyable workout. The videos are super well done, and as a woman, seeing gorgeous and elegant bodies and poses is inspiring and motivating. I felt like they did an amazing job of structuring truly full workouts into the yoga sessions, and this could easily be the only app one uses to stay fit. I am excited to let my trial end and pay full price, they definitely deserve it. I will be using this from now on.
I used to rave about this app to EVERYONE I know, now… not at all. The last 6 months with this app had been difficult to say the least. There have been a lot of technical and development issues, aka having to restart the app EVERYDAY bc it would freeze, workouts "disappearing" and many more. The most disappointing thing about this app now is that the "coach" feature is gone. THE REASON I had purchased this app. I wanted to pick a goal style program aka "fat burn" or "Bikini body" and just have to open up my app and click the days workout because it was a 4-6 week guided program. I enjoy yoga but i don't have a degree or certification in the best way to go about my program, that's why I purchased the app and now that feature is GONE. Asana claims that they changed the formatting so people could be "free and flexible" with their work out, that's fine and dandy for those people, but what about us over here who do not want it that way?! Why does it have to be one OR the other? Why can't you integrate both old and new programs into one app? "Coaches programs" AND being able to be "free and flexible" with doing all of your own choosing? All in all this was once a great app so that's why I didn't go below a 3, but I am just so disappointed with the changes they made and I of course have the 1 year subscribe, soo. The changes they've made do not make working out easier, now it takes a pep talk to get myself motivated, when I used to be excited
Developer Response

,

Hi Jen1500,
Thank you for your sincere feedback. We have passed your comments on to our product team. You can still find the workouts from the previous version in the Past Workouts folder, in the settings of the app.
The Asana Rebel Team
Get Asana Rebel from App Store
What is your opinion about Asana Rebel
Get more free apps & games daily
Subscribe to our mailing list and get free apps & games daily to your email inbox.
Thank you for subscribing.
Something went wrong.