(App) Apartment List
 free apps for iphone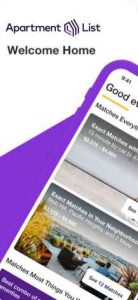 App Description :
Apartment List is an apartment rental app personalized to all your needs. Designed for the modern-day apartment finder, this rental app will help you find the best apartments or homes for rent.
Finding apartment and home rentals with Apartment List is easy. We ask you what you're looking for, then search through all available apartment listings to find the best rentals that match your needs.
You can easily browse through rental matches and create your short list of apartments you like. You can also book visits to see your top choices, contact your top choices and get your questions answered.
Once you decide which home or apartment to go with, all that's left to do is sign and move in!
WHAT USERS ARE SAYING
This is the ultimate tool for finding apartments.
Killer app for anyone looking for a new apartment.
I've tried the Trulia and Zillow apps and this is better than both of them.
App Features :
Personalized Home Search
We show you the apartments that best match your preferences, even places you didn't think to search for.
Apartment List has over 4 million apartments for rent. We'll show you a wide variety of homes, prices, and amenities.
Home and Apartment Categories
Matches are grouped into categories that make sense so you can quickly get an overview of all your options.
The Best Rental Property Data
Every apartment for rent has a ton of high-quality photos, up to date availability and pricing.
Plus, specials and details you care about, like pet policy and move in fees.
We'll even keep track of updates for you!
Apartment Short List
Quickly create a short list of rentals you like.
Compare apartment rentals and pick your top choices.
Access your list from anywhere – phone, computer, or tablet!
See all the latest price changes and new units, now conveniently in 1 place!
Check out the Apartment List rental app and find your next home today! We're just getting started, so check back often for awesome new features.
Let us know what you think at feedback[at]apartmentlist.com. We'd love to hear from you!
Additional Information :
Compatible with iPhone, iPad, and iPod touch.
Requires iOS 11.0 or later.
Size 74.5 MB
User Reviews :
I have moved around a lot as I love reinvention, fresh starts, new environments and adventure!! This is the singular best way to organize, compare and stay within budget!! It is so user friendly and does most, if not all of the leg work for you!! Whomever created this app is a GENIUS, that I hold in the most high regard!!! I could have never imagined that I could get everything I wanted and more AND to stay within budget!! I CAN'T WAIT TO LEAVE MY HUSBAND AGAIN!!! FABULOUS NEW BEGINNINGS IN A PLACE ALL TO MYSELF THAT I CAN CALL MY VERY OWN!! Ce la vie… sayonara… outtie 5000!! I thought it be years before I could embark again. However, I see my dreams are now again within reach and in short order!! HAPPY DAYS ARE HERE AGAIN!! Remember: LIFE IS TOO SHORT!! LIVE IT YOUR OWN WAY EACH & EVERYDAY, EACH & EVERY WAY!! I can only say humbly… Thank You to the developers as you have inspired hope and instilled new vision and direction in me that I thought had all but died!!! HATS OFF TO YOU & ALL WHO READ THIS POST!!
The idea of the app is amazing. Definitely gave me some good recommendations for apartments to to look at, but it did have a few bugs.

1. Didn't have the majority of the apartments, just a few of them in my location, so I couldn't use the app as much as I intended.

2. When I liked or loved an apartment or I wanted to change a like to love or vise versa it wouldn't let me change it. Whatever I liked or loved was a permanent choice no matter how many times I tried to change it or had the option to change it.

3. It didn't show the layout of some apartments so I had to look them up on other websites.

4. I think a few of the other apartments need to have a standard to uphold. Some of them didn't have any pictures or any information, so even if I had been a good choice for me i would have to skip past it.

Other than those things I really loved the app and the way it was set up. It took a long tedious task Into a very short one. It's basically tinder for apartments. I'm happily getting settled into my next apartment very shortly.

Some things I did absolutely love about the app is that it showed the location and you could contact the apartments directly from the app. It was very easy to use. Comparing my last apartment hunt to this one made a huge difference and took half the time.
Get Apartment List from App Store
What is your opinion about Apartment List
Get more free apps & games daily
Subscribe to our mailing list and get free apps & games daily to your email inbox.
Thank you for subscribing.
Something went wrong.