(Game) The Simpsons – Tapped Out
 iphone games for free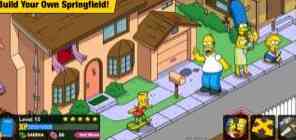 Game Description :
THIS GAME IS LIFE-RUININGLY FUN!
From the writers of The Simpsons, comes the city building game that lets you create your own living, breathing Springfield! When Homer accidently causes a meltdown that wipes out Springfield, it's up to you to clean up his mess… we mean, help him rebuild it!
Game Features :
Collect Your Favorite Characters
Help reunite Homer with his loved ones – Marge, Lisa, Maggie (and even sometimes Bart) – as well as his not so loved ones, like Ned Flanders. Re-populate Springfield with your favorite characters, from Barflies (Barney Gumble) to Wise Guys (Fat Tony). Add them all, we won't judge! Dress your characters to the nines with options like Daredevil Bart or Lizard Queen Lisa, and relive scenes from your favorite episodes of The Simpsons!
Take Charge of Your Springfield
Can't control your own life? Now you can control the lives of the citizens of Springfield instead! Make Apu work ridiculously long shifts at the Kwik-E-Mart, have Moe smuggle illegal animals, or make Homer toil poolside all day… that last one might not be so bad.
Build Your Own Springfield
Think Homer deserves to live next door to Moe's? Or the monorail can survive a few more sharp twists and turns? Or 40% fewer health inspectors? Well you can finally make Springfield just the way you want it! Expand your town to the Waterfront, grow its businesses with the glamourous shops of Springfield Heights, and enjoy its sights, all with only a few taps.
Experience Unique Simpsons Stories
Catch exclusive animated scenes and new hilarious stories from the writers of The Simpsons. You know they're good because they write for The Simpsons! Tapped Out is the most life-ruiningly fun Simpsons game you can play!
Always Something New for Your Favorite Town
Springfield might perpetually be on the verge of destruction, buy hey, at least it's never boring. Whether it's Halloween monster invasions, superheroes run amok, or chaos caused by one of Homer's "great" ideas, you've got never-ending options to tap!
Requires acceptance of EA's Privacy & Cookie Policy and User Agreement.
User Agreement: terms.ea.com
Additional Information :
Compatible with iPhone, iPad, and iPod touch.
Requires iOS 7.0 or later.
Size 85.8 MB
User Reviews :
I have been watching The Simpsons for about 1-2 years now. At first, I didn't like the show very much, bur I gradually grew to like it. I found out about this game from casually browsing the Simpsons Wiki. Since I like town-building sim games, I decided to get it to help pass time during the coronavirus outbreak of this year. Contrary to what some of the reviews say, it works really well and I have no trouble making in-app purchases given appropriate credit (most of the bad reviews seem to be from haters or people with older devices). I have an idea for a new feature. It is to make it so that one can spend in-game money (the not doughnut one, whatever that is called) to improve the chances of getting a particular item in the Yearbook Mystery Box slightly each time you do this. That way, the chance of wasting 30 doughnuts on an insignificant item is lessened. I sincerely hope this game lasts as long as The Simpsons TV Show (kind of exaggerating there, but you get the point). Thanks for reading my review if you chose to. It would be really nice, especially if the developers read this review
I have been playing this game for several years and it is one of the best ones out there. In fact, I have had this game longer than any other game. For a long time I did not spend any real money and was able to play the game and finish any of the events they had. I only log into the game 3-4 times a day and have never had problems completing an event. I spend money now, because I want to show my appreciation for not making this a "pay to play game." Also, when I do spend money, it is never on the current event. There are some glitches and bugs every now and then, but they are always quickly resolved. I also do not know a single software company out there that doesn't have bugs or glitches when they upgrade or update their programs or software. Sometimes you just can't anticipate everything, but the important part is that you know how to fix it. If you are new to the game, just be patient, have fun and you will get there.
Get The Simpsons from App Store
What is your opinion about The Simpsons
Get more free apps & games daily
Subscribe to our mailing list and get free apps & games daily to your email inbox.
Thank you for subscribing.
Something went wrong.
Bitcoin
Ethereum
MetaMask
Xrp
Polkadot
Binance coin
Stellar
Dogecoin
Tron
Elrond
Donate Bitcoin to this address
Scan the QR code or copy the address below into your wallet to send some Bitcoin
Donate Ethereum to this address
Scan the QR code or copy the address below into your wallet to send some Ethereum
Donate Xrp to this address
Scan the QR code or copy the address below into your wallet to send some Xrp
Donate Polkadot to this address
Scan the QR code or copy the address below into your wallet to send some Polkadot
Donate Binance coin to this address
Scan the QR code or copy the address below into your wallet to send some Binance coin
Donate Stellar to this address
Scan the QR code or copy the address below into your wallet to send some Stellar
Donate Dogecoin to this address
Scan the QR code or copy the address below into your wallet to send some Dogecoin
Donate Tron to this address
Scan the QR code or copy the address below into your wallet to send some Tron
Donate Elrond to this address
Scan the QR code or copy the address below into your wallet to send some Elrond