(App) Amazon Alexa
iphone apps for free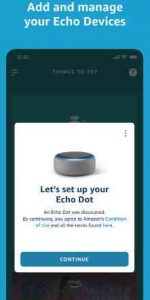 App Description :
Use the Amazon Alexa App to set up your Alexa-enabled devices, listen to music, create shopping lists, get news updates, and much more. The more you use Alexa, the more she adapts to your voice, vocabulary, and personal preferences.
App Features :
DISCOVER MORE
Get more out of your Echo device through personalized feature recommendations from Alexa
Discover and enable recommended Alexa skills
Pick up where you left off directly from the home feed with lists, shopping, or recently played Music and Books
MANAGE YOUR DEVICES
Set up your Alexa-enabled devices, control or check status of your compatible smart lights, locks and thermostats at home or on the go
• Create routines to automate your smart home devices
MUSIC & BOOKS
Connect to music services like Amazon Music, Pandora, Spotify, TuneIn, and iHeartRadio. Choose a song or playlist and listen on your Alexa-enabled devices
Create speaker groups to play music across your compatible Echo devices for multi-room music
ORGANIZE YOUR DAY
View and edit shopping and to-do lists on the go, get weather and news updates, manage timers and alarms, and more
STAY CONNECTED
Use Drop In from your app to connect instantly with your compatible Echo devices, like a two-way intercom
Call or message supported Alexa-enabled devices, at no additional cost
Additional Information :
Compatible with iPhone, iPad, and iPod touch.
Requires iOS 11.0 or later.
Size 260.6 MB
User Reviews :
Developers have fixed the list issues with a recent update. Very happy with the app now. I use this app primarily for the list feature (I have a new baby so I track all feedings, diapers and update the shopping list for groceries when my SO goes to Whole Foods) and agree with other reviews on here that the list feature has become a huge hassle. I used to have no problems accessing my lists. Now, when re-opening the app I'm unable to navigate to another list or add additional items to my lists without having to completely close the app and re-open it again and wait for it to gather all my data. I can then use the list function normally for that session, and will have to dismiss the app again and re-open it to update it again the next time I need to (which is about 20 times a day because I'm tracking feedings and diapers with a newborn). I continue to use it because it's a great help to add items to my lists via several echo dots I have in the home, but manually updating the lists when Alexa can't hear me (over a hungry crying baby for instance) is my main issue with this app. Would be thrilled if developers could fix this feature as I have enough to handle at this moment without constantly fussing with the devices that are supposed to simplify life, not complicate it.
This app no longer works properly. For the past several weeks, I've gone to several different stores to shop. Before I leave home, I make a shopping list, but when I get to the store the app won't open. I get the comment "No Network Available" "Please connect and try again". I checked my settings and cellular data and cellular roaming is turned on, but I'm unable to open or sign in to Alexa. The next day it might or might not work. I have LTE cellular service and a fully charged iPhone 7 running IOS 11.4.1. I'm now leaving the second store today without completing my shopping because I depend on this list function. I guess I have to revert back to the olden ways of paper & pencil. I'm very dissatisfied, but hey it's free you say. Well it's turned into a huge time waster for me because now I'll have to go home and scour through the sales ads and either recreate my lists or make a paper list. When I get home the app may actually open, but when I get to the store….nothing. Maybe you ought to fix the issues that exist now before you keep proudly adding and advertising more and more new functions and capabilities to the app, which evidently seem to be causing problems with its former user-friendly and basic functioning.
Get Amazon Alexa from App Store
What is your opinion about Amazon Alexa
Get more free apps & games daily
Subscribe to our mailing list and get free apps & games daily to your email inbox.
Thank you for subscribing.
Something went wrong.