(Game) AFK Arena
free games for iphone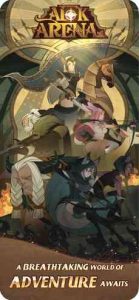 Game Description :
The demon invasion looms. Esperia must be saved! Call upon heroes from 6 unique factions, train your heroes, forge weaponry and unite with players from all around the globe. Send back those demonic hordes from whence they came!
Game Features :
Collect an array of legendary hero cards
Discover heroes and factions that each possess their own unique and gorgeous art style inspired by Celtic mythology. You'll want to add each and every card to your collection!
Kick back and enjoy all the rewards that come your way
Work and study will become the last thing on your mind as you enjoy playing AFK Arena. No complicated gestures or strategies needed. Let your army of heroes fight and amass riches for you. All it takes is ten minutes a day!
Uncover secret treasures in mazes
Venture deep into the heart of Esperia's many mazes situated within the Peaks of Time. Play at your own pace without time restrictions or deadlines.
Unite and fight together with players all around the world
Forge alliances with other players you meet and take on an array of dangerous opponents together! Assemble a robust team of heroes and go to battle in AFK Arena's global 'Legends' Championship'.
Strategize and dominate
You'll be surprised at just how many hero formations are possible as you overcome each of your adversaries. Get more out of heroic unions and factional bonuses as they play to your advantage and allow you to turn the tide of battles at your fingertips.
Facebook: www.facebook.com/afkarena/
Additional Information :
Compatible with iPhone, iPad, and iPod touch.
Requires iOS 8.0 or later.
Size 212.1 MB
User Reviews :
Found this game after an ad popped up with on one of my social media platforms. Thought the story was interesting so I downloaded it. Download was quick and easy. Learning how to maneuver the menu and learning how to actually play the game was very easy. Gameplay can become engaging and addicting as you can unlock more features of the game as you continue to play. Because the game is fairly new, more characters are added into the game, but the number of heroes currently present are plenty and skilled in their own way. The enemies progressively become more difficult as you advance in chapters which means you'll have to put in more effort in your team formations and strategize each play. And for the times you get stuck, you can just leave the game and continue with your day because you earn rewards while you're out of the game! Overall, this game is a great way to pass some time and even though it offers online transactions, free-to-play players aren't left in the dust because the game offers many opportunities to level up your heroes and improve. One thing I wish to see in the future would be summoning events but as I've said before, it's still a new game and I'm sure the game devs are doing their best to please everyone. Also, a great thing to note is that they're very active on their Twitter and Facebook pages so you can always keep yourself up to date with the devs and other players!
Get AFK Arena from App Store
What is your opinion about AFK Arena
Get more free apps & games daily
Subscribe to our mailing list and get free apps & games daily to your email inbox.
Thank you for subscribing.
Something went wrong.