(App) 7 Minute Workout
free apps for iphone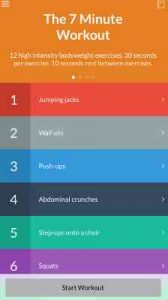 App Description :
The 7 Minute Workout app is the #1 fitness app in 127 countries. Become your own personal trainer to lose weight and get fit with fast, simple daily workouts.
12 high intensity bodyweight exercises. 30 seconds per exercise, 10 seconds rest between exercises.
Featured by Apple in the best "Apps for Health". Lifehacker chose 7Minute Workout in "The Best Apps That Integrate With iOS 8's HealthKit".
User reviews : "Beautiful, simple, perfect." & "Useful and beautiful!"
App Features :
Inspired by the 7Minute Workout that was originally published in ACSM'S Health & Fitness Journal and then covered by the NYTimes.
Free workout plan gives you a full-body challenge for improved fitness and weight loss.
Voice prompted, so you can complete the entire workout without looking at a timer or device.
See video and text descriptions of each exercise.
Time your workout with prompting for each new exercise and breaks.
No confusion on what exercise to do next, or how to do it.
HealthKit integration.
Upgrade to:
See a workout log.
Create custom workouts.
Set the duration per exercise.
Set the rest between exercises.
Adjust the number of sets.
Randomize the exercises.
Get additional routines.
Unlock alternative workouts.
In just seven minutes daily you can improve your fitness and get in shape! Become your own personal trainer with the Wahoo 7Minute Workout.
Download 7Minute Workout and begin your journey to a better you!
Additional Iformation :
Compatible with iPhone, iPad, and iPod touch. Apple TV.
Requires iOS 8.0 or later.
Size 129.7 MB
User Reviews :
This is one of the best apps I've ever gotten! And I'm not just saying that! I use it all the time and I used to do it with my parents all the time, I'm never one to get inn-app-purchases and even with out them this app is a great workout, I do a few of these a day, and they really work up a sweat and have me gasping for air at the end. It's not on-going nor too long breaks, you can pause it if you need a longer break or need to take a quick one in-between the exercise, but I thing 10 morning minutes is the perfect amount of time to get a sip of water and prepare for the next exercise. I think this workout is effective, and it's super quick and fun with quite a bit of variety and quick breaks in between therefore, even without the subscriptions this is probably the best workout app to use (keep in mind, this is just my opinion) if you want to save time and money, work out, and throw in some variety then this is CERTAINLY the app for you! Cheers
This app is so accessible that I've gotten my 60 year old parents and friends who hate exercise into it.The exercises are all very simple and require little set up. If you don't know the correct form, there are short explanation videos. I can do each of them, even when I'm having an off-day, but it's also fun to challenge myself and do more repetitions or add weights when I'm feeling strong. You can also blast music behind the instructions for motivation. 7 minutes is also such a doable amount of time, that I can never make excuses not to. I do it while I wait for my coffee to be finished, and it's a great start to the day.
I LOVE this app! It's so worth the money! I usually use this in addition to my running routine, and especially on the days I don't feel like working out. I enjoy that you can create your own workouts; my own made routines are usually what I use mostly. So far I've lost a total of 13 pounds using this app just because it makes it so easy and fun to get in a work out, without any excuses! I mean it's 7 minutes of your day! How neat is that?! I usually do 2-3 rounds of it but on the days I really just don't feel like doing anything at all, the 7 minute one round is usually good enough for me! Get this app!! You won't regret the $4 spent, promise!!
Get 7 Minute Workout from Play Store
What is your opinion about 7 Minute Workout
Get more free apps & games daily
Subscribe to our mailing list and get free apps & games daily to your email inbox.
Thank you for subscribing.
Something went wrong.