(App) 7 Minute Workout
iphone apps for free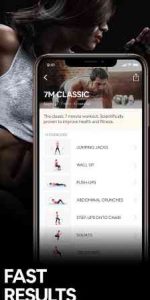 App Description :
Scientific studies show that daily 7 minute workouts are the short and quick way to get fit and healthy! Most people don't get enough exercise and our app is a simple and fun way to get started.
Once you start, you won't be able to stop!
App Features :
Why The 7 Minute Workout App by 7M?
Professionally designed workouts that are short and effective
Workouts that you can do anywhere, no equipment needed
Personal trainer with voice and video instructions. We guide you all the way
Beginner friendly workouts that are easy to perform but will make you sweat
Super simple to use custom workout builder so you can build your own 7 minute workouts
Enable Apple Health to track your workouts and calories burned
100% Free. No hidden and surprise charges!
Take control of your health and fitness and sweat with us every day!
Quick, effective and 100% FREE! What are you waiting for? Download the 7 Minute Workout by 7M and start your work outs today!
7M – Let's get healthier today!
Terms of Use: www.workoutinc.net/terms-of-use
Privacy Policy: www.workoutinc.net/privacy-policy
Additional Information :
Compatible with iPhone, iPad, and iPod touch.
Requires iOS 10.0 or later.
Size 95.4 MB
User Reviews :
I sat around for weeks and told myself i was going to start going on daily walks outside/around my neighborhood. Everyday, i would have the same excuse that i didn't have enough time. Finally, i started downloading a bunch of different "workout from home" apps hoping that would motivate me more to do something. All the others you had to pay for a subscription to even access half of the workouts and they aren't very easy to navigate. Most of them, the workouts are either 1) not free 2) too hard to do 3) don't explain how to do them well enough 4) don't focus on the areas you specifically want to improve, or all of the above. 7minutes is by far the best workout app and so useful! It's completely free, it targets what areas you want to work on, and let's you choose what fitness level experience you are. Within the first few days my legs and abs were burning because the workouts were so effective! The app is so descriptive in what to do and easy to use. Best of all, it's only seven minutes. So it's a mental game that makes you feel like you have to do it because there's no excuse for not having a free 7 minutes in the whole day where ever you're at!
I had used this several years ago, mainly for the 7 minute abdomen workout. It is the only exercise program that I was able to consistently do. ( I love to work out, but sincerely so many people were dependent on me, when I had the time, I did not have the energy. ). I had gathered so much flab around my stomach; and this 7 minute workout really helped. It took about 3 weeks for me to notice a difference (I was about 55 at the time). I continued with the app. Until my phone broke, about 6 months later. For me, it took of the extra, extra flab I had around my waist. After around 3 years of failed attempts of working out without using it, I am going to try, using again. I am 10 lbs heavier, but the many extra rolls around my stomach and waist, never really came back. I have to work on other parts, now!
I love how simple the app is to use and I love that it's free. All these other workout apps say that you'll get the best results with their app. As long as you're moving it doesn't really matter. exercise is exercise. I'm just starting my work out goals using this app and I'm just so glad I don't have to make an account and put a credit card on it for freaking workouts. This app is a really great way to get in shape and get fit even if it's just on the side from your main workouts. I suggest using this app to build strength and endurance. If for nothing else use this app for staying healthy. I'm never really in the mood to get up and go to a gym but with this app I feel motivated to get up and get sweaty. (it lets you set reminders and alarms through the app to make it simple)
Get 7 Minute Workout from App Store
What is your opinion about 7 Minute Workout
Get more free apps & games daily
Subscribe to our mailing list and get free apps & games daily to your email inbox.
Thank you for subscribing.
Something went wrong.