(App) 30 Day Ab Challenge
iphone apps for free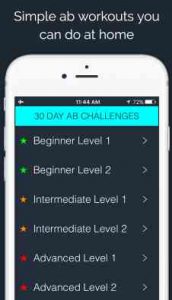 App Description :
Want to improve your health & fitness? Want the ultimate workout for the dream abs and core you've always wanted? Then try the 30 Day Ab Challenge for FREE!!
The 30 Day Ab Challenge is a simple 30 day exercise plan, where you do a set number of ab exercises each day with rest days thrown in! The workout increases intensity slowly and day 30 will test anyone. In total the app has 6 workouts with 15 ab exercise variations. The workouts and exercises are suitable for both men and women of any age and fitness levels.
You can also track your progress and share it with your friends via Facebook, Twitter and email!
App Features :
Try our other 30 day challenge and others apps too:
30 Day Cardio Challenge
30 Day Firm Butt Challenge
30 Day Plank Challenge
30 Day Push Up Challenge
30 Day Squat Challenge
30 Day Thigh Slimming Challenge
30 Day Toned Arms Challenge
7 Minute Workouts
Paleo Food List
Fasting Timer
iStats
More apps coming soon!!
Please seek medical advice prior to commencement.
Additional Information :
Compatible with iPhone, iPad, and iPod touch.
Requires iOS 10.0 or later.
Size 74.2 MB
User Reviews :
So I competed beginner level 1 and I see great results. I feel stronger, my stomach is flatter, and I'm seeing definition in my abs without flexing. Now I'm hooked! I started beginner level 2 this week, and which added in a new ab work out and starts off with more sit ups, crunches, etc. It is easy to use, and is definitely helpful if you aren't sure how to start working out, don't know what to do, and how much to do. The only thing I will say is, if you want to see results you have to be dedicated to completing the days / work outs.
I did the intermediate level 1 and noticed a HUGE difference. I haven't changed my diet or done any other workouts. The workouts are perfect for a busy schedule and I love that I've seen so much improvement. The only thing I could think to change is making the levels build off of each other. It seems that when I started intermediate level 2, the workout is about half as hard as day 30 of the last level was. Other than that, great app and program!
This app is absolutely amazing. works wonders. I'm only on day 10 and I already have abs!! Couldn't say enough good definitely keeps you on schedule and doesn't let you get lazy with it! I'm soo in love with all of These a 30 day fitness apps they all work amazingly however I don't see all of these activity's working for all ages or just anyone… before you started working out with this app I would definitely checks the workouts buy clicking the exercises tab and seeing all the workouts!! Love this app
Get 30 Day Ab Challenge from App Store
What is your opinion about 30 Day Ab Challenge
Get more free apps & games daily
Subscribe to our mailing list and get free apps & games daily to your email inbox.
Thank you for subscribing.
Something went wrong.