(App) 23andMe
iphone apps info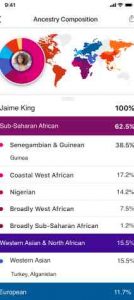 App Description :
Explore your DNA with 23andMe!
Learn about where your DNA comes from out of 150+ regions. Gain insights into your health, wellness, and more.
App Features :
Ancestry Service provides 5 reports, including Ancestry Composition and Your DNA Family
Health + Ancestry Service* provides 85+ reports, including Sleep Movement, Muscle Composition, and more
DNA Relative Finder allows you to opt-in to connect with other 23andMe customers who share your DNA and ancestors
Link your account with the Health app and participate in activity tracking enhanced research initiatives
Both services require purchasing a kit and submitting a saliva sample using the saliva collection kit provided. You can log into your account to track the progress of your sample. Once you get your results, open your app to see all your reports!
In the app, you can also answer survey questions that can contribute to research findings.
Our rigorous standards ensure quality service.
Our team of scientists and medical experts uses a robust process to develop reports to ensure validity
Ancestry percentages are derived from our powerful, well-tested system that provides you with ancestry estimates down to the 0.1%
Health + Ancestry service is available in USA, Canada, United Kingdom, Ireland, Denmark, Finland, Netherlands and Sweden.
Terms of service
US (www.23andme.com/about/tos/)
UK, IE, FI, DK, SE, NL (www.23andme.com/en-eu/about/tos/)
Canada (www.23andme.com/en-ca/about/tos/)
All other countries (www.23andme.com/en-int/about/tos/)
Additional Information :
Compatible with iPhone, iPad, and iPod touch.
Requires iOS 11.0 or later.
Size 107.9 MB
User Reviews :
A family history story indicates that from 1790 to 1815 the Ashburn family line fought Cherokees (Chicamauga). Martin Ashburn was an Ensign in the Knox Regiment of volunteers that destroyed the Chicamaugas in the Fall of 1794. Group of 500 men pursued a group of renegades that had murdered settlers along the Holston and French Broad Rivers after receiving from George Washington ~ $5,000 under a treaty agreement. The Group elected James Ore the commander who was Martin A.'s brother-in-law. president Washington wanted only the miscreants punished. group arrived near present day Chattanooga on the North side of the Tennessee River and were about to return home empty handed when a white captive living with the Chicamaugas for seven years (16yrs old) offered to help the Group engage the Indians by surprise. Cherokees sued for peace. never again attacked settlers as as tribe. The battle was remembered as the Running Waters, Cave and Lookout mountain campaign. Martin settled in the Sequatchie Valley in 1815. Hid grandson and namesake married a full blood Cherokee woman named Mary Hawkins in 1841 and moved on to former Indian Land near Lookout Mountain in Alabama. Martin and Mary had many children. among them my grandfather William Lafayette Ashburn. By Don Ashburn 2019.
Overall it's a good app. User friendly for the most part and a beautiful interface. That being said, it could use some improvements. There's no actual messaging section so if you want to message a relative, you have to go to that persons profile and click message. It would be great if there was a section totally dedicated to messaging where you can access them at the same time. There's no notification that tells you when you get a new message either. You just get an email which can get a little excessive. Also sometimes when you try to send a message, the messaging function will randomly just close out in the middle of sending a message. Same when you try to put anything in the "how can we improve this feature" section. When you try to enter cities relatives were born in it doesn't always work. You'll select a city and it disappears similar to how the messaging function just closes you out. There's also A LOT OF INFO so sometimes it's kind of hard to find your way around because some sections are sort of arbitrarily labeled. I sometimes struggle to remember how to get back to things I'm looking for. These things don't keep me from enjoying it though. It's just a bit frustrating and I feel they could be easily fixed. When you consider the amount of information you get in this one app, these issues are minor and I hope 23 and me will fix them in the future because it could be great.
Get 23andMe from App Store
What is your opinion about 23andMe
Get more free apps & games daily
Subscribe to our mailing list and get free apps & games daily to your email inbox.
Thank you for subscribing.
Something went wrong.