(App) 21-Day Meditation Experience
iphone apps for free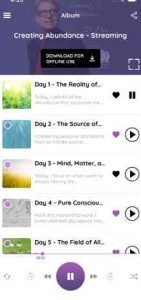 App Description :
Oprah Winfrey, Deepak Chopra, and Chopra Center Meditation present the "Oprah & Deepak's 21-Day Meditation Experience" mobile app. Get easy access to the complete online experience from chopracentermeditation.com, including your already purchased meditations, on your iPhone, iPad devices.
App Features :
With this free app, you can:
enjoy the free program when available
listen to the meditations in your library
write in your personal journal
buy, stream, or download meditation programs anytime, anywhere
By meditating, you can:
reduce anxiety and stress
sleep better
experience more creativity, peace, and happiness
enjoy increased immunity, vitality, and overall well-being
Join Oprah and Deepak as they make it easy to transform your life through meditation!
Additional Information :
Compatible with iPhone, iPad, and iPod touch.
Requires iOS 10.0 or later.
Size 194 MB
User Reviews :
(1) Overall I like the new layout, but there is one very annoying issue that I hope the developers can fix. In the app, for purchased meditations there is an option to have them available to listen offline (without an internet/cell connection). When you used to turn that function on, in the old version of the app it used to download all the tracks you purchased so that you can use them anytime. With the new update, when you are offline and go to the tracks in your purchased meditation, is says "Could not load track file". So you have to connect to the internet, start the track, and then go offline. That one track then continues to play while you are offline, but none of the other tracks do. You have to reconnect to the internet EACH time you want to use a track offline. Very frustrating! Please allow normal downloads of purchased meditations so people can peacefully listen offline.
Developer Response ,
Yes, we appreciate you taking the time to share your thoughts. Our developers are indeed currently working on this fix and will hopefully have this update completed in the early Fall. In the meantime we hope you will continue meditating with us one track at a time and streaming your tracks as often as possible.
(2) Revising review to only 1 star. The app continues to have issues, kicking me out, not starting at all, or just spinning. Their answer after multiple mail exchanges is that the problem is on my side, since other apps work just fine and have tried multiple devices,I doubt that is the case. But I can call them to further debug, but only during business hours and yes I have a job, so that is really useless. Don't buy anything streaming or that you have to be online for, as the download feature is hit and miss as well. Just bad testing practice, bad design, bad customer service, and probably not worth the aggravation.

This app continues to be buggy. Meditations don't play or play part way and then stop. App quits working all together. Uninstalled and reinstalled, but even that has problems. Have spent a great deal and now I wish I had just bought the CDs, at least my CD player works or I could have loaded them to iTunes. Not sure this is worth it and the free meditations make it even worse, probably more people than their servers can handle. And tech support is useless. Their response is try another device or use internet in a different place, don't you think that has already been tried before I went to the trouble to contact you? And taking days to respond is also useless, especially if it is in respect to a free meditation as then it puts me days behind and at the point where I probably won't get to hear all session. That is not a way to inspire purchase.
Developer Response ,
Be sure to Tap on the purple prompt, Details & Journal, found in each daily meditation section. Here you will find the Centering Thought, Sanskrit Mantra and Message of the Day written out for added support. Hope this helps!
Get 21-Day Meditation Experience from App Store
What is your opinion about 21-Day Meditation Experience
Get more free apps & games daily
Subscribe to our mailing list and get free apps & games daily to your email inbox.
Thank you for subscribing.
Something went wrong.