Zen Color – Color By Number KidultLovin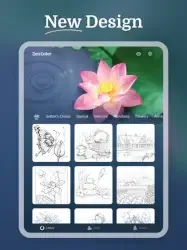 Game Description :
Zen Color is the first coloring game inspired by Zen. Relax and calm by this paint by number game, free yourself from daily boredom and chaos and find your inner peace.
Zen Color is the world's first coloring game inspired by Zen and is dedicated to bringing you the best relaxing and calming experience. Dissipate worries, relieve stress, and relax your mind. Enjoy a relaxing, peaceful, and serene time in the Zen coloring world.
Free yourself from the daily boredom and chaos. Open Zen Color anytime, anywhere, you can feel:
You are having a cup of coffee in the morning, listening to the birds chirping around you, and watching the sunbeams shifting through trees.
You are enjoying a relaxing tea break on a lovely afternoon, and everything feels so tranquil and pleasant.
You are in a Japanese Zen courtyard and feel relaxed and happy as you watch the steaming teapot by your side.
Zen Color invites you to color these realistic pictures, feel a natural atmosphere, and awaken the long-lost peace and beauty in your heart.
With every tap of the color number, Zen Color brings tranquility and relaxation to your fingertips.
Game Features :
INCREDIBLE CALM&RELAX
Unique Zen-inspired content to help your mind focus and experience warmth and positive energy.
Soothe the mind with listening to 60bpm background music while coloring by numbers.
Immerse yourself in nature's beauty and tranquility. Leave your worries behind, loosen up, and unwind!
Relieve anxiety with unique Flow Experiences of coloring process design. Soothing categories include Calm, Focus and Zen, Affection, Happiness, and much more.
LARGE SELECTION of EXQUISITE PAINTINGS
Each painting is carefully produced by famous artists worldwide, making every artwork one-of-a-kind with supreme quality.
A huge variety of content ensures you find the painting you like.
Discover paintings of natural landscapes, animals, cozy lifestyles, your favorite pets, and more in Zen Color.
Mandalas and geometric patterns help you find inner peace and harmony, allowing you to stay focused and fulfilled.
ALSO FEATURING
Distinctive eye-friendly dark mode, bringing a more comfortable coloring experience at night.
Outstanding app-using experience: leading app stability, excellent data security, and user-friendly interface.
Zen Color brings you a relaxing and peaceful coloring time in this fast-paced and noisy world.
If you want to relax and find inner peace through coloring, head to Zen Color now! It is a good choice for unwinding and spending time! It is a delightful coloring game and a fun picture book that helps people to find the quiet moments in life.
Come and take a 10-minute break to discover inner peace, fulfillment, love, and happiness.
It's time to enjoy this calm and relaxed trip of Zen Color.
Contact us: zencolor_support[at]kidultlovin.com
Follow our page: www.facebook.com/Color-Flow-Paint-by-Number-105949061559062
Additional Information :
Age Rating 4+
Size 106.1 MB
Requires iOS 12.0 or later.
User Reviews :
Love it
I've tried other paint apps before, rated as 2's. Getting trapped with apps not letting me back in. This has a great feature, press a cell to get the color ready for you, love that. The colors are good, though I'm not crazy about pastels but that's just me. Happy Coloring I'm still coloring, I love the animation, the special coloring. I do spend way to much time, a hazard of Zen I still love it however there is an ad that goes too long, you can't get out of it at times. Its the Royal, forget the whole name, a King in trouble. It is an app I wouldn't get even if it was free. Otherwise its my favorite game I still love it, it has something for everyone, I like doing houses, landscapes and patterns are a favorite. The use of shading makes for great pictures. Love it, one of the best! Review again…its a great app, however, the ads are awful. It seems to take forever to get out of them! That king that always needs saving, I don't want him saved. The humans that are part of the ad do not look like they would play it, male adults who rave about the game. There are many more of these ads, I won't buy any of the games that make it hard to get out of an ad.

Still loving it. Pictures are good and varied so you don't get sick of it. I do however, not liking ads that hold you captive. If the people responsible for knowing what I like to color could probably know what I don't like, I will never order a game where you must save a King, or something like it.
Developer Response,
Thanks for your kind words.
favorite color by number app
My favorite color by number for mindless relaxing is Zen Color. The free version is pretty fantastic for this kind of app. Lots of great pictures, new images all the time. I find the music relaxing. I've been doing one before bed. They also let you share and you get bonus images by doing a certain amount of coloring in different areas. Example 3 nature pictures gets you a bonus picture. But even without that there's lots of images available for free. The animation is cool. The ads aren't horrible. They only pop up before or after, not while you're in the middle. Unless you want to earn free hints by watching extra ads. This is so smart since the premise is Zen/relaxation. The only glitch has been every once-in-awhile I can't get out of the Royal Flush game ad. No X to close out. Please fix this annoying problem. Otherwise very happy. The price to go ad free isn't bad – $9.99. I will likely pay for it soon as I like supporting well done Apps. As a software tester once-upon-a-time it's obviously well thought out and cared for. Thank you developers!

Potential future improvements- several music choices, color choices as an option & if this is added then also the ability to use an image again and again.
Get Zen Color from App Store
What is your opinion about Zen Color
Bitcoin
Ethereum
MetaMask (ETH)
Xrp
Polkadot
Binance coin
Stellar
Dogecoin
Tron
Elrond
Donate Bitcoin to this address
Scan the QR code or copy the address below into your wallet to send some Bitcoin
Donate Ethereum to this address
Scan the QR code or copy the address below into your wallet to send some Ethereum
Donate Xrp to this address
Scan the QR code or copy the address below into your wallet to send some Xrp
Donate Polkadot to this address
Scan the QR code or copy the address below into your wallet to send some Polkadot
Donate Binance coin to this address
Scan the QR code or copy the address below into your wallet to send some Binance coin
Donate Stellar to this address
Scan the QR code or copy the address below into your wallet to send some Stellar
Donate Dogecoin to this address
Scan the QR code or copy the address below into your wallet to send some Dogecoin
Donate Tron to this address
Scan the QR code or copy the address below into your wallet to send some Tron
Donate Elrond to this address
Scan the QR code or copy the address below into your wallet to send some Elrond