(Game) Yokai Dungeon
 iphone games download free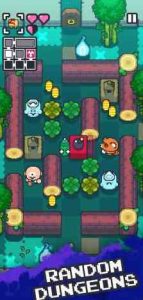 Game Description :
Yokai have just interrupted the lantern festival, it's up to Tanuki and his friends to save the day. Push blocks to crush the pesky yokai, explore randomly generated dungeons, and dive into beatiful Japanese folklore.
Game Features :
 Randomly generated dungeons.
 Unlock 20 heroes with unique stats.
 Equip items with special abilities.
 A journey into Japanese folklore.
 Made with love!
Additional Information :
Size48.6 MB
Requires iOS 8.0 or later.
Compatible with iPhone, iPad, and iPod touch.
User Reviews :
STRONGLY dislike the new controls, it was really fun before this update though.
Loved the game with the original controls, but the new controls are really difficult to use. I understand that others have probably requested better controls, but it should be optional to keep the original controller pad. Hopefully it becomes optional, as the game is now frustratingly difficult and 98% dependent on quick swiping rather then quick thinking.
Developer Response ,
Thanks for playing Yokai Dungeon. I'll include the old controls in the next update as optional
Good game but weird and frustrating glitch
So the game is fun and I like the design a lot too but ever once in a while when I enter one of the rooms, my character gets glitched out of the room and when I try to exit out of it or refresh it, my character is still there so I have to restart the whole thing again. It's very frustrating when you actually get into a lot of rooms and then suddenly you have to restart. Until it is fixed I give it a 2 star.
Really good game but have some suggestions
The last boss should be harder like the mountain boss it should shoot something at you to make it seem like the final boss. I also think that the characters should have special abilities like for instance Ico maybe doesn't get effected by the ice in the mountains, and maybe the ninja can hide from the blue guys that run at you when the spot you unless you are within two spaces.
Loved it
The game was awesome and I loved it! The bosses were challenging, the characters were cool and the controls were amazing! But it only took me a day to beat. So I hope you make a sequel to this maxing game and make even longer than this one! Thank you for making the game and please make another!
Not that bad
I beat the whole game and the boses where to easy the game is enjoyable if there's a mode of a new dungeon a.k.a. with seven more bosses like a new mode" for the game you don't like a second chapter like a second part it will be awesome!.
Glitching:(
So I really like this game, but it's glitching and I can't make it past 6-1. I kill all the enemies but the door doesn't open. I tried many other things like smacking the door, using a block and more.
Game was good didn't like new controls
Also an add will play at the beginning of some rooms. Monsters can move during the adds. You can't. Have taken so many hits this way. Please fix this game, the adds make it almost impossible.
Used to be good
Honestly, I loved this game, but the new controls have made the game rather unbearable. Could you possibly implement a way to switch control modes? Thanks ;P
It's an ok game
The 4th boss fight looks nothing like sans from undertale so gonathan should make it look more like sans and have the same attacks
Get Yokai Dungeon from App Store
What is your opinion about Yokai Dungeon
Bitcoin
Ethereum
MetaMask (ETH)
Xrp
Polkadot
Binance coin
Stellar
Dogecoin
Tron
Elrond
Donate Bitcoin to this address
Scan the QR code or copy the address below into your wallet to send some Bitcoin
Donate Ethereum to this address
Scan the QR code or copy the address below into your wallet to send some Ethereum
Donate Xrp to this address
Scan the QR code or copy the address below into your wallet to send some Xrp
Donate Polkadot to this address
Scan the QR code or copy the address below into your wallet to send some Polkadot
Donate Binance coin to this address
Scan the QR code or copy the address below into your wallet to send some Binance coin
Donate Stellar to this address
Scan the QR code or copy the address below into your wallet to send some Stellar
Donate Dogecoin to this address
Scan the QR code or copy the address below into your wallet to send some Dogecoin
Donate Tron to this address
Scan the QR code or copy the address below into your wallet to send some Tron
Donate Elrond to this address
Scan the QR code or copy the address below into your wallet to send some Elrond