(Game) Yeah Bunny 2
 free games for iphone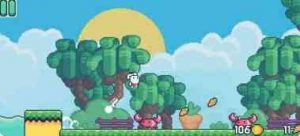 Game Description :
Yeah Bunny 2 is a cute and colorful one finger platformer that lets you enter into the lovely world of tiny creatures. With a simple tap to jump mechanic optimized for modern touchscreens, Yeah Bunny 2 throws out virtual buttons and other tropes of classic platformers. This wonderful arcade platformer takes you on adventure to the retro pixel magical world.
Game Features :
A trippy love story told through old school cutscenes
Intuitive and simple tap to jump controls.
7 unique cute worlds to run and complete
Easy to learn and addictive gameplay
Play 50 levels!!
Boss Battles
Explore new lands
Discover hidden secrets
Cute retro pixel art and music
Achievements
Leaderboards for each of 50 levels
20 unique characters
Touch control never been so easy and accurate! Run, jump and climb on the walls just by tapping anywhere on the 8bit screen. Collect cute carrots and tiny keys and run to complete the pocket levels and reach different super amazing worlds with unique characters and enemies!
This tiny cute bunny is a hero who wants to explore another lands with you, will you come, super run and play this arcade retro 8 bit platformer? This is great adventure where you can be a hero.
Additional Information :
Size 246.4 MB
Requires iOS 9.0 or later.
Compatible with iPhone, iPad, and iPod touch.
User Reviews :
Great game bad reviews are people who don't know how to play
Such a cute game cute graphics IT DOES NOT get too hard too fast all levels before kinda train you for the "hard" levels . Also if you collect everything and you are dying you can simply use the carrots and start exactly where you just made a mistake, I've never been placed in a look of me "dying" also they have a place where you just watch ads and it keeps re spawning you where you left off Incase you don't have carrots it has also never crashed for me 10/10
Meh.
This is the first time that I've rated something, and yet I have a lot to say. The sprite work is phenomenal and the game doesn't lag, which is nice. The levels are well made, but sometimes I go one way, thinking that it's a bonus area, but then I see the end, and I can't bump into a wall to turn around. Maybe put a small telltale sign that casual players won't notice? Anyways, that isn't a huge deal, but there are a few that I need to address. First off, ads. The ads are constant, and they happen after every death, restart, and level select. It's nice that the devs added a 'No Ads' purchase, but I'm not paying three dollars for it. Maybe .99? I don't know. Second, the controls. The one-hand gameplay style is convenient, but the fact that you have to bump into a wall to turn around is annoying. I think it would be better to swipe one way or another to turn. I know that's a pretty big gameplay change, but I certainly think it would improve the game. And lastly, the death mechanism. It's annoying to almost finish a stage, but then mistime a jump and fall into the water. I'm a huge fan of Mario games, so maybe add a power-up mushroom, or an Extra Life token as a bonus. So all in all, it's a good game. Is it my favorite? No. Is it my least favorite? No. If you like short platforming adventures, download it. But just don't get to happy, because there are some downsides. That's really it.
Fun at first but then…
The game starts out really fun and it's easy to collect items. It's especially interesting to explore all the different paths in the levels. The speed is quite jarring, and it isn't something I got used to, especially when this + the point of view makes you run into enemies you don't see coming half the time. But the mechanic of not being able to change direction until you hit a wall gets very annoying VERY fast. The levels also become crazy hard way too soon and depending on where and when you spawn, you may get stuck in a loop of dying over and over because there isn't anything you can do to avoid it.

The game also tends to crash in the middle of levels (without saving your progress, of course), so there's that.

All these things added up very quickly and made this cute game unenjoyable for me, and I ended up just deleting the app in the middle level 12. Why would I spend my time on something that's just going to raise my blood pressure because of things I can't control?
Get Yeah Bunny 2 from App Store
What is your opinion about Yeah Bunny 2
Bitcoin
Ethereum
MetaMask (ETH)
Xrp
Polkadot
Binance coin
Stellar
Dogecoin
Tron
Elrond
Donate Bitcoin to this address
Scan the QR code or copy the address below into your wallet to send some Bitcoin
Donate Ethereum to this address
Scan the QR code or copy the address below into your wallet to send some Ethereum
Donate Xrp to this address
Scan the QR code or copy the address below into your wallet to send some Xrp
Donate Polkadot to this address
Scan the QR code or copy the address below into your wallet to send some Polkadot
Donate Binance coin to this address
Scan the QR code or copy the address below into your wallet to send some Binance coin
Donate Stellar to this address
Scan the QR code or copy the address below into your wallet to send some Stellar
Donate Dogecoin to this address
Scan the QR code or copy the address below into your wallet to send some Dogecoin
Donate Tron to this address
Scan the QR code or copy the address below into your wallet to send some Tron
Donate Elrond to this address
Scan the QR code or copy the address below into your wallet to send some Elrond