Wordscapes Search game by PeopleFun, Inc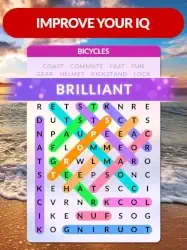 Game Description :
Introducing the NEWEST free game in the Wordscapes family!
Search your way through thousands of new word puzzles while traveling to beautiful, relaxing destinations.
Wordscapes Search is a modern twist on word search puzzles, combining the best features of word find, word line, anagrams, and crossword puzzles.
If you're a fan of free, relaxing offline games, including crossword puzzles, trivia games, block puzzles, or even the classic casino card games like solitaire, blackjack, poker, spades, bingo, hearts, give Wordscapes Search a try!
Game Features :
Escape and stimulate your mind by visiting the beautiful destinations of Wordscapes Search!
Easy to play anytime, even without wifi!
Challenge your brain and vocabulary!
Over 6,000 free puzzles to challenge even the most dedicated word finder.
Think you can beat these word search puzzles? They are easy at the start, but ramp up fast!
Wordscapes Search is the perfect fit for fans of classic crossword puzzles, word line, anagrams or block puzzle games. Or, if you enjoy relaxing offline casino-style card games like blackjack, poker, solitaire, spades, bingo, hearts, you will love Wordscapes Search, and our other free word puzzle games!
Wordscapes Search is a BRAND NEW word game from the makers of Wordscapes, Word Stacks, Word Chums, Word Flowers, Word Mocha, Wordscapes Uncrossed, and Spell Blitz.
Download Wordscapes Search and start your word puzzle adventure today!
Terms of service: www.peoplefun.com/terms
Additional Information :
Age Rating 12+
Size 407.4 MB
Requires iOS 12.5 or later.
User Reviews :
Exceeded my Expectations
When I first saw the ads for this game, I thought it be would just be one of those cheap ones that have way too many ads, boy was I wrong!

This game completely exceeded my expectations, just by looking at it and playing for a while, it doesn't even seem like it was free! I seriously forgot that I didn't have to pay anything, granted, it does offer in-app purchases and they're optional, but this game does not seem like something that's free!

I got this game earlier today, and I'm already at like, level 19 or something. While, it is easy, it does have some challenging levels as well, like how it'll start giving you "hidden words" where they only give you the first letter of the word, and if you can find it, you'll get coins. Or how it'll give you levels that are more difficult than others, cause the text gets smaller and there are more words to find. I really enjoy word games like this. They're fun and easy, whilst still having challenges. And, there IS BARELY ANY ADS!! And I'm not complaining, however, I don't know why you'd need to make an in-app purchase to get rid of ads, when there really isn't any.

There is absolutely nothing that I can think of to complain about this game. It's so good, and if you're interested, I would highly recommend you to get this!!

There isn't much to say, besides the fact that it's just an amazing game. Good job, developers!
Even the music is calming
One of the reasons I play games is to just relax and take my mind off of whatever is going on around me. For that reason relaxation is important and I like the quiet background music that I have a choice to listen to in Wordscapes Search. Another thing I like about it is that we can get extra points by finding words that are not part of the puzzle. I like that I can switch the whole puzzle around in a 1/4 turn, especially that it doesn't cost me points or "game money." The ads are not obnoxious…Yet. And I like that I can earn extra points by watching a video or two. And once in a while they have sales on buying extra things such as blowing some of the letters off the board, which usually cost 100 points. But you can buy like 5x for $1.99 once in a while. That makes it more likely that I will spend a small amount of money. But I am not wealthy and I have only a part-time job so I'm not going spend a lot of money. Some games, not this one, I have quit and deleted simply because they wanted me to spend more money to advance in the game. After that it doesn't become a game, it's a gamble and the house always wins. This is not that kind of game. This is a friendly game that meets my needs, let me relax, and I love, LOVE the pictures!
This word search is awesome
This app helps kids learn and it helps them develop their searching skills it is pretty hard to find them I'm eight now it's in 37 and I've played it since I'm seven I'm on level 18 now it's been an awesome experience and I think five stars is good it's a really good app I love how is the word search because WordSearch is a fun for me I'm a just makes me so happy to try them because I like to find stuff really hard stuff I can wear searches if it's too hard I might ask my friends but I really like word searches and I like fighting stuff I can hide and seek I like that that's what I like to do because word searches are like finding someone in hide and seek for me or like you're making your own research would be fine but I don't know how to mix them up I'll probably print one out but I didn't yet and hats the pool this Saturday on June 4 my friend is coming over to our pool and we're playing water hide and seek and I'm going to be it and I haven't told her but we're going to have a blast I don't remember if hide and seek was on our list for crazy for party but we're gonna do it anyway because everybody probably loves water hide and seek bye.
Get Wordscapes Search from App Store
What is your opinion about Wordscapes Search
Bitcoin
Ethereum
MetaMask (ETH)
Xrp
Polkadot
Binance coin
Stellar
Dogecoin
Tron
Elrond
Donate Bitcoin to this address
Scan the QR code or copy the address below into your wallet to send some Bitcoin
Donate Ethereum to this address
Scan the QR code or copy the address below into your wallet to send some Ethereum
Donate Xrp to this address
Scan the QR code or copy the address below into your wallet to send some Xrp
Donate Polkadot to this address
Scan the QR code or copy the address below into your wallet to send some Polkadot
Donate Binance coin to this address
Scan the QR code or copy the address below into your wallet to send some Binance coin
Donate Stellar to this address
Scan the QR code or copy the address below into your wallet to send some Stellar
Donate Dogecoin to this address
Scan the QR code or copy the address below into your wallet to send some Dogecoin
Donate Tron to this address
Scan the QR code or copy the address below into your wallet to send some Tron
Donate Elrond to this address
Scan the QR code or copy the address below into your wallet to send some Elrond