(Game) Words With Friends Classi‪c
 iphone games download free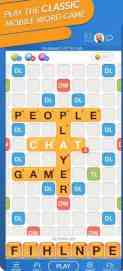 Game Description :
Come enjoy The Original Word Play! Grab your mobile device and prove you have what it takes to best your friends and family in this addictive multiplayer game. Whether you need to relax after a long day, or are looking to train your brain, Words With Friends Classic is perfect for you! Make sure to keep your mind sharp as you choose the perfect move on the board, as one word can be the difference between victory and defeat!
Game Features :
Are you looking for a way to build your vocabulary by yourself? Our Solo Challenge is the answer! There is no better way to train your brain than against our fiendish word masters. Looking for new friends with whom to play puzzle games? You can practice your crossword skills with our random opponent matchmaking. No matter if you play with friends old or new, stay connected with our in-game chat, and track your progress with unlockable stats.
Think you're the best at word games of all your friends? Prove it by racking up points and beating your Weekly Challenge!
For more information, see our Terms of Service: www.zynga.com/legal/terms-of-service and Privacy Policy: www.zynga.com/privacy/policy"
The game is free to play; however, in-app purchases are available for additional content and in-game currency.
Just another title from Zynga's Games With Friends™
Additional Information :
Size 213.9 MB
Requires iOS 11.0 or later.
User Reviews :
Switcheroo
Years ago I paid for the ad free/contest free version of wwf because all I want to do is play the game. You added these so called 'enhancements' without asking for my permission. I am so sick of playing a word and then having to wait for all the stupid 'congratulations, you've made the word of the day' or 'your new word of the day is…', which actually turns out to be the word of the hour when I play multiple games a day. I want you to remove all the extraneous junk from my games please. What I paid for is the game, not all the dumb congrats boxes and awards. From reading other reviews, I am one of probably thousands of others who are not happy with your so-called improvements. It seems to me that either you remove the ads and silly boxes of awards, congrats, and other things we didn't pay for or we are all owed our money back. Of the 2 choices, I prefer you remove the junk so that I can play wwf without interruption. I'm giving the game itself 4 stars because by itself, it's almost a perfect game. Thank you.
Words With Friends is no Scrabble
Where to begin? I guess it's my fault for expecting that this game was Scrabble or a reasonable facsimile. I am an avid Scrabble player and take pride in my vocabulary. Imagine my shock when all of a sudden words that ARE NOT WORDS began to show up as accepted by this game. And imagine my even BIGGER shock when I looked up these so called words in the game's definition section and find that AT THIS TIME WE HAVE NO DEFINITION FOR THIS WORD BUT WE ARE WORKING ON IT…..huh? And the skip your turn option with no penalty? And the option to see where you can make the best play? Why bother playing at all? I have told my friends who play with me that if they are using those options, cross me off their list. I do not use them ever. And as for some doozy "words" my friends come up with….they tell me they throw everything at the wall to see what sticks. Oh, fun. So why do I play? Oh I don't know…..bored I guess. If anyone else feels like I do, there's real Scrabble at a site called Word Biz that is an Internet Scrabble Club and is true Scrabble. I play it on my computer and it's awesome. One more thing….I find all the non-game interruptions annoying. I know I can delete the app anytime I want but I do enjoy the actual strategy of playing a straight-forward game with no "help" options. One more observation…..how can a word be a word if it has no definition?
Game is great until they decide to upgrade and not tell you!
I've been playing word with friends for several years now and have never had a complaint. In fact I enjoy the game very much. My complaint comes when recently I've been trying to get into my word with friends app and everything appears to be opening as usual until I get nothing but a blue screen and nothing will happen. I finally give up and try again later. Except later I get the exact same thing. This has gone on for a couple weeks now. I've lost all my stats and power ups, everything I've worked to gain. I have 40 games that people probably think I've just abandoned. I've tried to go back to App Store and get words with friends 2 ……. different game and all my information from the the version didn't transfer. I'm unbelievably upset and therefore wouldn't recommend this to anyone who wants to play long term. There is no number to contact anyone. There is no email to contact anyone. Because I cannot get into the app there is no support to chat with. Everything just lost. If I could give lower than 1 Star right now I would do so!
Get Words With Friends Classi‪c from App Store
What is your opinion about Words With Friends Classi‪c
Bitcoin
Ethereum
MetaMask (ETH)
Xrp
Polkadot
Binance coin
Stellar
Dogecoin
Tron
Elrond
Donate Bitcoin to this address
Scan the QR code or copy the address below into your wallet to send some Bitcoin
Donate Ethereum to this address
Scan the QR code or copy the address below into your wallet to send some Ethereum
Donate Xrp to this address
Scan the QR code or copy the address below into your wallet to send some Xrp
Donate Polkadot to this address
Scan the QR code or copy the address below into your wallet to send some Polkadot
Donate Binance coin to this address
Scan the QR code or copy the address below into your wallet to send some Binance coin
Donate Stellar to this address
Scan the QR code or copy the address below into your wallet to send some Stellar
Donate Dogecoin to this address
Scan the QR code or copy the address below into your wallet to send some Dogecoin
Donate Tron to this address
Scan the QR code or copy the address below into your wallet to send some Tron
Donate Elrond to this address
Scan the QR code or copy the address below into your wallet to send some Elrond