(Game) Words Ou‪t
 iphone games for free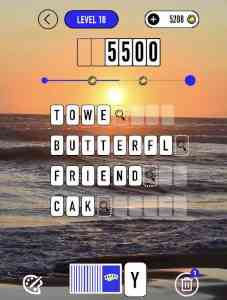 Game Description :
Make words with cards to win points without ever making a mistake.
Exercise your brain to solve the 250 levels of the game.
HOW TO PLAY ? : 1 LETTER = 4 ROWS
For each new level, drag and drop the cards on the board.
Each card is a letter you must add on a row in order to continue or complete a word.
And the longest the words are, the highest points you score to complete the level.
Don't need to be a "living dictionary " ! : there is always a right place for a new letter .
Just make the right choice upon the 4 possible boxes…
But if you don't, you will have to start the level from scratch !
Game Features :
In addition, whenever you make a correct word you must make a choice :
"WORDS IN" = keep the cards on the board (by betting that you will make a longer word )
"WORDS OUT" = cash out the points and start over a new word
Choose carefully the right strategy to complete each level …
HUNDRED OF LEVELS
As an apprentice , you should easily achieve the 1st levels of the game.
But the more the level will increase and the more you will have to create longer words using more and more cards in order to pass the next level :
From apprentice to virtuoso there are more than 250 levels waiting for you before reaching the hall of fame !
Sounds difficult ? don't worry : all along the game there will be boosters and wildcards specially created to help you in you progression :
The Dictionnary; The Bin; The Blank Card; The Double Card; The Triple Card; The Bonus Card etc.
The way you will manage those boosters will add an extra layer of strategy to the way you will play the game.
GREAT FOR BREAKS !
"Words out" is based on the most classic and simple gameplay of solitaire that is perfectly tailored for coffee break, in the subway or even in boring meetings!
"Words out" will provide hours of entertainment for you and your whole family.
Additional Information :
Size 83.2 MB
Requires iOS 12.0 or later.
User Reviews :
It is what it says it is.
I got to level ten, which is when you hit expert level, a sort of threshold passed learning how to play. It is a bit of a challenging game. Up until level ten, at least, there were no pop-up ads. There was a way to buy coins in order to get helper perks. Hopefully if they reach a point where they need more income coming in, they just make it so we can choose to watch ads in order to earn perks/coins, rather than bringing in pop-ups. If they stick with that it'll stay a good brain puzzle that plays out more uniquely than what we're used to seeing.
Could have been wonderful!
I love word games, especially like this one, making words with given letters. Here's the problem. The game gives letters randomly and a few spots to put them, and automatically my mind starts making words. But here, if you make words of more than 5-6 letters, you run out of letters and lose the game. But if you make short words, you don't make enough points to win the game.

In the development of this game, why did y'all decide to make the letters run out? Challenge? There's a challenge in the point requirement, the letters given and maybe give us a time requirement. It just doesn't make a lot of sense to cause a Catch-22 in a game that you want people to continue playing. I love challenges, and the longer the words, the better. But if you can't make the words, then I don't know…
Challenge via possibility and ads
This is a push your luck game that also tests your ability to think of possible words from the beginning of words. It's a mildly unique word game in that provides challenge not by time, speed, or thinking of the best combo from the provided letters. Instead, it forces you to think from a much wider range of possible words, and forces you to conjecture and take risk.

The no pay version has too many ads. So I paid for the no ads, and while I am no longer getting external ads, I still get incessant ads for in-game bonuses. Seriously, devs stop putting in-game bonuses for everything unless it's automatically given or reminder-optional.

Another con is the dictionary is a little limited.
Love this game
I love this game, but there are a couple of things it does that make me stop playing. Sometimes when I use the blank card the letter it chooses creates a word that doesn't exist so there is no way I can finish the game. (It doesn't end the game, so the word just cannot be played.)

Another thing the game does is that sometimes it will drop your letter in the wrong place. There should be an option of an immediate undo – or maybe the opportunity for one or two reverses in a game. Otherwise it just makes you want to delete the game off your phone.
Get Words Ou‪t from App Store
What is your opinion about Words Ou‪t
Bitcoin
Ethereum
MetaMask (ETH)
Xrp
Polkadot
Binance coin
Stellar
Dogecoin
Tron
Elrond
Donate Bitcoin to this address
Scan the QR code or copy the address below into your wallet to send some Bitcoin
Donate Ethereum to this address
Scan the QR code or copy the address below into your wallet to send some Ethereum
Donate Xrp to this address
Scan the QR code or copy the address below into your wallet to send some Xrp
Donate Polkadot to this address
Scan the QR code or copy the address below into your wallet to send some Polkadot
Donate Binance coin to this address
Scan the QR code or copy the address below into your wallet to send some Binance coin
Donate Stellar to this address
Scan the QR code or copy the address below into your wallet to send some Stellar
Donate Dogecoin to this address
Scan the QR code or copy the address below into your wallet to send some Dogecoin
Donate Tron to this address
Scan the QR code or copy the address below into your wallet to send some Tron
Donate Elrond to this address
Scan the QR code or copy the address below into your wallet to send some Elrond