(Game) White Trip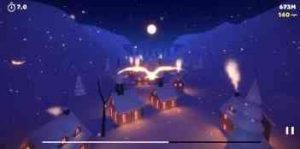 Game Description :
It is an endless run game the birds you control fly around in the winter sky.
App Features :
how to play
Please drag the screen and let the bird fly around.
While touching the screen, the bird moves forward.
Only two things to be careful
Please do not turn off the light
Be careful not to bump into black birds and buildings
Characteristic
Easy operation by sliding screen only
Feeling like being really flying
Numerous beautiful stages
Additional Information :
Size 113.3 MB
Requires iOS 10.0 or later.
User Reviews :
A beautiful app!!
I love this game! WhiteTrip is being adde dot my favorite games, and the music is super relaxing. The graphics are amazing and I'm on level two now. Almost level three! And somehow, I can't say anything bad about this game. And WhiteTrip (much like Minecraft) the world never ends, so you can play your whole life if you could. And I love that you named the levels different things! Silent Snow is a great name, because it is pretty…silent. The only thing that you here is the music!! And question: is EVERY LEVEL the same but just with different backgrounds? Love WhiteTrip! I am grateful for this app. Thanks!!!
Great game, but…
Okay. So first off, the graphics, handling, and controls are awesome in this game. Seriously, it's got phenomenal graphics! And the soundtrack to the game is nice too! But I have one problem….I'm stuck on level 4 because my game keeps experiencing these random lag-spikes. It's a lovely game and I REALLY don't wanna get rid of it. When I have the lag spikes, it messes up my bird's control and then I always end up crashing into trees or Shadow birds because of the stupid lag! And sometimes it doesn't lag for some time but then it randomly starts again. Right now I seem to only be having the lag issue on Level 4: Blue Planet. Also, when the lag happens, my game crashes and has to be reopened. I've done this multiple times thinking it was because I had other apps open, but it isn't. Please fix the lag spike issue and I'll give 5 star's. Thanks!
Great game. Worth the 2$ for the full game.
I would only like for a few more options to be added somewhere in the future. Like a color blind option for the bright winter snow scenes, It's very difficult to see the glowing objects.

And maybe drag sensitivity(idk if that's possible)

Night mode is my favorite by far, it's immersing and curbs what it would feel like to glide through the air. The old one question of what your superpower would be out of millions? Flight.
Amazing app really love it
I also love that in the the update the controls are SO much smoother. I didn't really like the soundtrack, I like to stick with the bells, but they threw in a way to turn that off! Perfect, honestly

Update— for some reason the sound has stopped working? Maybe it's my phone, although all other apps play sound… I know you can mess with the sound in settings but that didn't change anything. Nothing. Help?
Suggest and the one problem
First I think it would be cool to play as other animals like when you're on level four you can pick a new animal and play through the game as that animal. Now the problem it's just to good of a game I love it so much. Please read this and add my suggestion

To make this a way better game because it's one of the best so it would be cool to have more cool things in it.
Very pretty
Super relaxing and pretty! My only suggestion would be to have the stages of day/night blend together more once you unlock more levels. It's currently very abrupt and I feel like that would help with the flow of the game a lot. Graphics are absolutely stunning, though
Add a multiplayer player option
Add a multiplayer player option and and friend option with usernames and choose between light and dark for multiplayer
Beautiful Relaxing game
Very pretty scenes to fly through on your trip. I love the quiet music, it seems like everything is so loud these day it's nice to have something a little quieter to play.
Really Nice
It has a simple enough concept, but is still difficult enough to be challenging.

But this game's biggest asset?

It's simply stunning. The graphics are beautiful , it just looks so amazing.
Love all of your guy's games, and this one is amazing. I love the music and it's really calming. I can't wait to see what you have next!
This game is one of the most satisfying games I have ever played. The way the bird glows is very calm and relaxing.
Get White Trip from App Store
What is your opinion about White Trip
Bitcoin
Ethereum
MetaMask (ETH)
Xrp
Polkadot
Binance coin
Stellar
Dogecoin
Tron
Elrond
Donate Bitcoin to this address
Scan the QR code or copy the address below into your wallet to send some Bitcoin
Donate Ethereum to this address
Scan the QR code or copy the address below into your wallet to send some Ethereum
Donate Xrp to this address
Scan the QR code or copy the address below into your wallet to send some Xrp
Donate Polkadot to this address
Scan the QR code or copy the address below into your wallet to send some Polkadot
Donate Binance coin to this address
Scan the QR code or copy the address below into your wallet to send some Binance coin
Donate Stellar to this address
Scan the QR code or copy the address below into your wallet to send some Stellar
Donate Dogecoin to this address
Scan the QR code or copy the address below into your wallet to send some Dogecoin
Donate Tron to this address
Scan the QR code or copy the address below into your wallet to send some Tron
Donate Elrond to this address
Scan the QR code or copy the address below into your wallet to send some Elrond