(Game) Void Tyrant
 free games for iphone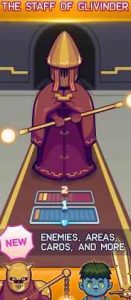 Game Description :
Build a deck as you battle across the galaxy, gathering powerful cards along the way. With strategy and a bit of luck you might be able to reclaim the Eyes of Chronos.
A single-player adventure, play with 500+ cards and three unique classes to engineer a custom deck to your own design. Rooted in the simple hit-or-stand mechanics of blackjack, Void Tyrant is an easy to understand roguelike with engrossing depth. Battle quirky aliens, disarm traps, upgrade your spaceport, and face off with the sinister Wruut.
Newcomers or seasoned veterans alike will enjoy deck building in Void Tyrant.
Game Features :
Strategic deck building and card-based combat.
Four classes to choose from, each with its own strategy
Upgrade your town for new powers and adventures.
Collect blueprints and craft new ships with special abilities and cards
Powerful artifacts stuffed into shiny treasure chests.
Free with ads or convert to premium (NO ADS) with one purchase.
Traps, strange aliens, and lots of other surprises…
Additional Information :
Compatible with iPhone, iPad, and iPod touch.
Requires iOS 10.0 or later.
Size 695.4 MB
User Reviews :
Love the game, super fun, not overly monetized or ad intensive (ad options are not crucial), and lots of room for content growth. Very interesting game play with the potential for requiring well thought out turns and proper sequencing of play. I don't particularly like blind and daze mechanics but the game would likely be too easy without them. There is a late late game bug for knights where you use power surge III to get 20 attacks because you always take max energy increase. When the attacks fill up the screen and I kill the opponent the game just freezes there it never acknowledges the death of the opponent and moves on to the next one, I have to restart the game and find a way to win without using it, which is disappointing because I spent two upgrades on it and it can be a big help to get extra attacks to gain health back. But I'm excited to see new things in this game, maybe paying some coins to choose your race or even new game modes. I think the enemies could scale faster after the void tyrant battles. I'd also like to see more stores and unique interactions after the boss. Also more ways to get rid of cards as the decks get big in the late game. One way could be stores that require you to sell several cards in order to buy a rare or unlockable item. Would love to see more campaigns, planets, followers, side missions and enemies and all the good stuff that the game already does well
This game, it takes a while to really get into it. The mechanics are pretty simple, like a game of rolling dice, with the highest number winning the attack. The card variations are unique, and interesting enough to keep me engaged. Although this game is tough, once you are able to form good strategies with your deck, you can easily get to the second/third planet every time (with luck on your side of course). However, I feel that the final boss is a bit too overpowered for where he is. To get all the way to his lair, and then fight two equally challenging phases is quite exhausting, especially if you are already weak from the past enemies. I was able to get his 2nd form down to 70 health, before I finally fell (which was very frustrating). The runs last at least 20 minutes if you have a good build, which means that getting back is quite annoying. I also think the RNG is heavily lenient towards the enemies when it comes to making risky plays. They will be at 9 attack points, and still survive most of the time without shooting over (with me failing more times then not). That being said, this game is entirely built around luck, so if you don't like those games, DO NOT get this one. Finally, the ads are sort of an overkill, with at least 3-4+ in each planet (depending how you choose to use them). Anyways, good game !
Get Void Tyrant from App Store
What is your opinion about Void Tyrant
Get more free apps & games daily
Subscribe to our mailing list and get free apps & games daily to your email inbox.
Thank you for subscribing.
Something went wrong.
Bitcoin
Ethereum
MetaMask
Xrp
Polkadot
Binance coin
Stellar
Dogecoin
Tron
Elrond
Donate Bitcoin to this address
Scan the QR code or copy the address below into your wallet to send some Bitcoin
Donate Ethereum to this address
Scan the QR code or copy the address below into your wallet to send some Ethereum
Donate Xrp to this address
Scan the QR code or copy the address below into your wallet to send some Xrp
Donate Polkadot to this address
Scan the QR code or copy the address below into your wallet to send some Polkadot
Donate Binance coin to this address
Scan the QR code or copy the address below into your wallet to send some Binance coin
Donate Stellar to this address
Scan the QR code or copy the address below into your wallet to send some Stellar
Donate Dogecoin to this address
Scan the QR code or copy the address below into your wallet to send some Dogecoin
Donate Tron to this address
Scan the QR code or copy the address below into your wallet to send some Tron
Donate Elrond to this address
Scan the QR code or copy the address below into your wallet to send some Elrond