Vita Solitaire – Big Card Games by Vita Studio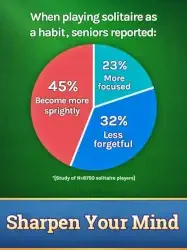 Game Description :
Vita Solitaire app is the First Classic Card Game designed specifically for seniors! Experience the classic card game with large cards, big bold text, simplicity of use and a considerate design adapted for older eyes. With an eye-friendly mode and dark mode, this free Solitaire app makes both daytime and nighttime gaming a relaxing, fun and calming experience.
Enhance the experience with warm backgrounds featuring unique 1980s retro themes, making every play session feel like a trip down memory lane. Relive the classic atmosphere of simpler times through the combination of those iconic themes with the beloved traditional games like Spades and Microsoft's cherished Solitaire variety.
Immerse yourself in captivating offline gameplay full of brain workouts, mind-bending puzzles and board games reminiscent of your favorite casino classics like Freecell, Spades, Gin Rummy and Mahjong. This mobile app brings Mobilityware's popular addictive Solitaire games right to your iPad. Train your brain and sharpen memory skills with daily challenging puzzles and brain teasers, all designed for adults looking for an enjoyable way to keep their minds sharp.
Each day, be greeted by heartwarming splash quotes as part of the app's daily push notifications. Stay motivated, inspired, and engaged with thought-provoking messages to remind you that every day is a new opportunity for growth and connection.
No wifi? No problem! Enjoy these simple yet compelling card games and puzzles whenever and wherever life takes you. The intuitive design ensures anyone can pick up and play with ease and have their brainly skills tested while remaining mindful and calm.
How to Play
Tap or drag cards to arrange them in descending order with alternating colors. When possible, move cards up to the foundation to sort all suits from Ace to King. Choose between drawing one card at a time for a more relaxing game or three cards for a challenging brain workout!
Game Features :
Simple and intuitive interface
Unlimited undos and hints
Custom Settings: portrait or landscape mode, draw 1 or 3 card mode
Custom card decks and backgrounds; personalize your experience
Right and left-handed mode
Daily Challenges: earn crowns and trophies by solving each new challenge
Levels & Titles: level up and achieve new titles by earning points every time you play
Winning Deals: play deals that guarantee at least one winning solution
Seasonal Events: unwind and improve your skills through various difficulty levels and collect unique thematic postcards
Play offline, no Wi-Fi required
Supports Dark Mode on iPhone and iPad
Our Team Vita is dedicated to creating more fun games for seniors!
Discover endless hours of enjoyment with this well-rounded Solitaire app – the perfect companion for senior citizens looking to unwind and stimulate their minds at the same time. So what are you waiting for? Download it now for free on your iPad and embark on a journey filled with relaxation, brain-boosting fun, and special moments to reminisce on the good old days.
EULA: vitastudio.ai/tos.html
Privacy Policy: vitastudio.ai/pp.html
Additional Information :
Age Rating 4+
Size 207.3 MB
Requires iOS 12.0 or later.
User Reviews :
Fun Solitaire game with no annoying ADs
I am so tired of seeing game ads where they are telling you how much money that you can win. Unless you are willing to risk your hard earned money, you are not going to win any significant cash with these games.

This wonderful Solitaire did not promise Fake cash wins. It just promised clean solitaire fun….which it delivered. It also promised no annoying ADs….which it also delivered. This game is all it says it is and more. Lots of fun with this Solitaire game.
Developer Response,
Your comment means a lot to us. It's wonderful to know you enjoy our app, as we're consistently putting in effort to improve it. Thanks again for your encouraging words, they fuel our determination.
Fun to play
Fun to play. Hope it stays that way. If not. I will simply Delete it and move on with Life.

No reason to grip about it. If it doesn't run as you want it too, just remove it and continue with life. I do play games with commercials, but i expect them. Because it's free. By the way, sometimes the commercials are good. They deserve to make money, because it's free. Let them do what it takes because nothing is really free in this life…
Solitary
I've been playing solitary all my life, but playing online is really fantastic. I can read the cards, better than larger and I like the layout and I will continue playing solitaire until they take it off line. I just want to thank them very much for giving me a pleasure game but I love to play. now that I've gotten older, I sure can't save the cards. Better try it. I think you'll like it Maryhoyt74.
Developer Response,
Your positive review fills us with joy. We're glad our product serves you well, as your contentment is our highest priority. Your encouraging statements urge us to heighten our performance. Do reach out for any advice or assistance you may need later. We deeply value your trust and ongoing support.
Large print cards
They are great for those of us who have in mature cataracts. While we wait for our cataracts to catch up with us so that we can have them replaced with clear prescriptive lenses. Then we can play like our kids can..

I wonder when I will be able to replace those other parts of my body.

I think Jesus will call time for that redo.
Developer Response,
Thank you for the positive comment. It's great that you love our app, and we're always working hard to make it even better. Your kind words inspire us to keep pushing ourselves.
Senior solitaire
I am 83 yrs young and live alone, still working at Goodwill, I'm the oldest person that works at this building. My boss praises me all the time for being a good example to the younger generation. I love solitaire. Just found senior solitaire today. Keep helping to give seniors an activity to stimulate our minds
Developer Response,
It means a lot to us that you've shared your thoughts, and we're thrilled that you hold our app in high regard. We promise to continue working hard to enhance your experience. Your kind words boost our enthusiasm.
A little slow but adverts (constant, but just at top banner
Game would benefit from faster transitions and a "terse mode" setting that limits run-on applications.

Game provides a bonus of 25¥ with each successful completion, and bonus could easily vary based on that round's score, but it doesn't ever vary on completion awards, which is boring!
Developer Response,
Thanks for your thought-provoking suggestion. We are all ears to any opinions from you. We've added your advice to our list. And we will constantly be working hard to make it real. So stay tuned.
Get Vita Solitaire from App Store
What is your opinion about Vita Solitaire
Bitcoin
Ethereum
MetaMask (ETH)
Xrp
Polkadot
Binance coin
Stellar
Dogecoin
Tron
Elrond
Donate Bitcoin to this address
Scan the QR code or copy the address below into your wallet to send some Bitcoin
Donate Ethereum to this address
Scan the QR code or copy the address below into your wallet to send some Ethereum
Donate Xrp to this address
Scan the QR code or copy the address below into your wallet to send some Xrp
Donate Polkadot to this address
Scan the QR code or copy the address below into your wallet to send some Polkadot
Donate Binance coin to this address
Scan the QR code or copy the address below into your wallet to send some Binance coin
Donate Stellar to this address
Scan the QR code or copy the address below into your wallet to send some Stellar
Donate Dogecoin to this address
Scan the QR code or copy the address below into your wallet to send some Dogecoin
Donate Tron to this address
Scan the QR code or copy the address below into your wallet to send some Tron
Donate Elrond to this address
Scan the QR code or copy the address below into your wallet to send some Elrond