(Game) Trigger Heroes
 iphone games for free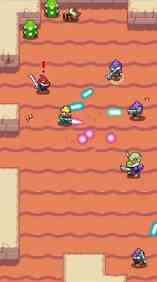 Blast your way through hordes of enemies in Trigger Heroes.Help Red and his mates take back their beloved planet Orbitus from the evil mercenaries called Shogun Inc. The last survivors depend on you!
Trigger Heroes is an exciting top down roguelike shooter with simple one-touch controls. Explore different areas, battle against unique enemies, dodge bullets, and use a wide variety of weapons.Features:
Intuitive one-touch controls
5 unique environments with stage bosses!
Wide variety of weapons
Challenging gameplay with roguelike elements
Awesome music by Maxo
We recommend iPhone 5S or higher for an optimal experience
Trigger Heroes user reviews :
Size 106 MB
Requires iOS 9.0 or later.
User Reviews :
Great game with a few tweaks
First of all, let me preface by saying I love this game. It's basically a mobile Enter the Gungeon, and I have waited so long for something like this and I'm glad it's here. I preordered the game, and I can see my self wasting hours playing it.

However, though the game literally just released half an hour ago, there needs to be some balance changes:

1. I don't feel like there's a lasting impact to most of the abilities aside from the one that slows down bullets. I went into the first boss fight after just buying the Vampiric ability, was dropped to 4 HP, and literally took like 30 or 40 shots and still didn't get healed at all. It just wasn't worth buying.

2. The first boss does SO much damage. I had a max HP of 21 after the Vampiric ability, and was hit by one bullet for 17 damage. That's a very difficult first boss, especially compared to some pretty weak enemies leading up to said boss (I'm not complaining about that part, that's pretty typical for a dungeon crawler and I enjoy it).

Very very good game, just needs a couple balancing changes
GREAT but…
i honestly think this game is really sick. i kind of like the idea of the continuous gameplay through the levels until you die because it adds some challenge to completing a world. i do wish that you guys give us an option to get rid of a powerup we no longer want or need while playing, especially since you can only have a certain amount. Another thing that really bothers me is how hard it is to aim at specific targets(this also makes it really hard to shoot the red explosive tanks) since the character shoots at whoever it thinks is best to. Maybe you can add a fixed joystick too? it gets pretty annoying walking around and constantly having to re arrange where i have my finger on the screen. Lastly I believe that you guys should take another look at the damage the enemies deal. its pretty crazy getting hit by ONE bullet and taking -34 damage from it. it almost makes it impossible to get around the levels if it weren't for watching ads to revive yourself. I hope you guys take these suggestions into consideration as I do think this game is great but it needs some fine tuning.
Few thing I'd like to say
Been playing this game since it released, and I had a lot of fun on this, thanks for the developer! Now I'm at the 3rd boss stage, I'm not usually giving reviews or any tips so detailed about a game on App Store, but after gaming for days, I feel like I have to say something.

First of all, something good about the setting of this game is that although this is a one-life game, but it has check points, so every time when we dies, we don't have to go back all over from the very beginning, just so you can conquer the boss for the current stage, but about this fast dodging, most of the time, my character will unintentionally dodge the wrong way to straight to the enemies, and it also hurts a lot.

Secondly, I would say it would be a good idea if we can also pick up enemies gear after their death, as long as we can purchase stuff at stops, like some of these enemies has body shields, or some of them had rare rifles, I get the whole character setting things tho, but I still think it'll be a good idea. I hope developer of this game can find something useful regarding my review, thanks a lot!
Contact developer :
Download Trigger Heroes from Play Store
Leave your feedback regarding Trigger Heroes
Bitcoin
Ethereum
MetaMask (ETH)
Xrp
Polkadot
Binance coin
Stellar
Dogecoin
Tron
Elrond
Donate Bitcoin to this address
Scan the QR code or copy the address below into your wallet to send some Bitcoin
Donate Ethereum to this address
Scan the QR code or copy the address below into your wallet to send some Ethereum
Donate Xrp to this address
Scan the QR code or copy the address below into your wallet to send some Xrp
Donate Polkadot to this address
Scan the QR code or copy the address below into your wallet to send some Polkadot
Donate Binance coin to this address
Scan the QR code or copy the address below into your wallet to send some Binance coin
Donate Stellar to this address
Scan the QR code or copy the address below into your wallet to send some Stellar
Donate Dogecoin to this address
Scan the QR code or copy the address below into your wallet to send some Dogecoin
Donate Tron to this address
Scan the QR code or copy the address below into your wallet to send some Tron
Donate Elrond to this address
Scan the QR code or copy the address below into your wallet to send some Elrond