Travel Town – Merge Adventure game by Magmatic Games Ltd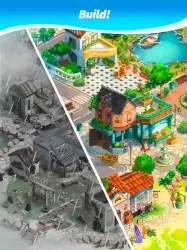 Game Description :
Explore Travel Town, where you can combine everything into better and more useful items while you travel the world!
Reveal secrets as you discover yourself and help the friendly people of Travel Town!
Game Features :
Match Objects
Discover over 500 fantastic objects through hundreds of levels!
Freely drag objects around the beautiful world and match 2 of a kind evolve them into more superior items!
Fulfil the missions of the townsfolk to unlock more amazing items!
Meet New Villagers
Discover 55 villagers who live in Travel Town, and help them restore their seaside town!
Match objects to upgrade them and unlock more and more items to support you on your journey!
Town Building
A storm has ravaged Travel Town – Collect coins and bring the town back to its former beauty!
Discover and upgrade dozens of houses and improve the town beyond your wildest dreams!
Download now and discover Travel Town!
Additional Information :
Age Rating 4+
Size 281.4 MB
Requires iOS 11.0 or later.
User Reviews :
Overall enjoyable
Fun match game, similar to other games out there. What makes this one unique is the town development aspect and the various producers that you get as you move through the game. Some are regular tap for an item, some spit the items out at a certain interval, and some need to be tapped multiple times to produce the item. Those last ones are the most frustrating, but I like the additional challenge of having to ration your energy and plan your moves to optimize order completion.

I do have a few *minor* critiques. After a certain point, you stop using some producers all together. The game has a kind of cold storage for the obsolete producers to get them out of the way. However, I do wish the game would circle back to them sometimes. Just to mix it up. Also, the frequency of energy and gem drops is rather low compared to other similar games; it would be nice to have more of a chance to get energy and gems. In the same vein, the cost of energy feels high and I dislike that the item shop only offers gems prices.

Overall, this is a nice game that keeps me returning daily. It's relaxingly simple while providing a slight challenge in terms of resource management. The special events are always a fun bonus, too.
Developer Response,
Thank you for this feedback. We appreciate you taking the time to let us know your thoughts!
Right now I'm upset
So I love to play this game with my 5yo. It is good for him to spot the difference and use fine motor skills to drag items to the correct place. I don't usually spend money in the first month of owning a game. Mainly because if I can't play it or it is not an effective tool for me. However, we came on vacation and we have had more time waiting I was convinced to get one of the 4th of July specials. It's been 2 days and no receipt. Another thing I find frustrating is there is zero consistency in orders so we go through so much more energy and a full board because 2+ 4= 6 combinations possible. I understand it prompts the spend money goal of the company but it's not necessary. The game is very addictive and fun and having those stall moments does get a more impatient buyer to hit the pay button. Which brings me to tool boxes and jewelry boxes and ice cream stands which never recharge at reasonable or playable level. I'll end my rants with lack of instructions or game information being unavailable is one of things that drives me to look for a different game with similar play but with the rules, instructions and transparency in purchases continues. Overall, this is about 5-10 minutes of gameplay every 2 hours or so without making purchases. It's fun and you get little bits of happiness for every "combination" you make! It has a cute story so we read and play. So if you have good self control and like to game and read with your kids I highly recommend it.
Developer Response,
Thank you for this feedback. We appreciate you taking the time to let us know your thoughts!
Overall great!
I really like this game. It is simple and fun. There are natural slow-down mechanisms designed to get you to spend money, but they aren't very bad and don't interrupt the game in a way that detracts from it, in my opinion.

However, I can't give it five stars due to a specific problem. At the top of the game there are 4-5 community members with orders you need to fulfill. These orders tend to be the most important way of moving forward / making progress in the town. But early on one of the orders is for a fossil. And this fossil is basically impossible to get! And there is no way to dismiss / move on from that order. So I'm basically down to 3 orders for the rest of the game instead of 4. I did write to the app developer about the fossil, and they impressively responded rather quickly. But the way they said to try to get it is ineffective (I've clicked the relevant thing 500 times, so I did give it a chance) and for some reason the joker (which is supposed to merge with *anything*) won't merge here either.

So: overall very happy with the game. Don't like this one thing that is detracting from my experience.
Get Travel Town from App Store
What is your opinion about Travel Town
Bitcoin
Ethereum
MetaMask (ETH)
Xrp
Polkadot
Binance coin
Stellar
Dogecoin
Tron
Elrond
Donate Bitcoin to this address
Scan the QR code or copy the address below into your wallet to send some Bitcoin
Donate Ethereum to this address
Scan the QR code or copy the address below into your wallet to send some Ethereum
Donate Xrp to this address
Scan the QR code or copy the address below into your wallet to send some Xrp
Donate Polkadot to this address
Scan the QR code or copy the address below into your wallet to send some Polkadot
Donate Binance coin to this address
Scan the QR code or copy the address below into your wallet to send some Binance coin
Donate Stellar to this address
Scan the QR code or copy the address below into your wallet to send some Stellar
Donate Dogecoin to this address
Scan the QR code or copy the address below into your wallet to send some Dogecoin
Donate Tron to this address
Scan the QR code or copy the address below into your wallet to send some Tron
Donate Elrond to this address
Scan the QR code or copy the address below into your wallet to send some Elrond