(Game) Tiny Island Survival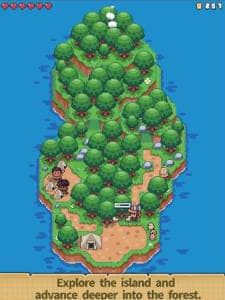 Game Description :
1,000,000DL Thanx!
An island survival game played within a single screen!
Progress quickly with simple controls.
Game Features :
Learn the Island's Secret
Shipwrecked, you wash up on an uninhabited-seeming island.
But then you notice smoke rising from the forest.
Maybe someone lives here…
Explore the island, advance deeper into the forest, and unravel the island's mystery.
No Complicated Controls
The game takes place on one screen, so no getting lost.
No annoying traveling from place to place.
Just go deeper into the forest.
Simple But With Elements for Completists to Enjoy
Collect materials to aid in your survival.
Level up your weapons and armor.
Increase your health.
Playable in short bursts whenever you have a sliver of time to kill
Encapsulated in a single screen
Cute, lively pixel art
Simple gameplay with depth for completists
Additional Information :
Size 98.7 MB
Requires iOS 10.0 or later.
User Reviews :
Love this game
I've been playing for about 8 hours straight and I love this game. It would be awesome if every time you upgrade your tools or hearths you could really see it getting better like a visual change or sparkles or even make skins that you can win over time (for character and tools). Give the tools attributes like critical damage or aoe damage, or even maybe life steal for the sword. Also something like lucky mining or something similar. Also add items like boots that will make you run faster or armor that would make you stronger against monsters or even ad new weapons like bows, guns etc…

It would be amazing if went you and out in one island you can build a little boat as a final goal and go looking for different islands where you can start again and have different challenges. With this the game will become almost infinite my making it harder to progress every time you advance to a different island. It would be cool if there was different minerals and material for different islands so that your tools would look different.

Overall I really enjoyed this game, I think is the developers find a way to add more stuff but still keeping the simplicity of the game this game could be one of the best apps in the App Store.
Developer Response ,
Thank you for the detailed review! I thank you
Great Novel Concept
The game is essentially as advertised; you are on a single pixel art island going through a gathering and crafting loop to progress further inland. That said, the game is very compelling and superbly well made. There is no dialogue or tutorial but the game design itself explains essentially all of the mechanics. There's even a surprising amount of choice in how you engage in the world (do you want to gather resources yourself or farm them off enemies?), and a fair bit of depth to the mechanics (for example, you can use different pathing methods to avoid fights or kite enemies).

There are areas where the pacing drags a bit. Some resources are slow to respawn and you may wind up standing next to a resource waiting for it to come back for a while. The game offers a new gameplay loop partway into it that makes resource farming a bit easier but a lot of the stuff I was enjoying earlier wasn't part of this new loop. I found myself sitting and hoping for an ad to watch to speed up the process.

That said, the wait times we're talking about are maybe minutes long. It's absolutely reasonable. And the game was an absolute gem otherwise. Easily worth a dollar or two, and it's free!
Developer Response ,
Thank you for a nice review! It will be encouraging!
Awesome cute game
If you need to relax, why not play this lol, I've been playing a little under an hour now and I'm curious to know how much more this game will expand it just keeps adding with more stuff to do, there's no set objective you get to explore and figure it out yourself which is nice when all these games today have quests and missions and lists of things to do it can be overwhelming and eventually turn boring doing the same daily missions etc., this game you do have some freedoms. It's what the game suggests you are trying to survive on an island collecting, building and crafting! What more do you want! And being free to play they need to make their money somehow, the ads seem to be well placed, as I've notice they only come up when you are resting, and they offer bonus materials for ads seems fair to me!

To the Developers:

Awesome job! There is however a small visual glitch that I've noticed when you obtain a new heart, it doesn't always register that you've used all your energy, it's not game breaking by any means just a small thing I've noticed!
Developer Response ,
Thank you for a nice review! It's very encouraging!
Get Tiny Island Survival from App Store
What is your opinion about Tiny Island Survival
Bitcoin
Ethereum
MetaMask (ETH)
Xrp
Polkadot
Binance coin
Stellar
Dogecoin
Tron
Elrond
Donate Bitcoin to this address
Scan the QR code or copy the address below into your wallet to send some Bitcoin
Donate Ethereum to this address
Scan the QR code or copy the address below into your wallet to send some Ethereum
Donate Xrp to this address
Scan the QR code or copy the address below into your wallet to send some Xrp
Donate Polkadot to this address
Scan the QR code or copy the address below into your wallet to send some Polkadot
Donate Binance coin to this address
Scan the QR code or copy the address below into your wallet to send some Binance coin
Donate Stellar to this address
Scan the QR code or copy the address below into your wallet to send some Stellar
Donate Dogecoin to this address
Scan the QR code or copy the address below into your wallet to send some Dogecoin
Donate Tron to this address
Scan the QR code or copy the address below into your wallet to send some Tron
Donate Elrond to this address
Scan the QR code or copy the address below into your wallet to send some Elrond