(Game) The Wolf Among Us
 iphone games download free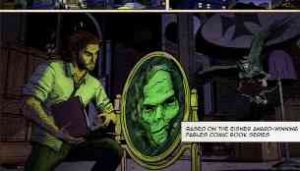 Game Description :
NOTE: Compatible with iPhone 4S and up, and iPad 2 and up – also requires iOS 6 and up
Episode 1: Faith is now FREE
Save 25% on additional episodes in The Wolf Among Us by purchasing the Multi-Pack [Episodes 2-5 bundle] via in-app in the 'Episodes' menu
From the creators of the Game of the Year award-winning series The Walking Dead: A Telltale Games Series, comes a gritty, violent and mature thriller based on the award-winning Fables comic books (DC Comics/Vertigo).
Game Features :
As Bigby Wolf – THE big bad wolf – you will discover that a brutal, bloody murder is just a taste of things to come in a game series where your every decision can have enormous consequences.
An evolution of Telltale's ground-breaking choice and consequence game mechanics will ensure the player learns that even as Bigby Wolf, Sheriff of Fabletown, life in the big bad city is bloody, terrifying and dangerous.
Over a season of content spanning across 5 episodes (All five critically acclaimed episodes are available now):
Episode 1: Faith
Episode 2: Smoke and Mirrors
Episode 3: A Crooked Mile
Episode 4: In Sheep's Clothing
Episode 5: Cry Wolf
Additional Information :
Compatible with iPhone, iPad, and iPod touch.
Requires iOS 6.0 or later.
Size 702.1 MB
User Reviews :
Love the game overall – interesting and fun to play. My only complaints are that each chapter is fairly short (takes you now more than maybe an hour tops to play each chapter) AND each chapter can often take forever to load, even if your phone is plugged in and you have a good wifi connection. It literally took me about 8 hours on a lazy day just to be able to play MAYBE three hours of gameplay Because I had to have the loading screen actually up with the volume down and to keep checking to make sure it had t stopped loading and then restarting the load if it was cut off. For the $15 season pass, I do think the game itself is definitely worth it, but I would've MUCH rather been able to load the whole game at once (even of it took 3 hours or so) and to play chapter after chapter rather than having the annoying and long load process in between.
This is a masterpiece game from Telltale. The comic graphics are beautiful, the crime story is entertaining and the voices are great. However, since Telltale doesnt exist anymore, this game has not aged well with the new iPad iOS. It is full of bugs. Everything worked fine until I purchased the Episodes 2-5 package. From then on, about 1 out of 4 times the choices were blank and I was not able to see what I selected even in critical situations. This is deadly for a choice-based game. There were further parts were there were no voices, so I could not hear what the characters were saying – which was most depressing at the end, when the story unfolded. Because of that I don't fully understand how the story ended. Further, it was not possibly to see the overview of choices I made in the Extras menu, because the system would not let me scroll down. I will ask for my money back, because it is unacceptable that the now seller of the game keeps it in the store without maintaining it. This is a rip-off. I read through other negative reviews and obviously I am not the only one experiencing this issue. Again: Great compliment to Telltale Games. Really nice game and sorry your company does not exist anymore. I am sure you would have taken care of these issues.
I watches several YouTubers play this, and I got it for myself as soon as I could. The first episode is obviously free, but the other four cost money. There's a bug in my game in the second chapter that says my choices for responses are blank, and I have to take a wild guess at choosing a response and pray it was the right one. I know I'm not the only one with this problem, so please get this fixed as soon as possible. The story is very engrossing, and I really want to see what happens next. I can't do that if I can't progress, which is what the aforementioned bug is causing. I can't get further without making the right choices. Also, the controls are a bit touchy. Makes it hard for me to select options for interacting with objects, since it won't register as me hitting the buttons.
Get The Wolf Among Us from App Store
What is your opinion about The Wolf Among Us
Get more free apps & games daily
Subscribe to our mailing list and get free apps & games daily to your email inbox.
Thank you for subscribing.
Something went wrong.
Bitcoin
Ethereum
MetaMask
Xrp
Polkadot
Binance coin
Stellar
Dogecoin
Tron
Elrond
Donate Bitcoin to this address
Scan the QR code or copy the address below into your wallet to send some Bitcoin
Donate Ethereum to this address
Scan the QR code or copy the address below into your wallet to send some Ethereum
Donate Xrp to this address
Scan the QR code or copy the address below into your wallet to send some Xrp
Donate Polkadot to this address
Scan the QR code or copy the address below into your wallet to send some Polkadot
Donate Binance coin to this address
Scan the QR code or copy the address below into your wallet to send some Binance coin
Donate Stellar to this address
Scan the QR code or copy the address below into your wallet to send some Stellar
Donate Dogecoin to this address
Scan the QR code or copy the address below into your wallet to send some Dogecoin
Donate Tron to this address
Scan the QR code or copy the address below into your wallet to send some Tron
Donate Elrond to this address
Scan the QR code or copy the address below into your wallet to send some Elrond