(Game) The Videokid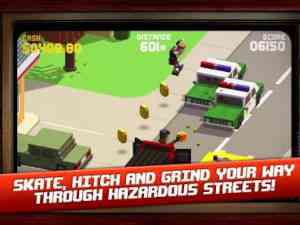 Are you ready for The Videokid challenge?
Survive your video round with just one life… and hundreds of ways to die! Reach your girlfriend Jessica and beat the game to be amongst the best of the best!
Test your skills to the max with this challenging arcade style skate game set in a retro 80s neighbourhood filled with fun and danger. Avoid being busted by the cops, pull off sick tricks and complete crazy combos; all whilst trying to stay alive just long enough to deliver your pirate video round and get to your girl in time!
Skate, hitch and grind your way through hazardous streets; dodging bikes, cars, trucks, trains & more. From arcade style sound effects, to the incredible 8bit inspired soundtrack (written by DJ Savant), you are fully immersed in an oldskool world in this intense and rewarding runner.
What a wonderful game this is – an exacting arcade treat shot through with 80s childhood memories. Christian Donlan, Eurogamer
You'll find that The VIDEOKID throws in every nostalgic thing you loved about the 80s into an 8-bit fast-paced Paperboy-esque gaming experience. Plug in your walkman and lace up your Reebok Pumps… Niko & Dawn, Indiewatch
It's like PaperBoy on 80s steroids MastaCodyD
Game Features :
Unlock & play as some of your favourite 80s inspired characters
Wreak havoc on the wrong side of the law for maximum score
Pull off sick skate tricks & crazy combos
Laugh at endless ways to bail, slam & fail
Earn cash to buy radical upgrades & oldskool powerups
see how many classic 80s characters & vehicles you can spot
Relive your 80s childhood where playability was king
Free to play
Additional Information :
Size 177.8 MB
Requires iOS 9.0 or later.
User Reviews :
I can't play it!!!
Ok so I rated this game 5 star because it took me back to the good old days of playing paperboy unfortunately I am now too old to play this type of game it's all over the place for me I just can't think quick enough and so I lose very fast just too fast paced for me if I was 20 years younger I would be owning it but this is the first game where old age has set in for me just can't do it lol great game tho
The un-winnable bug
So at the last stretch Biffs car is meant to pull up into the right lane and chuck dynamite at the player. I only know this looking up a complete run online. In this app, there is unfortunately a game breaking glitch in that Biffs car is invisible. You can hear the dynamite chucking sound and can still be killed (saw another review complaining about dying on a clear road at the end, obviously killed by this bug) but you can move between all three lanes and his car is clearly not there. This is not a one off bug, it has happened EVERY. SINGLE. TIME. I. REACH. THAT. POINT. (I've reached that point over 100 times). As there is no visible dynamite nor crosshair to tell you where the invisible dynamite is landing it's impossible to complete and I can't even imagine what will happen when you have to grab on to the front of the car when there isn't one. Please developer(s?), if you're reading this, it's not a troll or a joke, this bug is real and other reviews have complained as-well. I love this game (thus the 4 stars) but being un-winnable due to a bug is heartbreaking. Please fix it 🙁
Great idea. Poor game.
This could & should be a great game. Great idea and fun visuals. Unfortunately let down by poor execution. The controls are so slow & sluggish it's a miracle you can get anywhere in the game. It's really noticeable in the sewer section where you can move sideways quick enough. There are ads galore. Which you're supposed to be able to pay to remove. This doesn't work. I paid and there's still an ad after every third restart. I've had this game for three weeks and the best score I got was 40% though the level. I've tried to like it but have now deleted it. Shame.
Brilliant but needs update
This is a great game with some really cool references to 80s movies. My son loves it as much as me! But we're both stuck at the end point and I'm not sure if it's a glitch… we can't get past Biffs car (at 95%) – you're supposed to jump over it by pressing A but it doesn't work – we've both tried loads of times now. Does it need an update?! Hope it gets sorted as would love to finish the game!!
Get The Videokid from App Store
What is your opinion about The Videokid
Bitcoin
Ethereum
MetaMask (ETH)
Xrp
Polkadot
Binance coin
Stellar
Dogecoin
Tron
Elrond
Donate Bitcoin to this address
Scan the QR code or copy the address below into your wallet to send some Bitcoin
Donate Ethereum to this address
Scan the QR code or copy the address below into your wallet to send some Ethereum
Donate Xrp to this address
Scan the QR code or copy the address below into your wallet to send some Xrp
Donate Polkadot to this address
Scan the QR code or copy the address below into your wallet to send some Polkadot
Donate Binance coin to this address
Scan the QR code or copy the address below into your wallet to send some Binance coin
Donate Stellar to this address
Scan the QR code or copy the address below into your wallet to send some Stellar
Donate Dogecoin to this address
Scan the QR code or copy the address below into your wallet to send some Dogecoin
Donate Tron to this address
Scan the QR code or copy the address below into your wallet to send some Tron
Donate Elrond to this address
Scan the QR code or copy the address below into your wallet to send some Elrond