The President game by Crazy Labs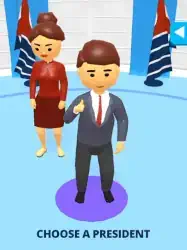 Game Description :
Time to let your inner boss out of you and be the President of the world. What kind of president do you think you are? Maybe you run the office like Obama or Biden. Maybe you are a dictator like the president Trump and want to win the white house in this idle mafia. If you are the most hated dictator, hire more VIP guards. It is super fun.
Game Features :
Act out your creative, naughty side as the president and make laws for everyone in this presidential simulator game. Pick a law and they will feel your wrath, it's that simple! Feel the satisfaction with whatever you choose in this president simulator game. Be a boss, or dictator, or even Trump.
This is not like other simulator games or idle games – this is an idle mafia!
To opt out of CrazyLabs sales of personal information as a California resident, please visit our Privacy Policy: www.crazylabs.com/apps-privacy-policy/
Additional Information :
Size 233.8 MB
Requires iOS 12 or later.
User Reviews :
It's a good game but too many………….
This game is a really good game it's actually really fun but there is a lot of game commercials which I don't really like because I want to keep playing my game so if this game could get rid of a lot of commercials every time you press one of the buttons that would be great also I also like how everybody like just comes in at like this is how I want to do this please except this is just like opal also super fun please if you get this game to remember that there are gonna be a lot of ads but I do like the name of this game because it's in that vibe you know it's super fun so you should probably get this because it's actually a really fun game and I think you would like it to I like it I mean I want to tell my family because they'll probably like it but I just really want you I just want you to know that this is a very good game and I think you recommended also remind your dad do you know if you get this game there are gonna be a lot of commercials every time you kind of press the button but I love this game thank you so much for listening thank you
Great game
The president is a great game you be the president and pick either good or bad options

And pack if you want to be a girl or a boy and about it if you get to pick what you say and pick what you do I think this game is really fun but I think maybe you can put the age a little down because I know it does have things that only little kids should not be hearing but my little brother he's only nine and he plays this game and has no problems so I think nine and up should be a better idea but other than that I think this game is so much fun and I really think you should play it but also there's some parts of it will you go golfing and stuff and that's nothing president related so it doesn't really make sense but I still think it's really fun and I really like the bonus levels especially with the alienAnd at the end of the day it says if you're a good president a bad person or a really really bad president so I really recommend this game probably one of my favorites so much fun
The president
The president is a game about being a president. You can make good and bad choices. Now, on day 11, a president from another country calls you, and you say they're good looking. But you have a husband/wife. This game talks about Wine and cheating. At most instead of this being 4+, it should be 9+, or 12+. Since 9 year olds most likely know the concept of cheating, and wine. But 4 year olds might not know the concept of cheating/wine and might ask "Mom, what's cheating?" Or "Mom, what's wine?" I just feel like you could be a little more cautious about what age you put your game as. Until this stuff is removed, or you change 4+ to 9+ or 12+, remove the cheating and the wine, it's 3 stars. However the "cheating" option is a choice, It's still considered the good option. Please change it to the bad option. Thank you for your time 🙂

Edit: Thank you for changing it to 12+ and not keeping it 4+. However, not really that enjoyable to me. I don't know why, but its just really not enjoyable at all. For that I'll give it 4 stars. Its fun to play for a little bit, like an extra game, but its really really un-enjoyable.
Get The President from App Store
What is your opinion about The President
Bitcoin
Ethereum
MetaMask (ETH)
Xrp
Polkadot
Binance coin
Stellar
Dogecoin
Tron
Elrond
Donate Bitcoin to this address
Scan the QR code or copy the address below into your wallet to send some Bitcoin
Donate Ethereum to this address
Scan the QR code or copy the address below into your wallet to send some Ethereum
Donate Xrp to this address
Scan the QR code or copy the address below into your wallet to send some Xrp
Donate Polkadot to this address
Scan the QR code or copy the address below into your wallet to send some Polkadot
Donate Binance coin to this address
Scan the QR code or copy the address below into your wallet to send some Binance coin
Donate Stellar to this address
Scan the QR code or copy the address below into your wallet to send some Stellar
Donate Dogecoin to this address
Scan the QR code or copy the address below into your wallet to send some Dogecoin
Donate Tron to this address
Scan the QR code or copy the address below into your wallet to send some Tron
Donate Elrond to this address
Scan the QR code or copy the address below into your wallet to send some Elrond