(Game) Magic – The Gathering Arena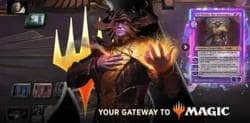 Game Description :
Welcome to the digital Multiverse! Magic: The Gathering is the original trading card game- and now you can download and start playing for free with your friends from anywhere!
Magic: The Gathering Arena empowers you to discover your strategy, meet the planeswalkers, explore the multiverse, and battle friends around the world. Collect, build and master your unique deck that will become its own legend. Your battle is only the beginning; duel on stunning battlefields, and enjoy Arena's game changing battle effects and immerse yourself in the game. Start playing for free, challenge your friends, unlock cards, and feel the magic of the original fantasy CCG!
Game Features :
NO EXPERIENCE NECESSARY
Never played Magic before? No problem! Magic: The Gathering Arena's tutorial system takes you through the playstyles so you can find your strategy and decide if you're the type to overwhelm your opponent with brute strength, if subterfuge is more your style, or anything in between. Meet characters from around the multiverse and try out spells and artifacts that make learning to play the original fantasy collectible card game quick and fun. It's never been easier to play Magic! Collect cards to build a deck that matches your personality, then master your strategy to battle friends and be part of the TCG that started them all.
GAME ON(LINE)
The original TCG is now digital! Explore the fantasy worlds of Magic: The Gathering Arena and build your deck, play a variety of game formats to collect cards, master multiple strategies, and hone your skills against friends or the AI. With multiple game formats like Draft and Brawl, 15 unlockable collectible decks, and explosive card combo effects: Your ideal Magic: The Gathering playstyle is at your fingertips! Show off eye-popping cosmetics like avatars, card sleeves, and pets and collect daily rewards to grow your collection and build powerful decks that reflect your personal strategy.
CHALLENGE AND PLAY
Duel your friends for glory or enter in-game tournaments for exciting prizes! With Draft and Brawl pairing, there is always someone to game with. Special in-game events offer exciting rewards, and with Esports qualifiers your Pro-Magic dreams are closer than you think in the Arena Premier Play League! Queue into casual battles to hone your strategy at your own pace, or battle in Esports qualifiers and frequent tournaments to flaunt your mastery.
FANTASY AND MAGIC
Dive into the fantasy planes of Magic: The Gathering and write your own legend through Magic's immersive lore and vibrant card art. Find your path through the multiverse using only favorite characters and their most iconic spells and artifacts, or create a theme deck with a narrative that makes sense only to you. Your story is only just beginning!
All prices inclusive of VAT.
Wizards of the Coast, Magic: The Gathering, Magic: The Gathering Arena, their respective logos, Magic, the mana symbols, the planeswalker symbol, and all character names and their distinctive likenesses are property of Wizards of the Coast LLC. ©2021 Wizards.
Please visit company.wizards.com/legal/wizards-coasts-privacy-policy to view Wizards of the Coast's privacy policy and company.wizards.com/legal/terms to view Wizards of the Coast's terms of use.
Additional Information :
Size 832.6 MB
Requires iOS 14.1 or later.
User reviews :
Excellent way to play !
I've loved magic since high school and played paper for quite a while. I've played several games developed for phone and console . This in my opinion is the best . I suggest the game to anyone looking to play, for their first time or a veteran. It is very helpful for new players breaking down the phases and when things can be done that you might not realize if your new. I've played well over 2k matches . It is a daily thing for me , playing matches , making decks , improving on decks and new strategies I enjoy so much I often fall asleep making a deck . The game is not bogged down with adds , or useless player info , their is no way to communicate with another player which is probably a good thing , other than emotes. Anyways I would definitely recommend to anyone old or new looking to get back into magic . The only things I find a bit buggy in the game or that I in general don't like is Their is a cap limit on creatures .. I've had games where I should have had well over a thousand creatures and it limits it and crashes , sometimes it will freeze and force close very seldom , sometimes it will bug and a card that you were about to play will stay big and not get out of blocking your view . Other than that the game functions well I enjoy it , making decks is not inherently difficult to navigate or figure out how to find what your looking for . Thank you wizards and all the developers .
It's what one expects,although some minor issues ensue
Magic Arena is definitely a good game to play on PC and the idea of it being ported onto mobile devices is no easy task, and I think that for the most part the game looks and feels fine when it works as intended. As of writing the mobile version has been out for two days so hopefully by then the issues I state will be fixed. The only issues I have with Arena on mobile is that the ui is a direct copy of the PC's version, making the screen seem much smaller than it is which can make it hard for some people to see what to press if they want to access their decks for example. Every time I boot up the game I keep getting a "asset error" when there's nothing wrong with how stuff looks so I have to wait a bit to load into the main menus. Lastly whenever you tutor for a card or have a large board state the game becomes clunky as you can either type the card you want through a filter or search for it manually and have to use a scroll bar instead of just swiping; with large boardstates the game arranges your cards in a linear row instead of a large square like in the PC version so if you want to activate a creatures ability you swipe to scroll across your creatures which makes the game lag for a bit, and the overall size of what makes the game struggle is yet to be determined as I've only encountered this about two times.
Get The Gathering Arena from App Store
What is your opinion about The Gathering Arena
Bitcoin
Ethereum
MetaMask (ETH)
Xrp
Polkadot
Binance coin
Stellar
Dogecoin
Tron
Elrond
Donate Bitcoin to this address
Scan the QR code or copy the address below into your wallet to send some Bitcoin
Donate Ethereum to this address
Scan the QR code or copy the address below into your wallet to send some Ethereum
Donate Xrp to this address
Scan the QR code or copy the address below into your wallet to send some Xrp
Donate Polkadot to this address
Scan the QR code or copy the address below into your wallet to send some Polkadot
Donate Binance coin to this address
Scan the QR code or copy the address below into your wallet to send some Binance coin
Donate Stellar to this address
Scan the QR code or copy the address below into your wallet to send some Stellar
Donate Dogecoin to this address
Scan the QR code or copy the address below into your wallet to send some Dogecoin
Donate Tron to this address
Scan the QR code or copy the address below into your wallet to send some Tron
Donate Elrond to this address
Scan the QR code or copy the address below into your wallet to send some Elrond