(Game) Temple Run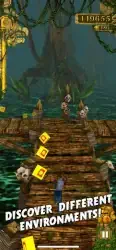 Game Description :
In pretty much every treasure hunting adventure movie there's one specific scene in which the plucky hero finally gets his hands on the treasure but then has to navigate a maze of booby traps in order to get out alive. Temple Run is this scene and nothing else. And it's amazing." – SlideToPlay.com
From the makers of the award-winning best-seller Harbor Master® comes the most exhilarating running game on the App Store. Test your reflexes as you race down ancient temple walls and along sheer cliffs. Swipe to turn, jump and slide to avoid obstacles, collect coins and buy power ups, and see how far you can run!
Game Features :
Simple swipe and tilt controls that are easy to use and just feel right
Level up your character and use crazy powerups
Original 3D running mechanic combining turning, jumping, sliding and tilting – the first of its kind!
Play as 7 different characters!
Game Center Leaderboards and Achievements to compete with your friends
Incredibly fun, just one more time, endless game play!
Additional Information :
Size 181 MB
Requires iOS 10.0 or later.
User reviews :
A great game, but some flaws
I'd like to start off by saying I really love the game. The concept is fairly original, and it's simple and fun to play. But there are two things I don't like. For starters, the fact that you have to tilt your device to get the coins. It seems unnecessary and I feel it would just be easier to swipe left and right. The other thing I dislike is how it gets faster and faster as time goes on. It gets quite hard to use and I feel myself getting stressed. Other than that though, I absolutely love the game. One of my favorite things it that you can customize your avatar. I also really enjoy the landscape design, it seems random but it's really beautiful and detailed and and it brings the perfect idea of a jungle. One other note I have, however, is that the obstacles become repetitive and boring after time goes on, so maybe add different obstacles each time you unlock an achievement. Overall though, I love the concept and the game is just so much fun to play. Thank you to the developers for making it!
Amazing Game!!! 
When my friend realized that I still play "Subway Surfers" at the age 13, she decided to "tease" me about it. I was upset but I really like games like that so I decided to start looking for other games like that for "older kids". I found a bunch of games including this one. I tried them all and they didn't work very well, there were so many ads on them and too many In app purchases, so eventually I decided to try out this game, I said to myself "this is amazing!!" I love how you can not only decide what path you take, but also have more obstacles, like trees, fire, etc. I also like how there are no ads (for me at least). Whenever my mom tells me to go to my room or something because I'm too crazy from my ADHD (Attention Deficit Hyperactivity Disorder) I pull out my iPad and play this for a half hour, it's really fun and does't have any annoying glitches or ads, it's easy to play, and it's just overall an amazing game! I hope you make more games like this!!!!!
Really?!
So I love this game but I just hate the adds. If you die then you have the choice to watch an add and continue. So I just didn't want to watch an add so I decided to just start over. So when I clicked that… and ADD started playing! So there is no point! They shouldn't even give you an option. If it says watch an add and continue, then I'll do that if I'm willing! But if it also has the option to just restart. Then don't put and add on it!!! Because it should be an even option. Like watch an add but get to carry on, or restart but don't have to watch an add. Except you don't have a choice. I want to carry on but either way you have to watch a stupid add. And I'm not even that bothered by adds! It just made me really mad that I had been wasting my time! Even though I hate that thing about it! I still think it's a fun game…..
Downhill
I loved this game when it came out, played it all the time in middle school. Just re downloaded it for the first time since 2014 and it's lost a lot of the magic. As others have said, too many ads. In a world where every game is over saturated with stupid ads that are untrue to actual gameplay, I would've hoped this one would've stayed the same, but no it's full of ads. Also as other have pointed out, when you die it asks "watch an ad to continue?" and when you say no you still have to watch an ad (albeit a slightly shorter one). And probably the biggest deal to me, they've ruined the dead screen. Used it would have a little graphic showing how the character died in your run (fell, ran into a tree, caught on fire, whatever). But in their turn to greed they did away with that so ALL you see is the "watch an ad to continue?" question. It's sad that it's so bad now, it's not that interesting of a game to really overlook how annoying that is. Not worth the re download imo
Get Temple Run from App Store
What is your opinion about Temple Run
Bitcoin
Ethereum
MetaMask (ETH)
Xrp
Polkadot
Binance coin
Stellar
Dogecoin
Tron
Elrond
Donate Bitcoin to this address
Scan the QR code or copy the address below into your wallet to send some Bitcoin
Donate Ethereum to this address
Scan the QR code or copy the address below into your wallet to send some Ethereum
Donate Xrp to this address
Scan the QR code or copy the address below into your wallet to send some Xrp
Donate Polkadot to this address
Scan the QR code or copy the address below into your wallet to send some Polkadot
Donate Binance coin to this address
Scan the QR code or copy the address below into your wallet to send some Binance coin
Donate Stellar to this address
Scan the QR code or copy the address below into your wallet to send some Stellar
Donate Dogecoin to this address
Scan the QR code or copy the address below into your wallet to send some Dogecoin
Donate Tron to this address
Scan the QR code or copy the address below into your wallet to send some Tron
Donate Elrond to this address
Scan the QR code or copy the address below into your wallet to send some Elrond