(Game) Temple Run 2
 iphone games for free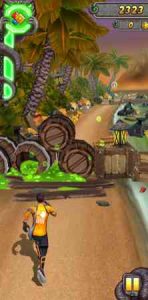 Game Description :
The sequel to the smash hit phenomenon that took the world by storm!
Temple Run redefined mobile gaming. Now get more of the exhilarating running, jumping, turning and sliding you love in Temple Run 2!
Navigate perilous cliffs, zip lines, mines and forests as you try to escape with the cursed idol. How far can you run?!
Game Features :
Beautiful new graphics
Gorgeous new organic environments
New obstacles
More powerups
More achievements
Special powers for each character
Bigger monkey!!!
Become a fan of Temple Run on Facebook:
www.facebook.com/TempleRun
Follow Temple Run on Twitter:
twitter.com/TempleRun
Additional Information :
Compatible with iPhone, iPad, and iPod touch.
Requires iOS 9.0 or later.
Size 212.3 MB
User Reviews :
Temple Run 2 is one of my absolute favorite games. It is addictive and you can achieve nearly everything you want, while still being new and fresh.Of course to have a game like Temple Run 2, you have to have a history. Temple Run 2 evolved from the original Temple Run, which is also neat to look at. Temple Run was an amazing game that attracted quite the fan following on iPhones, mainly because it was one of the featured games in the App Store for several months. Eventually, the creators had to many ideas for Temple Run and since Temple Run was getting old, they released Temple Run 2.Temple Run 2 is a very fun game. With daily, weekly, and global challenges, it keeps players engaged by offering rewards for each of these events.But with fame comes controversy, and there was a small one over Temple Run 2. For literal years, the game only had one free character, the male, Guy Dangerous. There was a small controversy at the time because the majority of people playing the game were female. So in 2014 the creators came out with the new, female free character, Scarlett Fox.But the journey of Temple Run 2 is not over yet, with new maps, challenges, and prizes – Temple Run 2 promises to continue an ever loved game.
I love this game sometimes I have a hard time putting my tablet down to do other free time activities. Since this seems like a archaeological same some, why don't y'all have a Indiana Jones character in the game. In the movies he is alway being chased by something and finds relics. Could base a character after him and call him Indiana Doomtemple since you already have a bones character! And have another character based off one of the movies that little Chinese boy called short round!!! Relics could be the holy grail, those stones from the second film and so on and so on of relics from the movies. Or have that Egyptian man who is head of ancient Egyptian artifacts and mummy's in Egypt can't spell his name or pronounce it! You could do a world like and island with volcanoes erupting and trying to adobos getting lava on you or you die even a lava slide where you have to ride on a huge rock and try not to fall on the lava river!! I love this game and just trying to give y'all new ideas!! Like this comment if any agree plz thanks!!!
Developer Response ,
Greetings Runner,

We appreciate your feedback and suggestion. Have you check out our character Montana Smith??! ;D

Take care,

Imangi Support
I love this game don't get me wrong yes it is addictive to play but one thing that has stopped me from playing this game is advertisements every update it seems to be getting worse and worse so I stopped playing because I'm one of those players who easily gets annoyed by too many advertisements this would be a 5 star app easily but I can't give this app those 5 stars just because of too many advertisements but if you guys made it so people wouldn't get bombarded with advertisements at the end of every run I would really appreciate that and I would even be willing to give this app the 5 stars it deserves but one thing I noticed the really old version of this app didn't have any advertisements I don't know what made you developers think it was okay to start advertising different apps unless you developers are plotting an end to temple run I usually only start to see this many advertisements when developers are planning on ending the use of a game I saw that with a Batman game I use to have and now it no longer exists so please narrow down the advertisements a little bit so I have some hope that this app will not be discontinued I love this app and I would hate to see this app come to an end
Get Temple Run 2 from App Store
What is your opinion about Temple Run 2
Bitcoin
Ethereum
MetaMask (ETH)
Xrp
Polkadot
Binance coin
Stellar
Dogecoin
Tron
Elrond
Donate Bitcoin to this address
Scan the QR code or copy the address below into your wallet to send some Bitcoin
Donate Ethereum to this address
Scan the QR code or copy the address below into your wallet to send some Ethereum
Donate Xrp to this address
Scan the QR code or copy the address below into your wallet to send some Xrp
Donate Polkadot to this address
Scan the QR code or copy the address below into your wallet to send some Polkadot
Donate Binance coin to this address
Scan the QR code or copy the address below into your wallet to send some Binance coin
Donate Stellar to this address
Scan the QR code or copy the address below into your wallet to send some Stellar
Donate Dogecoin to this address
Scan the QR code or copy the address below into your wallet to send some Dogecoin
Donate Tron to this address
Scan the QR code or copy the address below into your wallet to send some Tron
Donate Elrond to this address
Scan the QR code or copy the address below into your wallet to send some Elrond