(Game) Tappity – K-5 Science for Kids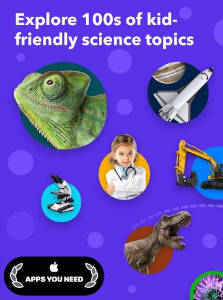 Game Description :
Spark your child's curiosity with Haley, Tappity's science expert. Developed by educators and storytellers, Tappity offers fun interactive lessons on more than 100 science topics!
Game Features :
1:1 Learning is the Future
Kids simply learn better when they're engaged one-on-one. Which is why we've created Haley the Science Gal. She's with your child every step of the way, from explaining complex science topics and leading real science experiments to encouraging them to try their best. Best of all, the app is 100% interactive, so your child is fully engaged with our curriculum, which is teacher-approved and aligned with science standards.
What does Tappity offer?
200+ science lessons, activities, and stories in a curriculum designed for kids ages 4-10
High-quality and original produced game shows
A real-life teacher for your child
Thousands of interactive science videos
1000+ science questions for your child to play
A science journal for them to unleash their creativity
Real science experiments that your child can control
Discussion questions for you to reference with your child
What topics do we cover?
SPACE SCIENCE: Mars, the Moon, the Sun, and more!
LIFE SCIENCE – Dinosaurs, Ocean Animals, Human Body, Plants, Pollination, and more!
EARTH SCIENCE – Volcanoes, Plate Tectonics, Earthquakes, and more!
PHYSICAL SCIENCE – Force, Energy, Friction, Magnets, and more!
For a complete list, please visit our website: www.tappityapp.com/covered-topics
Why do parents and kids love Tappity?
You get to interact with a real person, Haley, our science expert!
You get to learn by reading, listening, and touching. Our app is 100% interactive and 100% narrated!
You're learning real science. Our lessons align with the Next Generation Science Standards (NGGS).
You learn by play, just like you would in a game!
You get to test yourself knowledge with fun science trivia based on what you've learned.
You're safe from 3rd party advertisements.
You can play offline. Perfect for long waits, car or plane rides.
You can try it for free now! No trials or extended subscriptions.
For a complete list of FAQ, please visit our website: www.tappityapp.com/faq
What are people saying?
This app is awesome! I am a teacher and parent. My child is learning so much from this app. She has developed a love of learning and Tappity has helped her to discuss and have conversations about the content she is interacting with.
Alicia, Mother of a 4-year-old
I'm happy to tell you that so far my kids love it! Which makes me love it! It has definitely reached and surpassed my expectations. I homeschool my two boys and it's hard to find things that keep them engaged and interested while learning. But this definitely does! It's fun and they're learning from it. Very well done!! Thanks so much!!
Troy Family
Does it cost anything?
Tappity is free to try! The first Tappity story in each world is always free, and so is Tappity's Weekly Game Show. No account creation necessary. To unlock all content, we offer several types of Tappity paid subscription plans.
Your price may vary depending on the conversion to your local currency. Renewal policy: Auto-renew can be turned off anytime from iTunes Accounts Settings after purchase as long as it's 24 hours before the end of the current period. Cancellation policy: Manage cancellations from your iTunes Account Settings. Once you cancel during the subscription period, no credit card charges will be made in the next billing cycle.
Want to stay up to date?
LIKE US – facebook.com/tappityapp
FOLLOW US – instagram.com/tappityapp
Need help or feedback?
We love hearing from our customers. Contact us any time: hey[at]tappityapp.com
Policies
Terms & Conditions:  www.tappityapp.com/terms
Privacy Policy:  www.tappityapp.com/privacy
Additional Information :
Size 1.8 GB
Requires iOS 13.2 or later.
User Reviews :
Best
I love this app it is fun and good for me and it's good for money so it's better and make sure you share this and be sure to download this app and review it so no that is not good we can go to so many of them interest you even have an adventure journal book it's so fun because you don't get better at doing that you do you get better than that you're better doing everything and you don't get better at doing stuff you're not supposed to do are you safe for you and you can have purchased me you can even see the videos for you to watch you can have so much fun and that's all I Gotta do but make sure you have fun fun is everything it's even the best this app can let you pick and let you learn about animals plants space in love more and you will love it you Will have so much fun baby you're mine will be blown
Wonderful for encouraging STEM
My 4 year old daughter has completely fallen in love with science thanks in large part to Tappity and the host Haley. Haley does such a wonderful job talking to the child audience rather than talking down to them. She's a great role model for getting young girls excited about STEM.

There's also weekly live experiments with Haley and they're always adding new content. The trivia is something we play every evening after dinner. The amount of content you get for the subscription price is astounding. Highly recommended.

The only one problem we have… we don't have enough time in the day for all the experiments our daughter wants to do after being inspired by what she learned with Haley! This app is highly recommended if you're trying to ignite your child's curiosity and get them excited about STEM.
Get Tappity from App Store
What is your opinion about Tappity
Bitcoin
Ethereum
MetaMask (ETH)
Xrp
Polkadot
Binance coin
Stellar
Dogecoin
Tron
Elrond
Donate Bitcoin to this address
Scan the QR code or copy the address below into your wallet to send some Bitcoin
Donate Ethereum to this address
Scan the QR code or copy the address below into your wallet to send some Ethereum
Donate Xrp to this address
Scan the QR code or copy the address below into your wallet to send some Xrp
Donate Polkadot to this address
Scan the QR code or copy the address below into your wallet to send some Polkadot
Donate Binance coin to this address
Scan the QR code or copy the address below into your wallet to send some Binance coin
Donate Stellar to this address
Scan the QR code or copy the address below into your wallet to send some Stellar
Donate Dogecoin to this address
Scan the QR code or copy the address below into your wallet to send some Dogecoin
Donate Tron to this address
Scan the QR code or copy the address below into your wallet to send some Tron
Donate Elrond to this address
Scan the QR code or copy the address below into your wallet to send some Elrond