(App) Stickman Brawl – Super Warriors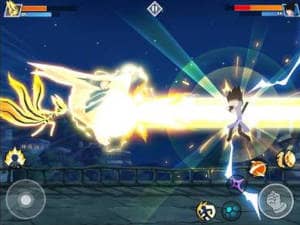 App Description :
Discover stickman brawl legends, martial arts, ultimate skills and nonstop one-on-one combats, through several places of Stickman brawl! Becoming stronger, faster, deadlier and compete against dangerous villains! Join the battle with your favorite manga characters and fighting in Stickman Battles across the anime.
App Features :
A WHOLE NEW RANGE OF UNPREDICTABLE MAPS
Stick brawl introduces several fighting stages, in which you and your warriors will be taking part in different levels, from bottom to the top. Starting from the Green Jungle, this condition appears to be nicely suitable for fresh brawl, but it could become more serious when you go deeper. You may not only find it struggling in The Forgotten Sand Valley, but unstoppable combats will make you and the shinobi unrested in The Mountains! Better prepare yourself because a moment of carelessness could result death!
Don't forget that you need to face a true boss at the end of each map. Bosses could be villains, elite ninjas or warriors with much experience in long-live wars, who could make you struggle for hours!
MORE NINJA, MORE SKILLS, MORE FIGHTS!
Stick brawl contains a large variety of powerful ninjas and warriors, so feel free to choose a favorite character and discover this new world. Those masters of martial arts have unique styles of fighting, assassination and ultimate ninja skills, so if you could manage to combine the right fighters to the right combo, your phone would get multiple flashy effects which attracts people nearby! That's how we want to play, too! More Shinobi, more friends, more fun!
Also, it is recommended that you put volume up to get the most experience of this game. The sound effects for each ninja are different, so you can feel the intense of the combat!
SEVERAL FEATURES
 Starting Character Pack, including some main warriors reliving your youth days.
 10 maps, 300 levels from easy to difficult levels, 30 bosses. Oh yeah, the bosses are more dangerous later, too!
 More strength enhancement included, with rewards!
 Intense fights among deadly ninjas, using assassination skills.
 The higher result, the better rewards after each level.
Enter this whole new world of elite ninja, fight for your live and glory! This would become one of the best stickman experiences that you can get!
Download Stick brawl today, enjoy the stick game with your friends, relive those youth days from your favorite ninja!
Additional Information :
Size 280.4 MB
Requires iOS 10.0 or later.
User Reviews :
Things about the game
This game is really good there is nothing wrong with it and love the new update because it did not look so powerful for now it does so thanks for fixing that! 😀 I recommend downloading this game for kids it's not bad but it does make you rage so if your child has anger issues do not let them play this game. But so far it's really good work
Dear developers
This game is fun but it's so hard to unlock characters especially the spinning wheel I've been playing this game for a month and I only got one ticket from it and I do not want to waste my money because I don't have that much money to buy tickets and also the MPC's are super over powered I understand on the boss but the side characters are too over powered it took me seven weeks just to get done with chapter 1 can you please make it easier to get tickets and upgrade your character and please lower down the difficulty on the MPC's please this would've been an easy five stars if those did not happen and also the bugs and glitches every single time I play for two minutes it's signed me out of the game and I have to restart the fight all over again especially when there is a boss and they're super low and all I have to do is hit them one shot it always logs me out developers please read this
Developer Response ,
Hello, We are sorry that you do not like the game but we thank you for your feedback. Our future updates will improve the game for you.
Cool game, lots of bugs
Awesome concept! This game is so fun to play and does not require WiFi/Service to play. I love playing this game, but there are so many bugs they need to fix. The first one is character changing, When I click on one of my more powerful characters, it doesn't switch. Now I'm stuck with a level C Sasuke. Some of the characters are very overpowered as well. I was fighting a blonde character in purple clothes, and she punches for almost a quarter of my health. Would be a five star easily without the glitches, but the bugs make the game very hard to play, so I'll give it a four. If you are a Naruto fan, I strongly encourage you to download this app.
Developer Response ,
Thank you for your feedback. Our development team will definitely consider your opinion and make the game better.
Get Stickman Brawl from App Store
Leave your feedback regarding Stickman Brawl
Bitcoin
Ethereum
MetaMask (ETH)
Xrp
Polkadot
Binance coin
Stellar
Dogecoin
Tron
Elrond
Donate Bitcoin to this address
Scan the QR code or copy the address below into your wallet to send some Bitcoin
Donate Ethereum to this address
Scan the QR code or copy the address below into your wallet to send some Ethereum
Donate Xrp to this address
Scan the QR code or copy the address below into your wallet to send some Xrp
Donate Polkadot to this address
Scan the QR code or copy the address below into your wallet to send some Polkadot
Donate Binance coin to this address
Scan the QR code or copy the address below into your wallet to send some Binance coin
Donate Stellar to this address
Scan the QR code or copy the address below into your wallet to send some Stellar
Donate Dogecoin to this address
Scan the QR code or copy the address below into your wallet to send some Dogecoin
Donate Tron to this address
Scan the QR code or copy the address below into your wallet to send some Tron
Donate Elrond to this address
Scan the QR code or copy the address below into your wallet to send some Elrond