(Game) Stick Fight ‪2
 iphone games download free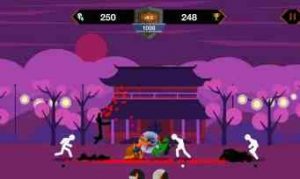 Game Description :
Hordes of stick guys, wave by wave trying to wear you down, waiting for your first mistake. You as the chosen stick guy should mindlessly beat them up. Nobody knows why you are the chosen, nor anyone knows why these idiots run towards you, just to get kicked in their sensitive parts.
Game Features :
Fighting:
Addictive, fast paced, action packed, arcade fighting gameplay
Endless survival arcade mod game
Survival mod adapts to your skill level for better action experience
Multiplayer Duel arcade mod fighting other players
Fighting is based on fast reflexes
Compete:
Daily rewards for your leaderboards standing
Weekly rewards for your ranking in Duel arcade mod
Daily leaderboards reset each day, weekly leaderboards reset each week
Strict anti-cheat algorithms to prevent unjust scores
Customize:
5 different weapon types and 15 different weapons
50+ items to customize your character
Weapons, bracelets and hats can be upgraded
Items grant you different stats
Open packs for stones and visual items
Additional Information :
Size undefined bytes
Requires iOS 6.0 or later.
Compatible with iPhone, iPad, and iPod touch.
User Reviews :
FIX YOUR CRASHES
I love this game and think it's great i play is all the time and recommend it to my friends but everyone has this one problem and I'm sure you've seen it before… CRASHES.

It is very annoying to me that your game is so good yet has all of these crashes for example i call myself a good player and i could get a very high score on survival by the thing is every-time i hit around the 14,000 mark it crashes even though I hit it every game. I could be getting better rewards so that i can actually get better weapons like idk TIER 4 that are like 1,250,000 souls and I'm not going to sit their for five hours with my daggers to gather souls so is would be nice if i was actually able to get into the top percent of daily score but i keep getting crashes so please pleeeeaasssee fix these crashes everyone wants t and you haven't updated your game In a month so it would be really helpful if you could do this for me and the rest of the stick fight community I'm not the only one and I'm sure i won't be the last this review would have been five stars if not for the bugs
Great game but WHERES THE NEW UPDATE
Okay I started this game like 1 week ago and I already have al the 2 tier weapons. Then every time I lose or win a duel the game kinda kicks me out then I'm back on the home screen. I hope the new update is soon cause I can't stand this bug. For the new update there be weapons , skins and masks . I also hope when you attack there not the four same attacks each and every time it's so boring. And make new modes other than survival and duel I was think like the you kill the gems you get ,it should be called money time . I love the game but if you could add this stuff in the new update I'll love it even more.
Lots of problems
First of all, in every single game I play, the game crashes, usually every time I reach 14,000 souls or more. Also, duel mode doesnt even work. It will connect to GameCenter but then it will just keep loading. I think you should also add more varieties of clothes and weapons, because there arent very many. I also see no reason for the weapons to be eligible for upgrades because they usually do the same damage and the only thing that changes is when you upgrade it to the maximum level, it just has this weird shining effect. The only thing I like about this game is the animation and physics, but thats about it. If you could please, but you probably wont because this game hasnt had an update in a while, fix all these problems so the game can be a little better. Thanks for your time.
Fun game, a little buggy though.
It is a fun game, and I appreciate the Adventure Time reference (read ice cape description), but the game is a little buggy. Yes, the bug where you would be sent back to the main menu, but sometimes I will find myself playing and I will be in range of a guy, his circle is white, I attack him, but he doesn't die, I'm the one who dies. Overall, A fun game with a few bugs and problems, and the items can outrageously expensive at times, but The gameplay covers for the bad parts.
Great concept, so far.
Just downloaded this game today and it's a very creatively complex, yet simple fast paced game. But what's the point of having a survival based game if the game crashes time after time the longer you last in a round. Both duel and survival mode is plagued by this bug where the longer your streak is, the more likely the game is to crash, and it crashes without giving you your rewards when you re-open the app. Please fix this because this is ruining the game.
Get Stick Fight ‪2 from App Store
What is your opinion about Stick Fight ‪2
Bitcoin
Ethereum
MetaMask (ETH)
Xrp
Polkadot
Binance coin
Stellar
Dogecoin
Tron
Elrond
Donate Bitcoin to this address
Scan the QR code or copy the address below into your wallet to send some Bitcoin
Donate Ethereum to this address
Scan the QR code or copy the address below into your wallet to send some Ethereum
Donate Xrp to this address
Scan the QR code or copy the address below into your wallet to send some Xrp
Donate Polkadot to this address
Scan the QR code or copy the address below into your wallet to send some Polkadot
Donate Binance coin to this address
Scan the QR code or copy the address below into your wallet to send some Binance coin
Donate Stellar to this address
Scan the QR code or copy the address below into your wallet to send some Stellar
Donate Dogecoin to this address
Scan the QR code or copy the address below into your wallet to send some Dogecoin
Donate Tron to this address
Scan the QR code or copy the address below into your wallet to send some Tron
Donate Elrond to this address
Scan the QR code or copy the address below into your wallet to send some Elrond