Speechify Text to Speech Audio app by Speechify Inc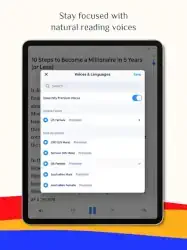 App Description :
Text to speech from Speechify lets you listen to docs, articles, PDFs, email, and various other formats — anything you read.
With 20M+ users, it is the top rated TTS app in the AppStore.
Our users have listened to over 250 billion words with Speechify.
App Features :
FEATURES YOU'LL LOVE
Scan OCR: Screenshot Image to Audio
Find an image with text on it, no matter the length, with one click, you can easily take a screenshot and sync it to your cloud. Speechify will read the text out loud. Letters from loved ones? Scan them and turn them into audible notes.
Listen at Any Speed
ur high-quality AI voices can read 4.5x faster than the average reading speed, so you can learn even more in less time. Ease into 300 words per minute & slowly increase the speed to as fast as you need it to be.
Natural-sounding Human Voices
Our text to speech voices sound more fluid & human-like than any other AI reader.
Active Text Highlighting
The text is highlighted and perfectly synced, word for word, with the voice reader to help you read along. Reading & listening helps you retain more.
Listen to Any Book on Your Shelf
Use the app to snap a pic of a page in any book or printed material and hear it read out loud to you. Your favorite book sitting on your bookshelf? Turn it into an audiobook.
Safari Extension
Get the added Safari extension and listen to any website you visit.
Desktop or Mobile
Anything you've saved to your Speechify library instantly syncs across devices so you can listen to anything, anywhere, anytime.
Hundreds of Free Timeless Audiobooks
Titles you get with Speechify: Pride and Prejudice by Jane Austen; The Adventures of Sherlock Holmes by Arthur Conan Doyle; Alice's Adventures in Wonderland by Lewis Carroll; Frankenstein by Mary Shelley; Moby Dick by Herman Melville; A Tale of Two Cities by Charles Dickens; Ulysses by James Joyce; War and Peace by Leo Tolstoy; The Great Gatsby by F. Scott Fitzgerald; Great Expectations by Charles Dickens; Beowulf; Anna Karenina by Leo Tolstoy; The Scarlet Letter by Nathaniel Hawthorne; Les Misérables by Victor Hugo; Walden by Henry David Thoreau; Don Quixote by Miguel de Cervantes Saavedra
Gwyneth Paltrow Uses Speechify to Listen to Scripts.
Speechify lets me listen to Goop blog posts out loud in the car and gets my friends through grad school. It's amazing for scripts.
Gwyneth Paltrow
Sir Richard Branson Loves Speechify. It helps him read with Dyslexia.
Speechify is brilliant. I'm so glad to have it today." – Sir Richard Branson
Other Features
Note taking tools
Save audio bookmarks
Floating widget
Exemplary customer experience
Inline player seamlessly integrates into all your websites
Get hundreds of timeless audiobooks for free
Cloud sync makes for a seamless listening experience across all your devices
We created Speechify so that reading is never a barrier for anyone again. Designed to help people with dyslexia, ADHD, low vision acuity, concussions, and other reading disabilities.
Speechify now helps hundreds of thousands of people to consume their reading content with ease. From those with reading disabilities to auditory learners, productivity fanatics, second language learners, hobbyists, and more, we love all of our users and strive every day to create a reading assistant that empowers them to read more and succeed in life.
We can't wait for you to join the family
Install Speechify today, for free!
Privacy Policy: speechify.com/privacy/
Terms of Service: speechify.com/terms/
Additional Information :
Age Rating 4+
Size 432.3 MB
Requires iOS 15.0 or later.
User Reviews :
For Mental-Visual Learners
This is probably the only app that is critical in my life. It might sound counterintuitive for me to say that the app that lets you listen to text is for visual learners but hear (lol) me out. Research (google it) has shown that whether we are looking at images through our eyes or seeing/conjuring images in our mind's "eyes", the visual cortex becomes active. Let me rephrase, regardless of whether you're seeing things in reality, say pictures or text on a book or visualizing what you did yesterday, the same part of the gain is being used to process those "images."

The way I comprehend and learn from information is by constantly forming mental images of the concepts and linking and rearranging them into a graph model in my head–this becomes slow/more difficult when I have to (using the same visual cortex) basically multi-task/process text I'm reading on a page and synthesize corresponding mental images; the same part of my brain is doing the processing for two different tasks, so my reading speed and the quality and speed of the synthesized information in my head suffer.

This is where speechify comes in. Speechify lets me engage my auditory cortex, which is otherwise unused in learning (from reading), for consuming and processing the information (text) and allows me to fully engage my visual cortex for comprehension and learning. I hope this makes sense, and I'd love if people could share any supporting or conflicting research.
Grateful, grateful, grateful! Thank you!
I am SO grateful there is FINALLY a app that is capable of reading out loud for me! With ADHD, Anxiety, and learning disabilities I struggle with just getting though a page, and I love to collect books and as much information as possible with ALL the good intentions possible to read and grow! I beat myself up for buy all the things I do (reading wise) bc I struggle with getting that time and focus long enough to read. Being a single momma of three kids ages 12,6,&5 and a fur mama of a cat and dog, I am very busy. Being able to hear the information of topics I am super interested in is LIFE CHANGING!

I love my audiobooks! But when wanting to read websites (just finally was able to listen/read about CBT for ADHD on a website by copy and pasting the url! Life changing!), college text books (haven't tried this feature just yet but I plan to soon) and I am looking forward to being able to have my email read about my kids endless school stuff!

I have been searching for YEARS now for something that could help me and hands down this is what I have needed! Thank you for creating this app. Also keeping this app's add on features at a reasonable price! I will be doing the add on for the speed preference and I want to support someone who created something so user friendly and for those like me who want to grow and yet are stuck and struggle with all the personal stuff that keeps us from growing!

Thank you!
Get Speechify from App Store
What is your opinion about Speechify
Bitcoin
Ethereum
MetaMask (ETH)
Xrp
Polkadot
Binance coin
Stellar
Dogecoin
Tron
Elrond
Donate Bitcoin to this address
Scan the QR code or copy the address below into your wallet to send some Bitcoin
Donate Ethereum to this address
Scan the QR code or copy the address below into your wallet to send some Ethereum
Donate Xrp to this address
Scan the QR code or copy the address below into your wallet to send some Xrp
Donate Polkadot to this address
Scan the QR code or copy the address below into your wallet to send some Polkadot
Donate Binance coin to this address
Scan the QR code or copy the address below into your wallet to send some Binance coin
Donate Stellar to this address
Scan the QR code or copy the address below into your wallet to send some Stellar
Donate Dogecoin to this address
Scan the QR code or copy the address below into your wallet to send some Dogecoin
Donate Tron to this address
Scan the QR code or copy the address below into your wallet to send some Tron
Donate Elrond to this address
Scan the QR code or copy the address below into your wallet to send some Elrond