(Game) Sonic Dash 2 – Sonic Boom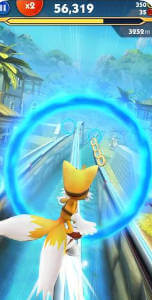 Game Description :
The dazzling sequel to SEGA's hit endless runner, SONIC DASH, over 140 million downloads. Featuring the cast and world of the new TV series, SONIC BOOM. Download today!
New and amazing 3D worlds, challenges and game play. Play as Sonic the Hedgehog, Tails, Amy, Knuckles, Sticks and Shadow. Let's do this!
Game Features :
SONIC DASH 2 FEATURES
RACE with up to three characters in new Team Play mode! Swap runners mid-race to earn high scores
UNLEASH new special powers – Sonic's Dash Ring Magnet, Knuckle's Slam, Amy's Ring Hammer, and more
CONQUER new obstacles and Badniks
DASH on new fast-paced tracks in and above the beautiful Sonic Boom world
MASTER new Swing & Tilt gameplay with the super charged Enerbeam; tilt your device to swing the runner towards the rings and orbs
COLLECT, evolve, and run with new magical Sprites
EARN special prizes in new Events and Daily SEGA Challenges
LEVEL UP by earning XP to max out your score and UNLOCK NEW CHALLENGES
LEADERBOARDS let you compete against the world
NEW characters, levels, player events and more on the way
Privacy Policy: www.sega.com/mprivacy
Terms of Use: www.sega.com/terms
Game apps are ad-supported and no in-app purchases are required to progress; ad-free play option available with in-app purchase.
Other than for users known to be under 13, this game may include "Interest Based Ads" (please see www.sega.com/mprivacy#3IBADiscolure for more information)​ and may collect "Precise Location Data" ​(please see www.sega.com/mprivacy#5LocationDataDisclosure ​for more information)​.
© SEGA. All rights reserved. SEGA, the SEGA logo, SONIC THE HEDGEHOG, SONIC DASH and SONIC BOOM are registered trademarks or trademarks of SEGA Holdings Co., Ltd. or its affiliates.
Additional Information :
Size 242.6 MB
Requires iOS 10.0 or later.
User Reviews :
The sprites are so cute!
This is a good game, but one thing that could make it better, then it would be the best. I accidentally sold Legs, the sprite (The blue one that everyone receives when sprites are unlocked.) Legs is powerful, also I noticed if you sell a forever sprite, it is gone forever. The sprites are cute, and I like the boosts they give you… but where's the buyback button? They don't have one! That's upsetting because when I absentmindedly clicked sell instead of upgrade I can't get it back. I would like to see a button to buyback sold sprites. I love how you brought in all the heroes and Shadow! The characters have special powers and I really like that. I also like to compare the fact that the old games like Sonic 2 had only Sonic, Tails, and Knuckles, but you brought in them all. Another thing I noticed is that no matter how far I run, the Village map (The location for Shadows Run challenge) isn't in normal runs, you have to be playing Shadow's event. This would be a nice addition to the game. Also, I would like to see an alternative way to evolve Sprites, because I don't like to give it my forever Sprites, like maybe using Red Star Rings (Please don't make it to much rings I have to go on a Red Star Ring Budget.) Other than the aforementioned issues, this game has it all.
Thanks SEGA!
Best Phone Game EVER.
The ads are spaced out perfectly. The free revives, I love them so much, they happen when I like them to happen!

The RedRings are fun to collect, though, a little tough to find sometimes.

The few things I wish are that you could have all of the characters playable from the start.. and I wouldn't mind Dave from the TV show to appear as a playable character.. or even Vector.. not sure if Metal Sonic's playable but that would be fun to play as!

I wish that there were more levels because I've been playing this app since it came out for long periods of time, because it's that fun, but the scenery can get a bit bland, I wouldn't mind more levels based off the Robots of the Sky episode.. or Angel Island showing up, cuz Knuckles mentioned it in the show.

And I also would like to see boss fights… not like the ones from the other Sonic Dash games but like a race type boss.. kinda like Sonic CD Metal Sonic boss, and the Sonic Forces' Speed Battle game.

As progress goes on, maybe we could unlock abilities for a possible Chao Garden? I know Sonic Boom doesn't have Chao, but I've seen the concept art for potential Chao that looked like alien ghosts, and I would kinda wanna see that too.

Also, I know I'm asking a lot, but I think it would be cool to unlock outfits like those Sonic Boom Rise of Lyric DLC outfits.

Anyways, I think this is a really fun game, it keeps me entertained while I'm on the go!
One request and one suggestion….
I LOVE your game. Just one request though…… ADD MORE CHARACTERS! I have all of them(except for shadow) and I think more characters would change the way some negative reviewers think about this game. All of my brothers and sisters and cousins have this game, and we all absolutely love it. We all do. Not have shadow though, because we love spending our red star rings. Here's a suggestion- Maybe you could make that hero bundle a little bit cheaper? I mean, most of these people playing are kids, like I am 11, but come on, please make the hero bundle a bit LESS than 100 dollars? It would make the game better, and if it cost less money, then more people will buy your red star ring packs. Same thing with the other purchases to, some of them are a bit expensive. Stay Safe, Healthy and Happy, SEGA team!
Get Sonic Dash 2 from App Store
What is your opinion about Sonic Dash 2
Bitcoin
Ethereum
MetaMask (ETH)
Xrp
Polkadot
Binance coin
Stellar
Dogecoin
Tron
Elrond
Donate Bitcoin to this address
Scan the QR code or copy the address below into your wallet to send some Bitcoin
Donate Ethereum to this address
Scan the QR code or copy the address below into your wallet to send some Ethereum
Donate Xrp to this address
Scan the QR code or copy the address below into your wallet to send some Xrp
Donate Polkadot to this address
Scan the QR code or copy the address below into your wallet to send some Polkadot
Donate Binance coin to this address
Scan the QR code or copy the address below into your wallet to send some Binance coin
Donate Stellar to this address
Scan the QR code or copy the address below into your wallet to send some Stellar
Donate Dogecoin to this address
Scan the QR code or copy the address below into your wallet to send some Dogecoin
Donate Tron to this address
Scan the QR code or copy the address below into your wallet to send some Tron
Donate Elrond to this address
Scan the QR code or copy the address below into your wallet to send some Elrond