(Game) Sonic CD Classic
 iphone games for free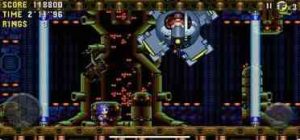 Game Description :
Time travel to save the world in SEGA's highly acclaimed Sonic platformer that introduced Amy Rose and Metal Sonic!
Past, present, and future collide as Sonic battles to rescue Amy Rose and recover the seven Time Stones! Travel through time to defeat Dr. Eggman and his fiendish creation, Metal Sonic.
Sonic CD is part of the SEGA Forever classic games collection, a treasure trove of free SEGA console classics brought to life on mobile!
Game Features :
Collect all seven Time Stones to defeat Dr. Eggman and save Amy Rose
Time travel between the past, present, and future versions of each level
Use Sonic's spin dash and super peel out moves to zoom around stages
Clear the game to unlock Miles "Tails" Prower
Sonic CD now features both the US and Japanese soundtracks!
SEGA FOREVER FEATURES
PLAY FREE
SAVE YOUR GAME PROGRESS
LEADERBOARDS – compete with the world for high scores
CONTROLLER SUPPORT: MFi compatible controllers
DOWNLOAD THEM ALL
REVIEWS
(9/10) IGN: "This is a great, fully featured port for iOS
(5/5) Touch Arcade: "Sonic CD is incredible"
(4.5/5) 148 Apps: "looks and runs perfectly"
RETRO REVIEWS
Nothing could be simpler to pick up and play. [92%] – Steve White, Mega Action (December 1993)
Sonic CD is cracking video entertainment of the highest order. [91%] – Tim Tucker, SEGA Zone #13 (November 1993)
Any fan of Sonic will want to get their hands on this immediately. [90%] – Mark Hill, SEGA Pro #25 (November 1993)
The most amazing Sonic adventure to date. [90%] – Vincent Low, Sonic the Comic #15 (11th December 1993)
An excellent platform game with an ingenious game structure. [89%] – Paul Mellerick, MEGA #13 (October 1993)
Sonic CD is the Hog's best outing yet. [88%] – SEGA Power #48 (November 1993)
Sonic CD is the best advertisement for Mega CD yet. [87%] – Andy Martin, Mega Drive Advanced Gaming #16 (December 1993)
Sonic CD is an absolute must for Mega CD owners. [87%] – Julian Rignall, SEGA Magazine #1 (January 1994)
Once again SEGA have come up trumps with another great foray into the world of the spiky, blue megastar. [85%] – Mark Smith, SEGA Force Mega #6 (December 1993)
Gameplay's as slick as you'd expect of a Sonic game; the same goes for the graphics. [85%] – Warren Lapworth, Mega Machines #1 (December 1993)
TRIVIA
Sonic CD was the first game to feature Sonic speaking – leave Sonic standing still for three minutes to hear him!
The original release of Sonic CD featured a secret spooky message screen that would greet data pirates
Sonic CD features two endings, and was the first in the series to feature full motion video cut scenes.
European and Japanese versions of the game featured different music to its American counterpart
CLASSIC GAME FACTS
Sonic CD first released in Japan on September 23, 1993
Sonic CD was the SEGA CD's best-selling game of all time at 1.5 million copies
The first Sonic game to feature CD-quality Red Book audio
Remastered in 2011 by Christian Whitehead, the man behind Sonic Mania
Privacy Policy: www.sega.com/mprivacy
Terms of Use: www.sega.com/terms
Game apps are ad-supported and no in-app purchases are required to progress; ad-free play option available with in-app purchase.
This game may include "Interest Based Ads" (please see www.sega.com/mprivacy#3IBADiscolure for more information)​ and may collect "Precise Location Data" ​(please see www.sega.com/mprivacy#5LocationDataDisclosure ​for more information)​.
© SEGA. All rights reserved. SEGA, the SEGA logo, SONIC THE HEDGEHOG and SONIC CD, SEGA Forever and the SEGA Forever logo are registered trademarks or trademarks of SEGA Holdings Co., Ltd. or its affiliates.
Additional Information :
Size 279.9 MB
Requires iOS 10.0 or later.
Pretty good game
What a good majority of these kids don't realize that this game was originally released on the sega cd back in 1993 which is where this remake originated from. And to answer a few questions: 1: To get tails beat the game for the first time and then start a new game as him ( He does not have cutscenes like sonic does and his ending does not change). 2: They won't remove the metal sonic fight or add new zones because the creators of this remake want it to be as close to the original game as possible 3: To unlock all the secrets like D.A. Garden and etc go look at a different review also from what I know I think you will need to be signed into Game Center to get those secrets. And yes I understand the concerns with the ads but that does not apply to my because I just don't lets ads ruin my experience with the game. Also don't listen to some of the 1 star reviews if you want because a good majority of them are just 9 year olds saying and I quote "WoRsT SoNIc GAme EVAR" And yes that is how they spell ever. And I should have said this earlier but Tails is free of charge you don't have to pay to unlock him. Also if you like the game have fun then.
Sonic CD in widescreen on the go
Sonic CD-the long lost and now found 2-D Sonic game. I first played Sonic CD when I got my GameCube in 2016 which came with 23 games. It just so happened one of them was Sonic Gems Collection. I hated the Spin Dash in that version and the soundtrack. But the mobile port. The "Saving Grace" (Get it cuz new save feature) version of it with a choice between the Gems Collection soundtrack (North American) and September 1993 soundtrack (Japanese). Also choice between original Spin Dash and Sonic 2/3/& Knuckles Spin Dash. And Tails. Never beat game but I'm sure Tails ain't canon… either way welcome addition. Dang though the game didn't have ads before but now… wait is there… YEP! SEGA FOREVER ruined another classic port! Also don't know if it is just my iPad but it keeps crashing though normally at times when I need it to like about to fail a Special Stage (If you exit the game before failing the Special Stage you can retry it without having to do another level and beat it with 50 rings. I also experience some lag. Overall great game, some lag, ads, crashes, so I give this game 4 star out of 5 star
Very good, some issues
This game is great, I'm glad they brought it back, (although we are still waiting for a certain game *cough* 3 and K) it does however have some issues. Like the previous review, you do not get a level select after beating the game, however the original level select is still available through time attack, as is debug which doesn't work at all, sound test, DA garden, and visual mode. In order to get those, you have to get certain times on time attack and special stage time attack. The ads are not an issue for me, because if you are able to turn a vpn on your phone or iPad then it blocks all the ads in the game except for those from Sega. If they are going to add tails to this game, then they might as well add knuckles. So basically what I'm saying is if you make debug mode work and minimize the ads a little you will have five stars from me. Also maybe add super sonic to give a little motivation for getting the time stones BESIDES the good future. Also for those of you who are unaware NEVER use the US soundtrack. YOU HAVE BEEN WARNED!!!
Get Sonic CD Classic from App Store
What is your opinion about Sonic CD Classic
Bitcoin
Ethereum
MetaMask (ETH)
Xrp
Polkadot
Binance coin
Stellar
Dogecoin
Tron
Elrond
Donate Bitcoin to this address
Scan the QR code or copy the address below into your wallet to send some Bitcoin
Donate Ethereum to this address
Scan the QR code or copy the address below into your wallet to send some Ethereum
Donate Xrp to this address
Scan the QR code or copy the address below into your wallet to send some Xrp
Donate Polkadot to this address
Scan the QR code or copy the address below into your wallet to send some Polkadot
Donate Binance coin to this address
Scan the QR code or copy the address below into your wallet to send some Binance coin
Donate Stellar to this address
Scan the QR code or copy the address below into your wallet to send some Stellar
Donate Dogecoin to this address
Scan the QR code or copy the address below into your wallet to send some Dogecoin
Donate Tron to this address
Scan the QR code or copy the address below into your wallet to send some Tron
Donate Elrond to this address
Scan the QR code or copy the address below into your wallet to send some Elrond