[Game] Sonic at the Olympic Games
 iphone games download free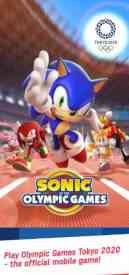 Game Description :
Take home the gold with Sonic!
Join Sonic, Tails and friends at the ultimate sporting event; the Olympic Games Tokyo 2020 – the Official Mobile Game.
Sonic at the Olympic Games – Tokyo 2020™ includes 10 fun FREE Stages. You can purchase more Stages in-game; or purchase the All Access Pass to play all the game Stages!
Game Features :
Join Sonic and his friends as they explore Tokyo!
Dr. Eggman has taken over and it's up to Sonic and his friends to save the city and the Olympic Games! Compete in Olympic Games events, win medals and challenge bosses while exploring the city of Tokyo.
Compete in Olympic Games events – everyone can enjoy!
Tap and flick your way to victory! Tons of events to play, including the latest additions to Tokyo 2020! Choose between Olympic Games or special "Extra (EX)" events with new and exciting gameplay; Gotta go fast! Gotta go for Gold!
Challenge friends and players around the world!
Prove you have got what it takes – can you reach the top of the leaderboard and claim the gold medal?
15 Olympic Games events to enjoy!
100m, 400m Hurdles, Javelin Throw, Archery, Karate, Diving, Shooting, Sport Climbing, Fencing, Trampoline, Hammer Throw, Table Tennis, Long Jump, BMX and Badminton.
After purchasing the All Access Pass you will:
Unlock all Areas of the game to play: Asakusa, Odaiba, Roppongi, Nihonbashi, Shinjuku, Yokohama and Shibuya – which includes all the Stages!
Receive 5 Premium Demo Passes that you can give to your friends! Your friends can unlock additional stages for free and receive a special discount on Area Passes! You can also receive rewards based on the number of stages your friends clear.
Get rewards! Receive bonus Badges when you collect Flag Stamps.
BONUS: Play upto 10 daily challenges!
Add upto 100 friends for more fun together!
Message from Sonic at the Olympic Games – Tokyo 2020™
Hope for a brighter future
In such difficult and uncertain times, a little smile and happiness can go a long way.
We hope that you have fun playing Sonic at the Olympic Games – Tokyo 2020™ with friends online.
Together, let's make the future brighter each day and look forward to the Olympic Games in 2021.
For the latest about the Olympic Games Tokyo 2020, please see www.tokyo2020.org.
In-app purchase is necessary to play the entire game.
TM IOC/TOKYO2020/USOC 36USC220506. © 2019 IOC. All Rights Reserved.
©SEGA.
Additional Information :
Size 206.2 MB
Requires iOS 11.0 or later.
User Reviews :
The Mario Run effect. (Please read to understand.)
I know. Some of you guys may think I'm crazy for saying this. But take this from a person who's playing almost all sonic games, mobile and console wise. At first, the game was fairly decent to play. I loved the most of what I faced. But after that first major plot after the Metal Sonic challenge. A paywall appeared. Yes. You have to pay to play the rest of the game. Now I know what you're thinking. (It's not too bad to pay for it. You're being too picky.) You may be right on that, but you have to remember the majority of people were expecting the micro transactions and the game to be two separate things in the game instead of it being the main way to play the whole thing. It was a problem for Mario run at first and it's a problem now for the free-to-play people. Don't get me wrong, the game itself is promising. But I can't give it anymore than a 3 star for how it ruined my expectations in just under 20 minutes. I know I may get bashed for speaking on this small thing but it was something I had to mention. Just use this as a quick warning before playing this. Nonetheless it is my opinion. Thanks for reading. Enjoy your time on this game.
Potential but! Must read!!!
I preordered this game I have been pretty excited about it. It did take a very long time to download and the menu screens are slow like most reviews say. Overall I started playing and it actually was lots of fun. But then I ran into a problem. Just as you start to finish up your tutorial stages it starts the story of the game and objectives to progress and eventual win the game. I was really excited. So I tapped the next stage to start the campaign part of the game and WHOOPS!!! It says sorry you can't go any further without a pass!!! I thought it was a joke at first. Maybe I was doing something wrong. I hoped I was wrong, but no it is very real. You have to PAY! To go any further in the game. This isn't a joke. They force you to pay to play more. I can't believe it. What a stupid concept. Why not just pay for the game up front. When you advertise something as free and only get a few Olympic events to play for free is a scam on my mind. I understand you have to make money, then make the app 4$ before you install. Then you can have your in app purchases to make the rest. Just a really stupid idea. I know what they thought though. Maybe if they got you started with 10 or more events you'll want to try the rest and pay for the pass. Stupid! Ridiculous! Who knows you might have to pay more than once for more passes as up get further. Just really dumb. Could've been really good but that ruined it.
Get Sonic at the Olympic Games from App Store
What is your opinion about Sonic at the Olympic Games
Bitcoin
Ethereum
MetaMask (ETH)
Xrp
Polkadot
Binance coin
Stellar
Dogecoin
Tron
Elrond
Donate Bitcoin to this address
Scan the QR code or copy the address below into your wallet to send some Bitcoin
Donate Ethereum to this address
Scan the QR code or copy the address below into your wallet to send some Ethereum
Donate Xrp to this address
Scan the QR code or copy the address below into your wallet to send some Xrp
Donate Polkadot to this address
Scan the QR code or copy the address below into your wallet to send some Polkadot
Donate Binance coin to this address
Scan the QR code or copy the address below into your wallet to send some Binance coin
Donate Stellar to this address
Scan the QR code or copy the address below into your wallet to send some Stellar
Donate Dogecoin to this address
Scan the QR code or copy the address below into your wallet to send some Dogecoin
Donate Tron to this address
Scan the QR code or copy the address below into your wallet to send some Tron
Donate Elrond to this address
Scan the QR code or copy the address below into your wallet to send some Elrond