(Game) Snake 97 – Retro phone classic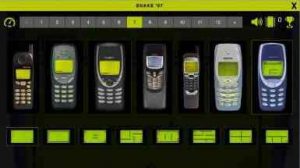 Game Description :
Play Snake like it is 1997. This is a remake of the original Snake, complete with dot-matrix display and monotone sounds.
Rewind time and get a dosis of nostalgia that is as addictive (and frustrating) as the original.
Play Snake '97 and be prepared to lose some productive hours.
Simply launch the app, touch a button and start!
Game Features :
old school controls
dot-matrix display
original monotone sounds (bleep bleep)
9 original and 3 extra difficulty levels
Snake 1 and classic Snake 2
7 classic game modes (5110, 3210, 8210, 8850 and 3310, 3410, 7110 with Snake 2)
bonus creatures (Snake 2)
go through the walls! (Snake 2)
5 original and 2 extra labyrinths (Snake 2)
a high score that cannot be reset (just like the original)
The story behind this game is that my smartphone got damaged, requiring me to revert back to an old phone. Suddenly I knew the smartphone was missing something and the idea for a accurate Snake remake was born.
Snake '97 is an homage to the classic mobile phone game programmed in 1997.
By carefully analyzing the classic gameplay, timing and controls, this Snake '97 remake is one of the most accurate available.
If you have any questions, comments or suggestions, feel free to contact me.
Have Snake fun!
Best regards from Amsterdam,
The developer,
Willem.
Additional Information :
Size 16.4 MB
Requires iOS 11.0 or later.
User Reviews :
Nostalgia Bomb!
I work for Verizon Wireless, and have been selling phones since 1998. I've witnessed the birth of the smartphone, text messaging, mobile internet, color screens, etc. I was always a massive fan of Nokia, and their products. I miss the days when T9 input was considered cutting edge tech. This app brings back good memories. Works great, and the option to use different phone models is a huge bonus! Sure, you get a fairly simple advertisement after each game, but the app costs nothing, and app development isn't free, so there's really nothing to complain about. Whoever had the idea to bring this game back, I tip my hat to you. Thank you!
Pretty good for free
As the other reviewers have noted, there are a few glitches in it. My biggest issue is that there doesn't seem to be a reliable way to pause the game in progress when you switch out of the app; sometimes it will resume when you com back, sometimes it'll be a new game.

I'm not against adds after each game; however, be aware some of the adds are video adds, which are very annoying and intrusive. The audio of one add continued playing even after I dismissed it, and would continue to play every time the app was opened. I had to restart my iPhone to finally get it to stop.

I'd happily pay a little for an add-free version.

Other than that, it's enjoy and just as addicting as it was in the 90's.
Best retro app for the iPhone
If you want the feeling of playing the mainstream games of the 90's cell phones, this game gives you the experience right down to the number pad! This game's nod to the Nokia 3310, from the simulated lcd pixels to the "frog" ring tone played when losing, to the inclusion of snake 2 in this awesome throw back package. If I wasn't mistaken, I'd almost think this was the original thing from a screenshot. The only thing missing is an actual Nokia interface, which would be an awesome Easter egg if implemented. My only complaint is the annoying adds, but hey, what app doesn't have those am I right?
Good, but…
I'd usually give this game 5 stars; after all, it plays well, it's relatively glitch-free, and it's fun. However, I encountered two things today that made me knock it down a star. First is the score glitch, where, after losing one game to accidentally entering settings (I'll get back to this), I kept seeing the game over screen while playing, or see two at the end. The second thing is that more often than not, I'll end a game by entering settings by accident. On the last phone (I don't know which brand) I realized just today, this will cause your game to reset. While I know why it happens, it's mildly annoying. Other than these (and the constant ads), it's a great app. Get it.
Fun Throwback Game
This was a fun throwback game for anyone who knows what a Nokia 5100 is!

The controls were a little difficult at first because there isn't a texture to feel for as there would be with actual buttons, but that's no fault of the app's makers. The buttons on the mock-phone also didn't have arrows, so it takes someone familiar with the original game who knows how to play without some trial & error.

I will definitely be setting my phone locked down to this app and handing it over to the nieces and nephews very soon.
Get Snake 97 from App Store
What is your opinion about Snake 97
Bitcoin
Ethereum
MetaMask (ETH)
Xrp
Polkadot
Binance coin
Stellar
Dogecoin
Tron
Elrond
Donate Bitcoin to this address
Scan the QR code or copy the address below into your wallet to send some Bitcoin
Donate Ethereum to this address
Scan the QR code or copy the address below into your wallet to send some Ethereum
Donate Xrp to this address
Scan the QR code or copy the address below into your wallet to send some Xrp
Donate Polkadot to this address
Scan the QR code or copy the address below into your wallet to send some Polkadot
Donate Binance coin to this address
Scan the QR code or copy the address below into your wallet to send some Binance coin
Donate Stellar to this address
Scan the QR code or copy the address below into your wallet to send some Stellar
Donate Dogecoin to this address
Scan the QR code or copy the address below into your wallet to send some Dogecoin
Donate Tron to this address
Scan the QR code or copy the address below into your wallet to send some Tron
Donate Elrond to this address
Scan the QR code or copy the address below into your wallet to send some Elrond