(Game) Rush Royale – Tower Defense TD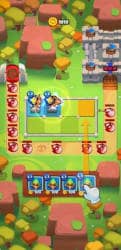 Game Description :
Protect your castle, level up your heroes and win PvP battles!
Welcome to the Isle of Rhandum – a realm of tower defense, clans, magic and mayhem! Collect units, assemble a deck for base defense and get ready to meet one of the most unique TD games – Rush Royale!
Game Features :
Mighty warriors are ready for a TD clash! You have plenty of cute but fearsome units at your disposal, from keen-eyed Archers and crafty Trappers to angry Bruisers and graceful Blade Dancers! Merge units and manage your mana carefully – devise a strategy around your deck's strengths in a castle defense! And don't forget about Heroes – these mighty champions have the most powerful abilities!
Conquer the opposition in PvP! Break through enemy Tower Defense, progress and earn more trophies! Play defense games against the most powerful players to win exquisite rewards! But beware, fortune can be fickle in TD games! Stick to a strategy and win through cunning and intellect as you lay siege to the castle and break through enemy defenses!
Join the Co-Op mode and embark on a TD quest to explore Rhandum with your friends! Set a castle defense against dreadful bosses and their minions. Defense games never get old as you're fighting monsters together! Succeed in TD games and get unique loot! Ready your defenses and protect the castle!
There are many factions in the game, from Technogenic Society to the Kingdom of Light, and every unit and hero belongs to one of them. There are no "weak" or "strong" decks – collect, merge, learn to play your army well and level up units you use most. Some of them can Ascend, gaining unique battle talents!
Events bring even more variety to the base defense you're used to – try them out to find out if you can master unique rules and beat the enemies in tower defense games!
Join one of the clans to earn unique benefits! Fight as one with your clanmates and succeed in both Co-Op and PvP tower defense!
Quests make your life easier and more interesting! Each completed quest brings useful rewards!
Clash, conquer, win, prevail! Rush Royale is a TD game like no other. The Isle of Rhandum awaits!
Follow us on Facebook:
www.facebook.com/RushRoyale.game
Join our Discord:
discord.com/invite/SQJjwZPMND
Published under the global gaming brand MY.GAMES, the leading developer and operator of unforgettable gaming experiences on PC, mobile, and consoles.
Additional Information :
Size 686.8 MB
Requires iOS 11.0 or later.
User reviews :
Love it!
This game is probably the greatest game to come through in a long time. I love that it's not biased in the sense that when you merge towers it's all in the fate of the logic. That's also the caveat, sometimes you can really get screwed on which towers drop and how they merge, it's a real love-hate relationship, but I still love this game. I recommend it highly to anyone! You don't have to spend money to get good cards, you just have to grind it out, but it's still so much fun.

The only con: when you do a co-op match, if the other player leaves and disconnects, you're screwed. I wish they had a feature like in StarCraft, because I played so many tower defense games in StarCraft and WarCraft which is why I love this game. But when the other players leave the game, you get control over their units, it would be nice when the other player fully disconnects from the match, you get control over spawning their units, merging their units, and getting the mana for their kills. I'm sure coding all of that is much harder than just making the suggestion, but that would be sweet. I'd give the game 100 stars if I could, great work! Keep it comin'!
Has potential
I've been enjoying this game since I downloaded it a few months ago. However, recently more and more bugs keep coming up and none of them are getting fixed while they keep releasing new versions of a battle pass so that you don't have just one battle pass to buy but 2 or 3! Everything is being over monetized. I have no issue with a company making money. That's how they stay a business! But when the only new content seems to be pay to win content and tons of monetization while game breaking issues such as the connection bugs are still an issue it makes me wonder why I open the app. I've had plenty of games recently where I'm about to win then randomly my screen pops up "the connection can't be restored" and it gives me a loss. I have great internet so there is no reason that should be happening. Another issue is that players with bad internet actually gain an advantage when running a shaman deck because the way the servers are set up the player with great internet will still lag massively due to the slow internet player meaning you can't defend against shaman. Many of these bugs cause me to want to stop playing instantly after one happens because it's demoralizing losing a game that you should have won.

If these bugs are fixed and some balance changes happen then I would likely change my review to a 4 or 5 star. I believe this is a fun game but recently has been going in the wrong direction.
Developer Response ,
Greetings. Thank you for your attention and feedback. We are sorry to know that you have encountered an issue in the game. Please, use the game's settings menu to submit a ticket to our tech support service, describe your issue in the ticket and we will do our best to help you.
Get Rush Royale from App Store
What is your opinion about Rush Royale
Bitcoin
Ethereum
MetaMask (ETH)
Xrp
Polkadot
Binance coin
Stellar
Dogecoin
Tron
Elrond
Donate Bitcoin to this address
Scan the QR code or copy the address below into your wallet to send some Bitcoin
Donate Ethereum to this address
Scan the QR code or copy the address below into your wallet to send some Ethereum
Donate Xrp to this address
Scan the QR code or copy the address below into your wallet to send some Xrp
Donate Polkadot to this address
Scan the QR code or copy the address below into your wallet to send some Polkadot
Donate Binance coin to this address
Scan the QR code or copy the address below into your wallet to send some Binance coin
Donate Stellar to this address
Scan the QR code or copy the address below into your wallet to send some Stellar
Donate Dogecoin to this address
Scan the QR code or copy the address below into your wallet to send some Dogecoin
Donate Tron to this address
Scan the QR code or copy the address below into your wallet to send some Tron
Donate Elrond to this address
Scan the QR code or copy the address below into your wallet to send some Elrond