Roku Smart Home app by ROKU INC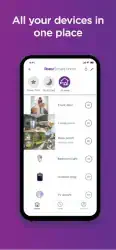 App Description :
The simple way to a smarter home. The Roku Smart Home mobile app is the only smart home manager you need for your Roku Smart Home devices—indoor and outdoor home security cameras, video doorbells, smart bulbs, smart light strips, smart plugs, and more. Easily set up your smart home devices, customize your settings, and more all in the Roku Smart Home device manager. See all your devices in one place and group them to control your entire house at once.
The Roku Smart Home mobile app is your one and only home camera app. With your smart home manager, you can easily set up Roku home security cameras and video doorbells and customize camera settings in a tap. Monitor your home from anywhere with the app—get instant motion or sound notifications when there's activity, pull up live footage, and even have a chat with two-way audio. You can customize notifications and motion detection zones, so you only get the alerts you want. With a Roku Smart Home subscription, you can unlock cloud storage and view motion-triggered recordings for up to 14 days. Also included in the subscription is smart detection, which identifies people, pets, packages, and cars and allows you to filter alerts—so you only get the ones you decide are important.* Home security has never been this easy.
App Features :
Roku smart lights brighten up any space in your home with customizable LED bulbs and smart light strips. Your smart home manager also allows you to quickly and easily customize light settings for your smart bulbs and smart light strips with a tap. Change colors, save custom presets, adjust brightness, and create rules that put your lights on your schedule—even when you're not home.
With Roku smart plugs, control indoor lamps, outdoor holiday lights, or any compatible device remotely in the app. Customize your plug's settings in your smart home manager to give your home power when you need it. Create custom schedules for your plugs to switch on or off. You're in full control.
When it comes to installing your smart home devices, your smart home manager makes setup a breeze. All Roku Smart Home products have a surprisingly simple guided setup in the Roku Smart Home mobile app.
Sign up for Roku Smart Home subscription by logging into your Roku account.
Privacy Policy: go.roku.com/privacypolicy
CA Privacy Notice: docs.roku.com/published/userprivacypolicy/en/us#userprivacypolicy-en_us-CCPA
Additional Information :
Age Rating 4+
Size 219 MB
Requires iOS 14.0 or later.
User Reviews :
Great app and cameras
I love the cameras, but I wish the bitrate was higher. I also want to suggest a feature. I would like to rearrange my cameras when looking in the list of them. This way I can make them more sequential and less random. Making it easier and faster to select the camera I'm looking for or track something from camera to camera and room to room. The only option right now is to delete all my cameras and add them back in a specific order. If you ever want to add more you'll have to do it again. For example I want my camera at the front door to be at the top, the one in the middle of the house in the middle, and the one at the back door at the end of the list. This way I know which camera I'm selecting just by it's placement in the list.
Amazing value
Love the indoor cams. Just make sure ur using a residential wifi to have the best experience but I have been using my phones wifi and so far with t mobile I've had few problems.

1. The device triggers to record a short clip of motion detected sometimes will not play the short clip but just a picture of nothing unusual unless the person or ect moves really fast past the cameras but it worked find for a week then now it doesn't record clips for me anymore.

2. I have 3 indoor cameras and I keep the indoor one facing the living room off while I'm home so I get better quality picture on the 2 facing out the windows

3. For some reason I can't get the phone to connect to the cameras and I says offline and I have to go into the app and click the cams and let them load and now there online. But they will disconnect for no reason. If they can fix this I would be delighted
Very Impressed!
As a long-standing user, I have been looking forward to ROKU's latest dip into expanding their horizons since hearing about their upcoming release.

 was skeptical as most non- software developers are about this app and the devices but I was very impressed at the user interface and the set up ease. My boyfriend and I installed our lights behind our bed frame in lieu of getting bulky lamps and I love it so much!!! It's super simple to control and makes the whole room feel upscale.

I know with new adventures comes hurdles and there will be bugs to fix, but so far as a first look at what's to come, I have to say I'm excited!

Next, I hope they can look into moving the play/pause button in the original ROKU remote app. I hate that it's not right below the arrows because I always end up pressing the info button, but that's besides the point. Love this new app!
Developer Response,
thechelseam, we're so grateful that you took the time out of your day to share your review with us. Thank you! We'll be sure to pass your comments and feedback along to our team.
Get Roku Smart Home from App Store
What is your opinion about Roku Smart Home
Bitcoin
Ethereum
MetaMask (ETH)
Xrp
Polkadot
Binance coin
Stellar
Dogecoin
Tron
Elrond
Donate Bitcoin to this address
Scan the QR code or copy the address below into your wallet to send some Bitcoin
Donate Ethereum to this address
Scan the QR code or copy the address below into your wallet to send some Ethereum
Donate Xrp to this address
Scan the QR code or copy the address below into your wallet to send some Xrp
Donate Polkadot to this address
Scan the QR code or copy the address below into your wallet to send some Polkadot
Donate Binance coin to this address
Scan the QR code or copy the address below into your wallet to send some Binance coin
Donate Stellar to this address
Scan the QR code or copy the address below into your wallet to send some Stellar
Donate Dogecoin to this address
Scan the QR code or copy the address below into your wallet to send some Dogecoin
Donate Tron to this address
Scan the QR code or copy the address below into your wallet to send some Tron
Donate Elrond to this address
Scan the QR code or copy the address below into your wallet to send some Elrond