(Game) Robot Unicorn Attack 2
free games for iphone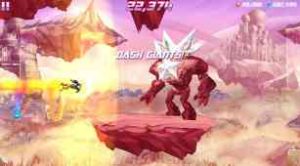 Game Description :
BIG UPDATE, Version 1.5 (04/17): All-new Lava World to explore! Side-scroll your way to adventure with a brand-new unicorn – the Celestial Resonator!
Robot Unicorn Attack 2 is happiness. It is hope. It is always. It is yours. 9.5/10 -Destructoid
A worthy successor to the title that first spread joy and laughter throughout a dead land. -Kotaku
The graphics are mesmerizingly gorgeous, with all kinds of wild, trippy stuff happening in the background… It all adds up to a truly brilliant game that's incredibly fun even if you don't want to pay a cent. -Slide To Play
Get your hands on the latest, greatest, most epic installment of the Robot Unicorn Attack series to date, available for FREE!
Brought to you by PikPok and Adult Swim Games, makers of "Monsters Ate My Condo!!"
Game Features :
Choose between Team Rainbow or Team Inferno and compete on a unique level every day for prizes
Race through 2 worlds at war, one of Rainbows and Harmony and one of Ice and Wonder
Build and customize your very own unicorn, selecting from different bodies, manes, wings, horns, trails and more
Unlock and arm yourself with 12 different boost abilities, including "Rainbow Savior" and "Gallow's Gallop"
Achieve both personal and community goals, updated daily
Battle mighty giants and dash through their dangerous Solar Beams
Journey through such cosmic spectacles as Space Whales, Leviathan Seahorses, Ice Owls and more
Both worlds change to new and different layouts every single day
Personalize your quest (and support the artists) by purchasing new background songs for $.99 apiece, including Erasure's "Always"
Game Center Achievements & Leaderboards
Oh, also? You can fly now. Yeah. Yeah, man.
Follow Us:
Facebook – www.facebook.com/adultswimgames
Twitter – www.twitter.com/adultswimgames
Our Website – www.games.adultswim.com
Recommended for iPhone 4 and higher
The Terms of Use for this app includes arbitration for disputes – see www.adultswim.com/footer/legal/terms-of-use.html
Additional Information :
Compatible with iPhone, iPad, and iPod touch.
Requires iOS 7.0 or later.
Size 95 MB
User Reviews :
In Robot Unicorn Attack 2, you charge a unicorn across dazzling dreamscapes filled with bizarre creatures. It's as strange as you might expect an endless runner about a mechanical rainbow-maned mythical beast to be. But thanks to great controls, a truly standout presentation, and plenty of useful unlocks to chase, it's also highly entertaining.
Hey! I've been playing this game since I was about 4. I downloaded it on my mom's phone and always played it. Since then, there have been major updates. I love them! I just have a suggestion. Once you've bought a horse, let's say the Iron Pegasus, what if you wanted the U-800? Then what if you wanted to switch back to your Iron Pegasus? You'd have to buy it all over again. I wish that once you bought something, you would have it forever, whether you bought something else in that category or not. I just find it really annoying that I spent 5,000+ tears on the U-800 then found out that I couldn't collect all the horses. This really disappointed my friend and I. We both play it and we would really be happy if you just added that. Also, there's a little bug I've only encountered once. I was flying or jumping and I hit the underneath of a platform. I watched a video and it respawned me in the same exact spot I died. Could you please fix that? After these are fixed, I will happily leave a 5 star rating. My rating currently is 4 and a half. But you can't do halves, so I put 4.<3 Love the game otherwise! Keep up the amazing work!
It took me a while but I think the unicorn parts I bought were AWSOME and that I think it is fun to kill the giants. I have two things to ask of the developers. Can you make it so u can unlock the lava world at rank twenty? Also when I was in the frozen world I got a new record but then A LAZER SHOT OUT OF THE GROUND!!!!! Me my dad and my uncle LOVE the first and second version of the game. I like the fact that you can get alicorn wings when you get enough tears and make it to rank five. I just made it to rank fifteen and suggest the first and second version of this game to all those who like doing a run on a game!! I enjoy it and can't wait to show it to my friends, Ryleigh and Parker. I haven't had any bugs yet but sometimes the app does not respond to what I do. Again, I rate this app five stars because of it funny theme song that goes with the world and because it has good graphics and because it is AWSOME!!!! I hope the dev can improve the problems. And I also need the dev to fix this one thing. Please tell me why revive myself the game spawns me in a place that kills me! I wish you could fix this!
Get Robot Unicorn Attack 2 from Play Store
Leave your feedback regarding Robot Unicorn Attack 2
Bitcoin
Ethereum
MetaMask (ETH)
Xrp
Polkadot
Binance coin
Stellar
Dogecoin
Tron
Elrond
Donate Bitcoin to this address
Scan the QR code or copy the address below into your wallet to send some Bitcoin
Donate Ethereum to this address
Scan the QR code or copy the address below into your wallet to send some Ethereum
Donate Xrp to this address
Scan the QR code or copy the address below into your wallet to send some Xrp
Donate Polkadot to this address
Scan the QR code or copy the address below into your wallet to send some Polkadot
Donate Binance coin to this address
Scan the QR code or copy the address below into your wallet to send some Binance coin
Donate Stellar to this address
Scan the QR code or copy the address below into your wallet to send some Stellar
Donate Dogecoin to this address
Scan the QR code or copy the address below into your wallet to send some Dogecoin
Donate Tron to this address
Scan the QR code or copy the address below into your wallet to send some Tron
Donate Elrond to this address
Scan the QR code or copy the address below into your wallet to send some Elrond