(Game) Rec Room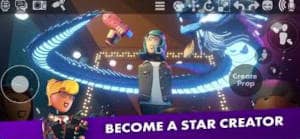 Game Description :
Rec Room is the best place to build and play games together. Party up with friends from all around the world to chat, hang out, explore MILLIONS of player-created rooms, or build something new and amazing to share with us all.
Rec Room is free, and cross plays on everything from phones to VR headsets. It's the social app you play like a video game!
Game Features :
Customize and dress up your cute Rec Room avatar to express your style
Discover challenging, fun or straight up weird games made by creators just like you
Try your skill with the Maker Pen, the tool used by Rec Room creators to build everything from puppies to helicopters to entire worlds!
Join the best community – Rec Room is a fun and welcoming place for people from all walks of life! Let us help you find people you'll LOVE to hang out with.
Come and join the club!
Rec Room is compatible with iPhone 6S, 6S Plus, SE, 7, 7 Plus, 8, 8 Plus, X, XS, XS Max, and XR; iPad (2017, 2018), iPad Air 2 and iPad Air (2018); iPad Mini (2019); iPad Pro; iPod Touch (2019)
Rec Room DOES NOT support: iPhone 5S, 6, 6 Plus; iPod Touch (2015); iPad Air (2013); iPad Mini 2, 3, and 4
Additional Information :
Size 2.4 GB
Requires iOS 12.0 or later.
User Reviews :
Great Game!
I love this game, I mostly play on my Xbox one but I got mobile so my family can play to. Pros: it's really creative game with lots of fun activities to do like paintball, art, dodgeball, quests and so much more! It's especially fun to hangout together with your friends while staying safe and inside during this pandemic. I'd recommend this game to around 13-16 year olds. Cons: Sometimes the game can be a little unfair to some players like for example, Juniors. Junior accounts are for kids under the age of 13. And they have limited access to stuff like drawing, creating and the biggest part, talking. I can understand why this is a thing but it doesn't seem right how Juniors can't make inventions or art to the community. While they can still see non-juniors draw or create sexual content. Also I didn't get the limited 2 day FNAF hoodie just because I was sick so that's wack. But besides that, Rec Rooms really really fun, even as a junior. Story: you start Rec Room in a step-by-step tutorial called Orientation. After that, you located to your dorm room and given your own watch. On your watch, you can access anything from your friends to games. Rec Room takes place in a "Middle School-like" environment with over fantasized quests such as Isle of the Lost Skulls and Jumbotron. Also having sports like disc golf (golf with a frizbie ) and….
Amazing App but just add some things
My cousin enjoys playing this game and so do I but I just wanted to say that I think that you should add something to the watch and it would have a money icon on it so that you can press it and you will see a money sign next to all the peoples names and when you press it you can put the amount of money in that you want to give that person! and since my cousin enjoys decorating rooms I think that people could pay her for doing it! (Not like trading) I also think you should put "Orientations" back on the tasks because for new beginning players it could get them tokens and learn how to play the game by doing tasks or if players want tokens without buying them or without gifts because sometimes when you do your daily tasks you don't get tokens but you might get tokens with the first game you play, but that's sometimes. You should also add something in messages is where you should put "read" when someone read the message.
Could be better but still a fun game
I'm gonna start by saying I only really got the mobile version so I can play on the go when someone else is on my oculus quest. It isn't the greatest experience as games like quest for the golden trophy and stunt runner are extremely difficult to learn on mobile and easier on pc and VR. I do understand though it's hard to make a VR game port on mobile so I do appreciate the effort out into this. While I did mention the cons there are many pros. I find it much easier to decorate my dorm room and games in this version as my hands can be a bit shaky in VR so it really helps when customizing my stuff. The second reason I like the mobile version is so I don't have to carry multiple headsets and laptops around if anyone wants to play the game, I can just tell people to download the app, make an account, and play with us. The last thing I have with the game though is that the buttons are way to small while others take up the whole screen, I wish there was a way to change the size of the buttons and if there is please tell me lol. I recommend getting rec room if you haven't played it before but if you already have it on VR or pc I would just treat it as a niche little thing on your phone. Again, I love the effort put into the mobile version of a VR game because that's hard to do, I just feel it could be better.
Get Rec Room from App Store
What is your opinion about Rec Room
Bitcoin
Ethereum
MetaMask (ETH)
Xrp
Polkadot
Binance coin
Stellar
Dogecoin
Tron
Elrond
Donate Bitcoin to this address
Scan the QR code or copy the address below into your wallet to send some Bitcoin
Donate Ethereum to this address
Scan the QR code or copy the address below into your wallet to send some Ethereum
Donate Xrp to this address
Scan the QR code or copy the address below into your wallet to send some Xrp
Donate Polkadot to this address
Scan the QR code or copy the address below into your wallet to send some Polkadot
Donate Binance coin to this address
Scan the QR code or copy the address below into your wallet to send some Binance coin
Donate Stellar to this address
Scan the QR code or copy the address below into your wallet to send some Stellar
Donate Dogecoin to this address
Scan the QR code or copy the address below into your wallet to send some Dogecoin
Donate Tron to this address
Scan the QR code or copy the address below into your wallet to send some Tron
Donate Elrond to this address
Scan the QR code or copy the address below into your wallet to send some Elrond