(Game) Real Boxing – KO Fight Clu‪b
iphone games download free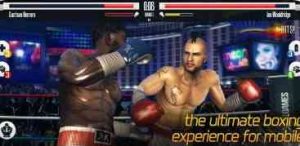 Game Description :
TOUCH ARCADE – "It's called Real Boxing for a very good reason, and it lives up to its name impeccably well." 4.5/5
IGN – "Real Boxing is an Unreal Engine-powered beauty"
148 APPS – "Real Boxing offers a console quality boxing experience. It plays as great as it looks." 4.5/5
AMAZING GRAPHICS & SOUND
Immerse yourself in adrenaline pumping world of boxing action thanks to jaw-dropping Unreal Engine-powered graphics, realistic motion captured animations and spot-on sound design.
Game Features :
KNOCKOUT GAMEPLAY
Fight using a variety of devastating punches and combos. Tip the odds in your favor with game changing power-ups. Feel every jab, hook and uppercut thanks to intuitive and responsive controls.
REAL-TIME MULTIPLAYER
Become a challenger and enjoy hundreds of hours more gameplay in the feature-packed Real Boxing multiplayer mode.
WEEKLY TOURNAMENTS
Feel the adrenaline rush in Weekly Tournaments, featuring original and challenging rules, with a chance to win in-game and real prizes.
EXHILARATING ARCADE MODE AND UNDERGROUND TOURNAMENT
Put your boxing to the test and fight otherworldly bosses in Real Boxing's Arcade Mode, or take your skills to the street in the Underground Tournament and unlock brand new gear for your boxer!
COMPREHENSIVE CAREER
Fight over 30 unique boxers with their own adaptive boxing styles in a full-blown career mode to become world champion.
YOUR REAL BOXER
Create and customize your own fighter with dozens of unlockable hairstyles, tattoos, and gear. Train via a variety of mini games and maintain condition as you fight challenger after challenger on your way to the top.
ENGAGING SOCIAL FEATURES
Come back daily and win amazing prizes with Daily Rewards the Daily Spin. Use the Social Panel to compare scores, challenge friends and become ultimate rivals.
MORE FREE CONTENT
Enjoy regular content updates introducing new features, challengers and more – for free!
Visit www.realboxinggame.com
Like us at www.facebook.com/realboxing
Terms of Services www.vividgames.com/realboxing/tos/
Additional Information :
Size 542 MB
Requires iPadOS 8.0 or later.
User Reviews :
THIS GAME NEEDS AN UPDATE!!!
The agent did not give me a solution to my issue. He stated: "I've contacted the quality assurance team and hopefullt we will find a resolution of this issue.

I'll get back to you as soon as I get more details from them".(Krzysztof Orzedowski). I have been waiting for the past 5 days for a response and I have yet to receive one. When I logged onto my profile I found out that the agent closed the ticket. How can an individual close a ticket if a solution wasn't provided. I had to delete the game in order to make it work again. Prior to the issues and the pervious update, I had maxed out all of my fighter's strength, stamina, and speed to 100. Additionally I bought and owned all of the perks. Also I owned all of the components of the demon outfit, zombie outfit, and robot outfit. I had over 200,000 gold coins. All of these items and my fighter's record were lost when I was forced to delete the game in order to make it work. This wouldn't have happened if the agent was responsive to my issues and provided an adequate solution. Now the game has no sound or audio to it and also it is not recording knockdowns and knockouts. This game really needs to an update to fix all the bugs that plagues it. I understand that you guys operate in a different time zone but that isn't a viable excuse for subpar customer service. Also it's not right to start charging individuals for things that was once free.
Fun but bugs maybe?
First off I think this game is great. Yeah I've spent more than I should have on this game but I don't want to grind forever I just want to knock some people out. My biggest complaint with this game is the AI consistency, they punch the body so much while I can only attack the face. I'd love to be able to punish the AI's body as it makes the opponent tired and easier to knock out, also I don't like that the opponent can get knocked down like 6-7 times before a knock out. Usually it's a 3 knock down rule and the fight is over. Maybe this is just a bug but wow do left upper cuts and jabs feel like I'm throwing baby punches at these guys or they don't register at all even performing counter attacks left upper cuts and jabs feel like nothing and not as satisfying as attacking the right or just throwing left hooks and attacking constantly with the right makes the AI anticipate the upcoming counter and they counter the counter. But overall this is a fun game to get some frustrations out, but those small annoyances that I listed above are what make me give this game a 4 out of 5.
Amazing game
Zoom is so amazing like I could chat about it for hours I love it so much is so amazing but the only bad thing about this game is that is a little unbalanced what you mean by it like you don't really ever lose unless you're pretty bad I it's either I'm just really good at this game or this is just over powers and plus they should a multiplayer mode like there is multiplayer mode but you need to invite friends like I would like to fight people I don't know When I mean by it's just like when you play call of duty you want to find people to fight against or fight with you against other teams but they should actually just add Multiplayer mode
Get Real Boxing from App Store
What is your opinion about Real Boxing
Bitcoin
Ethereum
MetaMask (ETH)
Xrp
Polkadot
Binance coin
Stellar
Dogecoin
Tron
Elrond
Donate Bitcoin to this address
Scan the QR code or copy the address below into your wallet to send some Bitcoin
Donate Ethereum to this address
Scan the QR code or copy the address below into your wallet to send some Ethereum
Donate Xrp to this address
Scan the QR code or copy the address below into your wallet to send some Xrp
Donate Polkadot to this address
Scan the QR code or copy the address below into your wallet to send some Polkadot
Donate Binance coin to this address
Scan the QR code or copy the address below into your wallet to send some Binance coin
Donate Stellar to this address
Scan the QR code or copy the address below into your wallet to send some Stellar
Donate Dogecoin to this address
Scan the QR code or copy the address below into your wallet to send some Dogecoin
Donate Tron to this address
Scan the QR code or copy the address below into your wallet to send some Tron
Donate Elrond to this address
Scan the QR code or copy the address below into your wallet to send some Elrond