QuizzLand – Quiz & Trivia game by MNO GO APPS LTD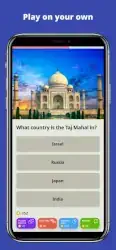 Game Description :
QuizzLand is a free educational game with minimal ads that offers you more than 40,000 of finest trivia questions supported by detailed explanations.
The app's unique feature is an opportunity to play solo, so you don't need to wait for other players to reply.
It's a fun and easy way to check your general knowledge and challenge your friends for the title of best brains!
Game Features :
HIGHLIGHTS
an absorbing learning process
a fast lives' refilling
a detailed explanation for each question
easy, normal and hard difficulty levels
fun for the entire family
QuizzLand makes learning easy and fun!
How to play
Check your knowledge: answer questions, read descriptions for correct answers and compete with other players.
You get points for each question answered correctly. If you give a wrong answer, no points are added to your account.
Questions:
All questions are filtered by difficulty.
You get more points for difficult questions.
Coins and lives:
Coins are the in-game currency used in QuizzLand. Use coins to buy lives, hints and other useful options.
Each wrong answer takes one of your lives. Your lives are displayed in the top left corner of the screen.
Your lives refill in a few minutes but you can also get them faster for coins.
Question hints:
"Double Chance" – activate the hint, then choose the answer. If it is incorrect, then you'll be able to try to answer again.
"Fifty Fifty" – eliminate two incorrect answers in a question.
"Majority Vote" – see what answer option the majority of players have chosen.
"Skip Question" – activate the hint to skip a question and answer another instead.
Should you have any questions or suggestions, feel free to contact us at support[at]quizz.land.
Additional Information :
Age Rating4+
Size 358.2 MB
Requires iOS 11.0 or later.
User Reviews :
New version QuizzLand
I hate it so much I just deleted it. I liked the original version it was great. But the new version is reality cheating and deceptive . Because the new version then I started noticing that for each new game they would only start me with3 or 2 points instead of the original 5. Cheating me out of points at the beginning. But I kept playing, then someone with the game would manipulate it to make it so I would not get as many points for doing things and answering the questions correctly. The whole screen deleted and it started me from the beginning again. I am not in competition playing this I just enjoyed it to challenge myself on what I knew, and find out new things I didn't. I to my knowledge was not trying to compete with anyone else. Just going by the knowledge I knew. But this new version is not honest with the players at all. Miss Linda Louise Gauer the blonde
Developer Response,
Hello blonde Linda! We are so sorry that something about QuizzLand made you upset. Could you please tell us more about the issue? You can always contact our team – to do so, please go to the main menu and choose the "Report a problem" option. Have a wonderful day!
WONDERFUL UPDATES!!
I have been playing Quizzland off and on for years; my biggest complaint was that if you play the game fast, eventually the stars awarded for the correctly answered question would not be added to your grand total. It was a computer glitch.

With the recent game update, I can quickly answer trivia questions and have my awarded stars added to the grand total without the computer glitch!

Also, it's nice to see that the extra games and game exit are delinated as different shapes than the square-shaped Trivia Questions; this is useful, because I skip the Extra Games (Before, the Extra Games and Game Exit icons were square-shaped, just like the Trivia questions- it was easy to press on the Game exit and Extra Games without meaning to).

Finally, for the Treasure Chest game, in the past, if you selected the chest with coins, it would not award you any coins; with the new update, it adds the coin value to your overall total.

I am super happy with the great updates- keep up the excellent work!!

In the future, it would be great to have a Chat function built into the game, so you can talk with fellow players
Developer Response,
Thank you, thank you, thank you rivet40! This is an amazing review – you just made us sooooo happy.

Hope our questions are challenging enough to surprise you.

Have a wonderful day!
Truly educational – refreshing!
I just started this today, and I'm never inclined to review in such a short time. However, this is clever and educational, and if you take the time to read about the subject (even if you know the answer) right after you see the answer, you will increase your knowledge and possibly glean information for future questions.

There are personal comments afterward – some adding valuable tidbits. Overlooking the immature comments left by some, it's a lovely, relaxing way to spend an hour or two flexing your brain muscles!
Developer Response,
Hi Swissbird99. Thank you for the well-thought review. Your opinion is very important for us. Have a nice day!
Get QuizzLand from App Store
What is your opinion about QuizzLand
Bitcoin
Ethereum
MetaMask (ETH)
Xrp
Polkadot
Binance coin
Stellar
Dogecoin
Tron
Elrond
Donate Bitcoin to this address
Scan the QR code or copy the address below into your wallet to send some Bitcoin
Donate Ethereum to this address
Scan the QR code or copy the address below into your wallet to send some Ethereum
Donate Xrp to this address
Scan the QR code or copy the address below into your wallet to send some Xrp
Donate Polkadot to this address
Scan the QR code or copy the address below into your wallet to send some Polkadot
Donate Binance coin to this address
Scan the QR code or copy the address below into your wallet to send some Binance coin
Donate Stellar to this address
Scan the QR code or copy the address below into your wallet to send some Stellar
Donate Dogecoin to this address
Scan the QR code or copy the address below into your wallet to send some Dogecoin
Donate Tron to this address
Scan the QR code or copy the address below into your wallet to send some Tron
Donate Elrond to this address
Scan the QR code or copy the address below into your wallet to send some Elrond