(Game) Pyramid Solitaire Saga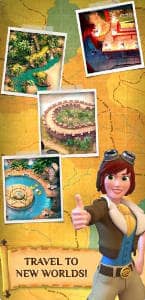 Game Description :
Pyramid Solitaire Saga, from the makers of Candy Crush Saga & Farm Heroes Saga!
Deal with the magic!
Challenge awaits you in this magical Solitaire game.
Join Helena and her loyal companion Kingsley on their journey to reveal the wonders of the Ancient World.
Find the clues by catching the Scarabs hidden beneath the Cards. You can match a Card that is one greater or lower than the one on your deck.
Catch the running Scarabs and uncover clues to help you on your journey and reveal the long-hidden treasures and magic of the Ancients.
Complete each episode to reveal a hidden treasure and transport to magical new worlds on a quest to reignite Khepri's prophecy.
Explore the lost places of the world where epic adventures await you in The Hidden Tomb, The Emerald Dream and beyond!
Take on this Saga alone or play with friends to see who can get the highest score!
Pyramid Solitaire Saga is completely free to play but some in-game items such as extra moves or lives will require payment.
You can turn off the payment feature by disabling in-app purchases in your device's settings.
Game Features :
Experience a new way of playing Solitaire with rich and exotic graphics set in Ancient Times
Transport to magical new worlds with Helena the Treasure Hunter and Kingsley the cunning gerbil
Powerful boosters to help with challenging levels
Journey through exciting levels to unlock boosters and hidden treasures!
Easy and fun to play, challenging to master
Hundreds of adventurous levels to complete – more to come!
Leaderboards to watch your friends and competitors!
Easily sync the game between devices and unlock full game features when connected to the Internet
Available to play on mobile and tablet devices
Already a fan of Pyramid Solitaire Saga? Like us on Facebook or follow us on Twitter for the latest news:
facebook.com/PyramidSolitaireSaga
twitter.com/PyramidSaga
Do not sell my data: King shares your personal information with advertising partners to personalize ads. Learn more at king.com/privacyPolicy. If you wish to exercise your Do Not Sell My Data rights, you can do so by contacting us via the in game help centre or by going to soporto.king.com/
Last but not least, a big THANK YOU goes out to everyone who has played Pyramid Solitaire Saga!
Additional Information :
Size 200.8 MB
Requires iOS 9.0.0 or later.
User Reviews :
Ridiculous at higher levels
The game has gotten a little ridiculous. Even using every booster in my arsenal, it hasn't helped defeat what should be an easy level. Hundreds of tries, no luck, and it's simply because the cards refuse to cooperate and at this point, it's hard to say it's a coincidence.

It's a level that requires you to clear a single card to even start the game, and to clear that card, you need have to turn over either the card one step higher or lower, and I've gone through the entire stack of cards without those necessary cards appearing, and when they do appear, it's at the end if the deck so one or two moves later, the game is over in less than 60 seconds.

It takes time to regenerate lives – unless you pay for more – and the same goes for boosters that can clear a particular card. You can win those, but they are rare.

It's simply not fun anymore, and that's a shame, because this was my favorite pyramid solitaire.

I only come back every few days now, and it's getting further between, because being stuck on one level for months due to simple game mechanics, isn't challenging. It's annoying, especially when you get pop-ups after every defeat encouraging you to buy extra lives and moves.
Disappointed
I would have given this game 5 stars. I have been playing it for years and enjoyed it very much as it is addicting. Over the last couple years or so they have made some changes that gave players more opportunity to win free boosters. I saved my boosters for hard levels or reward rounds. BUT also in the last couple of years I noticed that suddenly I would not be able to open the app which forced me to delete it and reinstall. When I logged back in, the game remembered what level I was on and how much gold I had but for some reason wiped out my boosters. Frustrated, I continued to play knowing I'd have the opportunity to stock up again. This happened a few more times and the most recent one, a week or 2 ago, they've changed the game and aside from reward rounds there are no longer opportunities to win boosters anymore and again wiped out my inventory. I don't usually write reviews on games but this is really frustrating for me since I've been playing this game for years and am well past level 1000 with none of the boosters I've saved unless I pay more $ to this game.

I will be looking for a different game to play now.
Room for improvement
I have been playing this game for a couple years now and on level 743. It is an addictive game but really disappointing how there are no chances to earn gold instead of buying gold. It makes the difficult levels super frustrating . As well as the special bonus when you check in three days, that's a joke. When it finally does work, 9 times out of ten it's a poor power up instead of something that can help you. I am in high hopes that the creator reads this review and considers adding ways to earn gold. Even with downloading your sponsors games would be efficient. Wonder if I will even get a reply to this review.
Get Pyramid Solitaire Saga from App Store
What is your opinion about Pyramid Solitaire Saga
Bitcoin
Ethereum
MetaMask (ETH)
Xrp
Polkadot
Binance coin
Stellar
Dogecoin
Tron
Elrond
Donate Bitcoin to this address
Scan the QR code or copy the address below into your wallet to send some Bitcoin
Donate Ethereum to this address
Scan the QR code or copy the address below into your wallet to send some Ethereum
Donate Xrp to this address
Scan the QR code or copy the address below into your wallet to send some Xrp
Donate Polkadot to this address
Scan the QR code or copy the address below into your wallet to send some Polkadot
Donate Binance coin to this address
Scan the QR code or copy the address below into your wallet to send some Binance coin
Donate Stellar to this address
Scan the QR code or copy the address below into your wallet to send some Stellar
Donate Dogecoin to this address
Scan the QR code or copy the address below into your wallet to send some Dogecoin
Donate Tron to this address
Scan the QR code or copy the address below into your wallet to send some Tron
Donate Elrond to this address
Scan the QR code or copy the address below into your wallet to send some Elrond