(Game) Punch Quest
 iphone games for free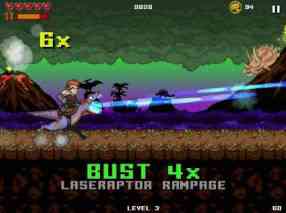 Game Description :
Punch Quest is an arcade-style fighting game, entirely controlled by taps with your left and right thumbs.
Jab, uppercut, slam, and otherwise pummel your way through dungeons full of monsters, branching path choices, rare events, and fragile pottery.
Game Features :
Unlock and equip many special abilities and Supermoves.
Ride a dinosaur that shoots lasers out of its mouth.
Character customization that gets shown off on our friend scoreboards.
Punch an egg that turns you into a magical gnome.
Do quests to earn really fancy hats.
Combo system where you launch enemies into each other from across the map.
Punch Quest is a collaboration between Rocketcat Games (Hook Champ, Mage Gauntlet) and Madgarden (Saucelifter, Sword of Fargoal).
Additional Information :
Size 20.2 MB
Requires iOS 8.0 or later.
User Reviews :
This game helped my brother keep him happy when he had a surgery so please update the game before the build expires. This game is amazing I just would like a update please. Like a new egg mini game, new boss or new super-move. A update would keep everyone loving this game for so much longer. The only super small complaint is that getting punchos is hard but it still isn't really bad. I can't wait for new content, and maybe you could add a new enemy. My friends like the idea of a yeti villain. Also a ice punch super move like frost fists or something. I don't know you guys develop games so you guys decide. I AM BEGGING YOU TO UPDATE THIS PLEASE!!!!!!!!!!!!!!!!!!!!!!!!!!!!!!!!!!! Also you guys said new update was coming so when. The mechanics of this game are so phenomenal. The graphics and every thing is amazing. So hence my question… why haven't you updated it.
Love it !
This game is awesome! But I have a few suggestions. Add like 1 a story mode. 2 I want to get more coins without using the double punchos upgrade.

I also want 3, more bosses. 4 I want to add power ups or V.I.P.

5 I think you should listen to some of the comments.6 add more customizations. Lastly, I want things like iron fists or something that cost punchos. Also, I want power 3 moves. I really love this game and also the red spear skeleton is really difficult to beat. I really want the things for sale to be cheaper. I bought the hungry man upgrade but it's horrible. Also, add like a move that makes you punch really fast. Also, make the dash punch upgrade available for normal punches like jabs. Also, please make it so to upgrade gnomey only 30.
This game pulls no punches
Punch Quest is a fun endless runner with an upbeat soundtrack (though I also encourage you to switch the music to any power jam), unique hat abilities, and enough variations in levels and enemies to keep you coming back for more punishment. The only thing on my wishlist would be mfi controller support and more levels (the dinosaur and boss levels are still my favorite). Glad Rocketcat didn't give up on this game and updated it for iOS 11. I suggest you also check out their other games as well, each one is well worth your time and money.
Needs some work
I played this game a long time ago and I loved it. No problems at all, but I've recently come back to it. There are a few things I'd like to see happen before it's worthy of 5 stars again. Firstly, an ad will pop up when starting a run and not even bothering to pause the game while the ad plays. I take so much damage, I can't continue the run and get very far. Either find a way to make an ad not play at the start of a run, or at least find a way to make it pause the game. Second, this game has been out for so long, you would think there would be some new content by now. Some new skills, new enemies, new areas, something, but no. Add something to your game instead of just making ad revenue and doing nothing with it. Other than that, still love the game.
Great game, poor update.
I only recently downloaded this game, and I find it to be an extremely fun way to pass some time. Unfortunately, the latest update has added advertisements which pop up at the end of every run, even if you have made a purchase. This is extremely annoying and did not happen at all before this most recent update.

I believe that making a purchase in a free game is a method of supporting the developer, and that I should not be forced to view ads, though I do understand free-only players may need to watch these ads.

If/when this ad change is made, I will update my review to five stars, as I believe the game to have been worthy of that rating before the addition of advertisements.
Get Punch Quest from App Store
What is your opinion about Punch Quest
Bitcoin
Ethereum
MetaMask (ETH)
Xrp
Polkadot
Binance coin
Stellar
Dogecoin
Tron
Elrond
Donate Bitcoin to this address
Scan the QR code or copy the address below into your wallet to send some Bitcoin
Donate Ethereum to this address
Scan the QR code or copy the address below into your wallet to send some Ethereum
Donate Xrp to this address
Scan the QR code or copy the address below into your wallet to send some Xrp
Donate Polkadot to this address
Scan the QR code or copy the address below into your wallet to send some Polkadot
Donate Binance coin to this address
Scan the QR code or copy the address below into your wallet to send some Binance coin
Donate Stellar to this address
Scan the QR code or copy the address below into your wallet to send some Stellar
Donate Dogecoin to this address
Scan the QR code or copy the address below into your wallet to send some Dogecoin
Donate Tron to this address
Scan the QR code or copy the address below into your wallet to send some Tron
Donate Elrond to this address
Scan the QR code or copy the address below into your wallet to send some Elrond